A few years after we published it, and to celebrate the release in 2014 of our new book dedicated to the history of indie hip-hop, it was time to deliver an updated version of the selection we published first in 2009, listing 100 key albums related to this movement. Here starts our new countdown, extended now to 150 records.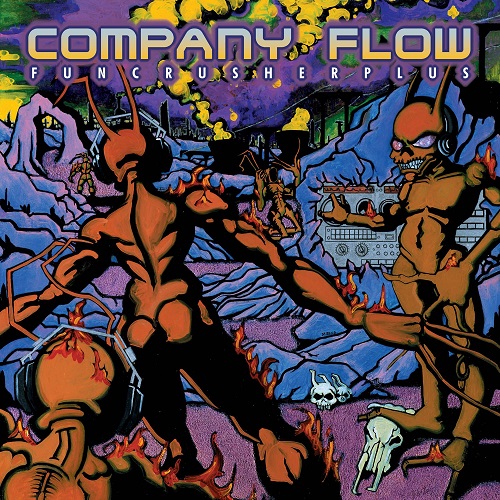 This article is a companion to our book Rap Indépendant, published on May 22, 2014. In case you would like to know more about the independent hip-hop movement, about its history, and about its key players, you can feel free to purchase it online. Please notice: it is written in French only, and though it is available in all bookstores in France, finding it abroad may be a challenge.

What is this "indie rap" the list is about?
This is a kind of hip-hop, born in the underground, supported by independent music labels, which positioned itself as the opposite to the playa and bling bling forms of rap dominating the end of the 90's. This trend emerged around 1996, with small record companies like Fondle'em in New-York, with the posterity of the Project Blowed scene in Los Angeles, with collectives like the Hieroglyphics and the Hobo Junction in the Bay Area, and others in many cities across all North America. In the 00's, Def Jux, Anticon, Rhymesayers, Strange Famous or Fake Four were some of the labels representing this scene.
Isn't there any album released by a major company in this list?
Like its rock homonym, indie rap has become a genre in itself, and not only a certain way of releasing records. If a good album available on a major company shares indie esthetics, we are comfortable with listing it here. On the opposite, albums released independently, but which are just copies of mainstream hip-hop, or others coming from different trends (Dirty South albums for example), won't be mentioned here, even when available on indie labels.
How do you identify and select indie rap albums, then, if it is not based on their labels?
Indie rap is an eclectic category, including artists with different points of views, or even antagonistic values, the only common characteristic being their rejection of mainstream rap. With a closer look at it, though, we can identify three trends, sometimes contradictory, sometimes complementary, depending on the times, places, labels or artists.
. Those who desired to bring hip-hop back to the old times, to the old school, before the bling bling era, before gangsta rap.
. Those who wanted to push further hip-hop's boundaries, to freestyle, to play with words, to flirt with jazz's free forms or with electronica's strange and sophisticated sounds.
. Those who tried to overthrow rap's egotist logic, to dig into the intimate, to sink into depression, sometimes approaching other genres more familiar with vulnerability, like folk or indie rock.
To those, we may add some iconoclasts, other artists impossible to categorize.
This sounds quite large and diverse… Which borders did you set?
: the selection covers a large period, from the indie rap era (1996-2003/05), through 2014, inclusive of some of its heirs. Forerunners are mentioned, but in a separate list of 10 albums.
: we only cared about rap and hip-hop, though many albums listed are heavily influenced by others genres like rock, folk or soul.
: our focus is strictly North America. We did not include any of the many British, French, German or Japanese indie rappers.
What have your criteria been, when proceeding with that selection?
Esthetics, exclusively; personal and subjective criteria, open to critics and disagreement. We wished to identify good and nice albums. If some artists considered as important, because they are influential or critic darlings, are missing in this list, there is a high probability that the author considered them as overrated. It can also be that the author, who is not omniscient, doesn't know them. In such case, please feel free to share your knowledge.
Can I share my own vision of the indie rap movement?
Of course you can. To do this, please use the "add a comment" function below, or select your 10 favorite indie rap albums on the following page.
Where can I learn more about this indie rap movement ?
In 2014, the author of this webpage published a book on this matter - in French only so far, unfortunately. It is simply titled Rap Indépendant (Independent Rap). It is available in most bookstores in France and Belgium, or online.
150 INDIE RAP MUST-HAVE
Here is a personal selection of what, according to us, must be remembered from the independent hip-hop movement. Don't hesitate to comment or contest. There is a space for this, at the bottom of this page, and on each review.
# 150. VIKTOR VAUGHN - Vaudeville Villain (2003)
Beyond the unequalled Operation Doomsday, MF Doom pursued his career with a fruitful discography, and multiple records systematically praised by fans as well as critics. Among them - and much more than his many and very average Special Herbs - Vaudeville Villain, a concept album released as Viktor Vaughn with Sound-Ink beatmakers' electronic beats, may very well be his best release in the 2000's.
# 149. THESIS SAHIB - Loved Ones (2006)
The eclectic Loved Ones could have been the best rap record of 2006, but it was only its snippets. Thesis Sahib, a voluble Canadian rapper heavily influenced by the Project Blowed, and also a member of Bending Mouth and the Swashbuckling Napoleons, had preferred to shorten the potential bangers his album was full with, making it quite a frustrating one, as well as preserving its rhythm and freshness.
# 148. NORMAN - Polarity (2003)
Just like California's Living Legends, the Oldominion collective released many remarkable tracks, but only a few of its full length records have truly been convincing. This concept album by Barfly and Onry Ozzborn, though, was an exception. There, two members of the most iconic group of the US North-Western indie scene, reached a perfect balance between straight classic rap and artiness.
# 147. STYLES OF BEYOND - 2000 Fold (1998)
Two protégés of Divine Styler, both based in Los Angeles, the Styles of Beyond delivered in 1998 a first album heavily praised by the nascent indie community of the time. With their outstandingly dark kind of boom bap, and their science-fiction influence, they were extremely representative of this transition period between New-York-inspired hardcore hip-hop, and more experimental things.
# 146. GREEK - 9 Steps To Scott Baio Fame (2003)

One year after The Preferred Remedy, the insane mailman from Philadelphia delivers another sample of his exuberant rap for enraged losers, through a short album full with anger, hate and self-deprecation. And this time, supported as usual by Rummage's weird sounds, he pretends that his role model is a forgotten actor from Happy Days, and that he is the new Michael Jackson.
Read full review
Buy this record
# 145. TOOLSHED - Illustrated (2003)
One year after they released the excellent Schemata, Canada's Toolshed made it again. These rappers from London, Ontario, even enriched their "live hip-hop" with a larger collection of instruments (brass, organ, flutes) and they invited some unspoken heroes of the indie scene (Awol One, Sleep, Mcenroe, and Thesis Sahib again) for a record very similar, and as successful, as the previous one.
# 144. SONTIAGO - Steel Yourself (2007)
Left behind by Sole when he started the Anticon label by the end of the 90s, the Maine's hip-hop scene had followed its own way. More than Moshe or Nomar Slevik, the artist from there we want to remember is Sontiago, the spouse of JD Walker from the Live Poets, whose feminine point of view and spontaneity made of her second album, Steel Yourself, one of the best coming from this place.
# 143. JESSE DANGEROUSLY - Humble & Brilliant (2011)
While most indie rappers hated to be tagged as nerds, those belonging to the nerdcore sub-genre had absolutely no shame claiming they were geeks. If one of them deserves attention, it needs to be Jesse Dangerously, just because this MC coming from the rich Halifax hip-hop scene was much funnier, more astute, and a better musician than most people belonging to that tiny movement.
# 142. PARK-LIKE SETTING - School Day 2, Garbage Day 4 (2000)
With this release from Peanuts & Corn's heydays, Mcenroe, John Smith and DJ Hunnicut were opting for a full concept, giving to each track of the album the name of a school lesson, geography, astronomy, physics, political science, etc., using these to share some social or political comments. And as always with the Canadian label, both the beats and lyrics were outstandingly subtle and fine.
# 141. ARSONISTS - As the World Burns (1999)

We need to be honest. We must admit that the Arsonists' first album did not really reach its target. It was lacking consistency and unity, to really meet the high expectations some had, at this time. It still had the essential, though: in addition to a handful of convincing new tracks, the excellent singles and b-sides the group had released on Fondle'em were all there, fantastic as ever.
# 140. CUNNINLYNGUISTS - Strange Journey Volume One (2009)
Even on this mixtape - or is it a tour CD? - the CunninLynguists made it. This project compiled various tracks, new ones, or live, remixed and rewritten versions of old songs, but it was consistent. The best backpack rappers in the South, indeed, had dedicated this release to one theme: the disagreements and pleasures of a life spent on tour, sometimes in a humorous way, or with a bit of melancholy.
# 139. AD - Misguided Recordings (2002)

Made of 2 brothers, AD et Jack Cracker, the duo The Crest was one of the many anonymous groups the Midwest was full with. They delivered some OK songs, some hardcore fans liked them, but their rap was not of the boldest in the underground. This solo album of AD, however, was much better than anything else they delivered, thanks to the productions skills of a certain Myron Maker.
# 138. GLUE - Seconds Away (2003)
Adeem, the rapper, was from New Hampshire. Maker, the producter, was from Chicago. And DJ DQ was based in Cincinnati. All three members of the excellent Glue were coming from different places, but together, they reached some subtle alchemy, especially with their cross-regional first album, Seconds Away, one of the best balanced and most enduring pieces of work of the indie hip-hop era.
# 137. THE GOODS - The Goods (1997)
It was just before we first heard about the Halifax rap scene. Gordski, a beatmaker, and an ex member of Hip Club Groove, connected with Kunga 219, a rapper, and they delivered together a purist hip-hop album, including a bit of turntablism. It was not Halifax's most adventurous record yet, but the well-named The Goods proved there that they had a full mastery of the codes of hip-hop.
Record unavailable
# 136. JOE RATH - Don't Be a Martyr (2004)
One of the many artists revealed by the Internet MCs wave of the early 2000's, Joe Rath, a rapper from Clifton, New Jersey, only released one EP and two albums, before disappearing for good. A shame he did not pursue, his Don't be the Martyr being one of the best albums of its days, in terms of introvert and sensible guitar rap for white rappers, strongly influenced by folk, pop or rock sounds.
# 135. DIE YOUNG & DEESKEE - Ravish (2004)
With Ravish, Die Young, the Chainsmokers trio member with a tortured rock star voice, was collaboraring with LA2theBay's boss and beatmaker, Deeskee, on an album about vampire hunters, and full of guitars, piano, and horror movie music. This was just a short and honest record, without any pretense, but also one of the most enjoyable in the Shape Shifters' complex and abundant discography.
# 134. DALEK - Absence (2005)
The previous albums of Dälek had some greats tracks. But some others had just been boring. With Absence, however, the Newark duo was reaching the upper level. They were delivering their most compact, brutal and unbreathable record. In an almost formulaic way, they were proposing the quintessence of their sound. And these deafening raps and music were hitting hard, very hard.
# 133. LOOTPACK - Soundpieces: Da Antidote (1999)

More than its MCs, more than its linear raps and one-way topic, it was its beats that supported Soundpieces, the first and almost only album of the Californian trio Lootpack, some protégés of the Alkaholiks. It is thanks to them that this strong indie rap album, one of the most emblematic of the late 90's, had been praised, starting Madlib's ascent to his early 2000's status as a production genius.
# 132. DOSE ONE & BOOM BIP - Circle (2000)
Some people told me once that it wouldn't be possible to listen to Circle anymore, nowadays. But the reality is that this record is still sounding much better than the boring kind of prog rock Dose One is delivering today. Compared to it, the extreme weirdness and experimentalism of this album, released by Boom Bip and the infamous duck-sounding rapper, is still unmistakably cool.
# 131. SAUL WILLIAMS - The Inevitable Rise and Liberation of Niggy Tardust (2007)
Emerged from the Nuyorican Poets Café, like other indie rap key players, Saul Williams was a slammer before being a rapper, and slam is mostly aimed at shows and competitions. It is not always convincing, once recorded, as Williams' disappointing discography shows, except for this solid and surprising record, heavily influenced by rock, and produced by Nine Inch Nails' Trent Reznor.
# 130. MOVES & BIRDAPRES - Alleged Legends (2001)
Everything went so well with Peanuts & Corn, that all the albums it released around the year 2K were gems. Including those not delivered by its own stable, the Break Bread collective, and produced by others than Mcenroe. Such was the case with this collaboration between Birdapres, the Vancouver MC, and Moves, the Halifax DJ. It sounded like a pure product from the Winnipeg label.
# 129. KOOL KEITH - Sex Style (1997)
OK, this was no longer Dr. Octagon, and Kutmasta Kurt, who produced Sex Style, was not as original a beatmaker as Dan the Automator. The first album Kool Keith released after Dr. Octagonecologyst, though, was a good one. Also, never had anyone gone so far with dirty rap, no-one had never done so delightedly bizarre, as far as sexual perversion, disorder and lyrics were concerned.
# 128. BINARY STAR - Masters of the Universe (2000)

Though it is released at the same time as more adventurous and groundbreaking albums, like Tragic Epilogue or The Taste Of Rain..., the favorite of the year 2000 in the underground, is this record from Binary Star, a duo from Pontiac, Michigan. Not surprising: Masters of the Universe' is a solid album, and still conventional enough to please the most hardcore hip-hop fans.
Read full review
Buy this record
# 127. KNOWSELF & MOVES - Pseudo Freedom... (1999 / 2004)
Just as the Sebutones' or Recyclone's, other fellows from Halifax, Nova Scotia, Knowself's kind of rap was cold, cerebral and obtuse. Full of obscure political or religious thoughts, recited with a deep voice on impenetrable beats, this new package of a cult cassette from 1999, Everything is Under Control, is nonetheless an emblematic testimonial of the late 90's tremendous Canadian indie scene.
# 126. SUBTITLE - I'm Always Recovering from Tomorrow (2003)

Subtitle was one of these artists from hip-hop's fringes who've never been able to deliver consistent albums, spoiling their great talents with too many useless experiments. This was true even when his robotic flow was channeled by Thavius Beck. The tall Californian rapper released some great records, though, including this short EP collecting some of his most hallucinatory tracks.
# 125. NOLTO AND FACTOR - Red All Over (2005)
So far, the beats of Canada's Factor had often sounded too simple, a bit lazy, and lifeless. They lacked imagination. But it was no longer the case with Red All Over, a collaboration with Nolto, a white rapper with a smooth and nice voice, from his home city of Saskatoon. Presented like a newspaper, this concept album had been one of the best, released on his own Side Road Records label.
# 124. 2MEX - B-Boys in Occupied Mexico (2001)
As part of Afterlife, the Shape Shifters, the Visionaries, Of Mexican Descent, the Mindclouders, the Brainbusters, the Look Daggers, and also with his solo releases, 2Mex delivered everything. He haunted so many tracks with his jerky flow, he was so productive, that he never took the time to release an opus magnus, a masterpiece. His first album, though, is not too far from being this.
# 123. SCOTTY HARD - The Return of Kill Dog E (1999)

Since the mid-90's, with records from the likes of Spectre, Sensational, Paul Barman, the Hawd Gankstuh Rappuhs, and even Prince Paul, WordSound has been a key label, on the experimentalist and weirdo side of hip-hop's underground. Their most notable album, however, is maybe none of the above, but this one, the first released by the Canadian beatmaker Scott Harding, a.k.a. Scotty Hard.
# 122. THAVIUS BECK - Thru (2006)
Some purists will remember Thavius Beck for his work under the Adlib moniker, with or without Global Phlowtations. Others will only love the Lab Waste album, he recorded with Subtitle. But if they really want a good record released under his own name, those available at Mush and Big Dada, Thru could be the best sample of Beck's electronic, experimental, cold and mostly instrumental kind of hip-hop.
# 121. SAGE FRANCIS - Sick of Waiting Tables… (2000)
Sage Francis had existed much before Personal Journals, the album who made him a more familiar face in hip-hop. A bit before, he had initiated a long series of mixtapes, the Sick of... one. This one, released on a CD-R by the year 2000, was the first. It compiled materials he had recorded over the last three years, live, in studio or at the radio. And it was the best and the richest of the collection.
# 120. FERMENTED REPTILE - Let's Just Call you "Quits" (1999)
Instead of challenging the routines of hip-hop and pushing their limits, like many other indie activists, Pip Skid, Gruf and Mcenroe preferred to explore further the jazz rap of the early 90's. These white guys from the Canadian Prairies changed it, though. They adapted it to their social concerns and realities. They took it to the next step. And thus, they laid the foundation of the excellent Peanuts & Corn label.
# 119. AESOP ROCK - Float (2000)
Since Appleseed (1999), Aesop Rock's fame and credibility had kept on growing in the indie rap scene. So that one year later, Float was one of the most eagerly awaited album in the underground. By chance, with this first record for Mush, the rapper was fully meeting his fanbase's expectations, granting it with his intellectual kind of rap, very diverse beats, and a few first class guests.
# 118. SIAH & YESHUA DAPOED - The Visualz (1996 / 2008)
Another Fondle'em release, another gem of NYC's underground rap scene in the 90's. With The Visualz EP, Siah, Yeshua and the beatmaker Jon Adler proposed six chiselled jazz rap tracks where, beyond the academic boom bap and the expected anti-wack MCs lyrics, one could hear poetry aspirations. Unfortunately, apart from a few solo releases, this record would be almost the only one in their career.
# 117. PIGEON JOHN - Sings the Blues (2005)
A regular of the Good Life Café, Pigeon John had not been particularly remarkable when he was a member of LA Symphony. His solo career was a different story, though. With his astute, sensitive and funny rap, he delivered an unclassifiable and catchy kind of music, especially on his third album, which only default was to be less sober than its blueprint, the rare and excellent South Bay Blues EP.
# 116. ASTRONAUTALIS - The Mighty Ocean & Nine Dark Theaters (2006)
Initiated by Anticon, the convergence of folk, pop and rap in one single genre quickly created new vocations. By the mid-2000's, it even became a full synonym for indie rap. Only a handful of followers, though, excelled in this sub-genres, and among them, Astronautalis, from Florida, especially with his second album, a record produced with care and finesse by an artist from Morr Music, Radical Face.
# 115. JEAN GRAE - Attack of the Attacking Things (2002)
Jean Grae was on the respectable, feminist, bohemian and conscious side of the indie rap scene. In other words, her music could have been extraordinary boring and painful.It wasn't, however. The first album of the rapper previously known as What? What?, a record expected since she started with Natural Resource in 1996 and collaborated with many others, was indeed absolutely solid and engaging.
# 114. NEILA - Only This One Counts (2011)
Close to Deeskee, and more generally to the Californian underground hip-hop scene, Neila has released some remarkable albums over time, focused on social matters, or on her love stories and disappointments. It would be in a very difficult phase of her life, though, while she was fighting against a vocal chord cancer, that the Hawaian rapper would release her best album; by far her most intense.
# 113. MICRANOTS - Return of the Travellahs (1996 / 2003)
It is through the hallucinated Obelisk Movements that the Micranots earned their place in the indie rap pantheon. Kool Akiem and I Self Devine, however, had been around for a while before this. Travelling between Minneapolis and Atlanta, they had already released in 1996 the noteworthy Return of the Travellahs, which Rhymesayer Entertainment would finally make available on CD by 2003.
# 112. AWOL ONE & DADDY KEV - Number 3 on the Phone (2002)
Number 3 on the Phone his not Awol One's most glaring album, far from it. Contrary to its predecessor, Souldoubt, it was rather quiet and laid-back. However, this was Awol One at his best, with his dual responsibility, moving from braggadocio to vulnerability and self-depreciation. Last but not least, it revealed the great "Carnage Asada", with no doubt one of Awolrus' most intense songs.
# 111. ABSTRACT RUDE + TRIBE UNIQUE - P.A.I.N.T. (2001)
One could find anything on this album from Abstract Rude, a founding member of the Project Blowed: sweet or corrosive tracks, light or dark ones, solo prowess or posse cuts, and, featuring, almost all of the key indie rappers of the times. As a matter of fact, few people enjoy the same tracks on this overall satisfying record which, because it is too lengthy, shortly fails to be an underground classic.
# 110. D-STYLES - Phantazmagorea (2002)
Sharing with it its willingness to go back to the basics of hip-hop, in this case deejaying, and its taste for experiments, turntablism had much in common with the main trends pushing indie rap further around the Y2K. However, because they are too technical, few albums in this genre are fully enjoyable, except maybe this very smart Phantazmagorea, delivered by one of the World Famous Beat Junkies.
# 109. C.V.E. - Not Like Those (2010)
Not Like Those was finally it: the great record we didn't expect anymore, more than 15 years after the Good Life Café and the first Project Blowed compilation revealed to us the existence of Chillin' Villain Empire. It was an album where, more than ever, Riddlore and NgaFsh were rocking the mic, but with a rock solid production. The one and only shame was that it was not available as a regular CD.
# 108. NOAH23 - Fry Cook on Venus (2011)
In 2011, a decade after he emerged from nowhere (Guelph, Ontario), the weirdest of all rappers ever based in Canada, was still alive. As many other indie rap veterans, Noah23 was now hosted by the David and Ceschi Ramos' label, Fake Four, he was getting emo and flirted heavily with indie rock sounds, as proved by Fry Cook on Venus, potentially the most accessible record in his discography.
# 107. J DILLA - Ruff Draft (2003 / 2007)
Let's face it: for all his openness and experimentalism, and despite the praise Jay Dee, a.k.a. J Dilla, constantly received from critics, hip-hop purists and rappers alike, his production style was sometimes much too lazy and indigent, either on his solo records or with the much boring Slum Village. This album, however, Ruff Draft, was a good one, maybe because it captured Dilla's as his rawest.
# 106. SAGE FRANCIS - Copper Gone (2014)
After four years without any release, four years almost fully focused on managing his Strange Famous label, Sage Francis was striking back. At almost 40, the rapper from Providence was coming back to his basics, showing again his eloquence, his anger and his intensity, on great beats built by a dream team of indie hip-hop producers like Reanimator, Alias, Buck 65, and Cecil Otter from Doomtree.
# 105. SOSO - Not for Nothing (2013)
In 2013, more than 10 years after his beginnings, Soso is still there, and he is as depressed as ever. Armed as always with his spleen, his contemplative kind of rap, and his desolated soundscapes, the Canadian made his music cross the Atlantic ocean, this very good album being released jointly by Enedmik Music, and a Clermont-Ferrand label, confirming France's long love story with him.
# 104. NECRO - I Need Drugs (2000)

This is some easy formula, Necro uses in 2000, with his outrageous horrorcore and his funny recycling of old songs from LL Cool J or Dionne Warwick. Nonetheless, it is good to listen to such regressive kind of rap and its surge of bile, gore, sex, drugs and sacrilegious lyrics, in the heyday of the boring conscious hip-hop, underground rap is sometimes and mistakenly associated with.
Read full review
Buy this record
# 103. SHAPE SHIFTERS - Adopted by Aliens (2000)
Know Future is, maybe, the Shape Shifters' masterpice. But to newcomers, let's recommend Adopted by Aliens. There, as usual, these Californians would adapt their versatile and virtuoso raps, inherited from the Project Blowed, to the nerd culture. But they would do it in a more normal and traditional rap format, they would be less extreme than with the never-ending posse cuts of the other record.
# 102. RADIOINACTIVE - Pyramidi (2001)
The first solo album of Radioinactive (if we except the home-made Fo' Tractor), released in the heyday of indie rap's experimentalism, may have been his most radical, with its incomprehensible raps, skits and Egyptian musical melodies. Any normal rap fan was lost; he couldn't find his way on this album. Pyramidi shouldn't be underrated, though: it was as rewarding as it looked indigestible.
# 101. KILL THE VULTURES - The Careless Flame (2006)
Oddjobs had been one of the most emblematic indie rap group of the Midwest. After its split, though, it would become even more exciting. Led by the rapper Crescent Moon, Kill the Vultures would invent a brand new kind of music, mixing jazz, punk and hip-hop in an abrasive and violent way, especially with this album, their best, and more particularly "Moonshine", its fantastic first track.
# 100. MAINTENANCE CREW - Eternal Sunshine of the Simple Mind (2005)
The Maintenance Crew did not belong to the most adventurous fringes of the underground rap scene. These Chicagoans, indeed, were mostly focused on the 90's classic rap. With them, however, this old formula was fresh and relevant again. They made us forget the plagiarists who had disgusted us with boom bap. With this great album, they brought us back to the heyday of New-York's jazz rap.
# 099. J-ZONE - Pimps don't Pay Taxes (2001)
He would admit it, into the book he wrote ten years after he released this record, his best: J-Zone was much too offbeat. Opting for catchy beats, exactly when all the rage was about darkness and dystopia in the rap underground, being sarcastic and misogynistic, in the heyday of conscious rap, the New-York rapper has never been to build a successful career, despite his smart lyrics and very good music.
# 098. ORKO THE SYCOTIK ALIEN - Atoms of Eden (2003)
This looked like a rearguard project. Nobody, indeed, cared any longer about drum'n'bass in 2003. The Orphan, however, offered beats in that style to Orko. And these frantic sounds were exactly what was missing to the political lyrics and the afro-futurist posture of Global Phlowtations rapper. They finally made of Atoms of Eden a finer record than his multiple CD-Rs or his flawed album with Bigg Jus.
# 097. THE GROUCH, DADDY KEV & D-STYLES - Sound Advice (2003)
Around the year 2003, Daddy Kev, the producer, and D-Styles, the turntablist, had decided to mix hip-hop with free jazz. They released three albums in this style, each time with a different West Coast Underground big name, Awol One, Busdriver and The Grouch. The latter was, usually, the most traditional rapper in this trio. His record, though, ideally short, dense and delightful, was the best of the series.
# 096. 3 MELANCHOLY GYPSYS - Grand Caravan... (2005)
Don't get fooled by this "French rap" looking cover art. This record from Eligh, Murs and Scarub is one of the best, in the often frustrating discography of California's Living Legends. Announced and awaited for long years, and despite its unreasonable length, this album finally fulfilled all promises, thanks to the trio's rap skills and also, as always, to Eligh's outstanding production skills.
# 095. HAND HELD ASPECTS - From Point A To H (2002)
Fingerprint Records was one of the countless labels born from the indie rap movement, but which never reached the level of notoriousness of a Def Jux or an Anticon. Less iconoclastic than these two, it released nevertheless a handful of recommended records, and among those this second album of Hand Held Aspects, and its honest, fresh, enthusiastic and passionate take on rap.
# 094. TOOLSHED - Schemata (2002)
With a rhythmic and astute form of hip-hop, reminiscent of the old school times and influenced by the creativity of the West Coast Underground scene, a very musical one, rich with instruments and a rare "live" feeling, Toolshed found a winning formula. All along its career, the Canadian group stuck to it, with success, Schemata, their second album, being one of their most remarkable.
# 093. NOBODY - Soulmates (2000)
In 2000, one of the best beatmakers in California's underground hip-hop scene, released his first album, sponsored by Mike Nardone. Some songs had lyrics, thanks to Freestyle Fellowship, Abstract Rude, Medusa et 2Mex, some of the Project Blowed's biggest names. But it was with the other tracks, polished and delicate instrumental ones, that the badly named Nobody was at his finest.
# 092. THE CHICHARONES - When Pigs Fly (2005)
And if, after all, the best album of Halifax's Josh Martinez and Oldominion co-founding member Sleep, was one of those they released together, as the Chicharones duo ? And if, finally, this pleasant and catchy When Pigs Fly, an enjoyable record full of energy, humor and melodies, was their best work, in addition to being the perfect example of a transnational indie rap collaboration?
# 091. SONIC SUM - The Sanity Annex (1999)

Though Rob Sonic will move to Def Jux shortly after, Sonic Sum will remain the unsung heroes of the Nuyorican Poets Café scene. With its abstraction and experimentalism, and also with its live instruments, The Sanity Annex, however, is a great illustration of the futuristic rap poetry style, which is all the rage on the hip-hop underground scene by the end of the 1990's.
Read full review
Buy this record
# 090. KOMADOSE - Beta One (2002)
Copying is different from betraying. This is a lesson learned from this album, quite typical of the early 00's indie rap era. Released by a multitude of rappers and beatmakers, by then unknown (K-the-I??? only, would have a moderately successful career afterwards), this album appropriated the industrial rap sound and formula invented by Company Flow a few years earlier. And it did it well.
# 089. ZEST THE SMOKER - Death at… 27 (2009)
It is thanks to the anthological "Interruptions", a fantastic rap song produced in 1997 by Peanut Butter Wolf, maybe the best track on his My Vinyl Weighs a Ton album, that we know Zest the Smoker. It took this Californian rapper more than 10 years, though, to finally release his first album, Death at... 27, maybe a lost classic, in the darkest, heaviest and most oppressing sub-category of indie rap.
# 088. CYNE - Time Being (2003)
The hip-hop crew around Botanica del Jibaro, Counterflow Recordings and the Beta Bodega, was made of a fine collection of Latino artists, located in Miami, opting for some kind of conscious rap, and it was deeply involved into the local electronica scene. They were generally more comfortable with singles than with albums, but Cyne's Time Being was a great opus, arguably the best they ever delivered.
# 087. AWOL ONE & FACTOR - Only Death can Kill You (2007)
Awolrus has been a key player on the Californian indie rap scene, undoubtedly. He was ome kind of star, in that small world. But identifying his masterpiece is challenging. Would that be Souldoubt, Number 3 on the Phone, or Slanguage? Or instead, wouldn't this be the less known and less blazing Only Death Can Kill You, overall a consistent and solid album, produced craftily by Canada's Factor.
# 086. ALL NATURAL - No Additives, No Preservatives (1998)

All Natural was a solid rap group of the end of the 90's. Those Chicagoans also demonstrated that the indie era was somehow related to the emergence of new places, distinct from the capital cities of hip-hop, New-York, Los Angeles and Atlanta; and that miraculously, through unexpected connections, such artists could see their records released in Europe by some obscure British label.
# 085. SIXTOO - Almost a Dot on the Map (1996-2002 / 2004)
While his career was progressing, Sixtoo showed a tendency to deny and erase his past. Except in 2004 when, just before joining Ninja Tune and stopping being a rapper, he took a last look back at his own past, and released Almost a Dot on the Map, a compilation of what he considered the best songs of his Halifax phase, just after the Sebutones, and just before he started becoming a bit more famous.
# 084. HAIKU D'ETAT - Haiku D'Etat (1999)

As its name alluded to, the Haiku d'Etat project was aiming at poetry, as well as at revolutionizing hip-hop. With the help of "real" musicians, Aceyalone and Mikah 9 of Freestyle Fellowship, as well as Abstract Rude, were using their virtuoso flows to bring rap to the avant-garde, to Jamaica, or even further Eastward. Potentially the last great album of the Freestyle Fellowship and Project Blowed lineages.
# 083. THE CANKLES - Goddamn! (2005)
A bit of turntablism, a few guitars and electronic sounds, some funky beats, and the colorful raps of Kid Static: in 2005, the Cankles were adding some creativity and a feelgood spirit, in a Native Tongues way, to the overall grimy Chicago rap scene. Coming out of nowhere, their only album had been a good surprise; one of these convincing experiences hip-hop's margins are sometimes capable of.
# 082. TOMMY V - Travel Size Drawing Board (2014)
This record was released much too late, when everything was over: the West Coast Underground indie scene he had been a part of; his friends the Shape Shifters; the Toca quartet. And though, this album from Tommy V is great. With its mix of rap, pop, and anything else, the Los Angeles rapper restored the spirit of a time when any kind of crossover and experiment seemed possible, with hip-hop.
# 081. KNO - Death Is Silent (2010)
The CunninLynguists went the same way as many other indie rap musicians: they moved from some revivalist project, equally inspired by the 90's boom bap and the 80's old school and playful mindset, to something more elaborate, more intimate, and not too far from indie rock, actually. Death Is Silent, at least, was like that: it was the great melancholic and depressing solo album of the beatmaker Kno.
# 080. DARKLEAF - F... The People (2002)
Indie rap consisted in multiple and contradictory trends. There was, for example, a rap which wanted to go back to the happy times of the old school, represented most notably by Jurassic 5; and another one which explored the most experimental sides of hip-hop, like Darleaf; these two groups were so different that none could believe that they were, in fact, two offshoots of the same group.
# 079. BORED STIFF - Explainin' / Timeless (1995-1997 / 2008)
Among the founding groups of the West Coast Underground rap scene (Freestyle Fellowship, Hieroglyphics...), Bored Stiff is often the forgotten one. So that they do not completely fall off our radar screen, however, some of their previous records have been released in the naughties, and among them this compilation of their first two EPs, Explainin' and Timeless, both from the 90's, and both legendary.
# 078. ACEYALONE - A Book of Human Language (1998)
Aceyalone did not deliver just one classic solo album, All Balls don't Bounce, but two. Released independently on the Project Blowed label, and very conceptual, this other great record was structured as if it was a book. Some may have found the production tedious on A Book of Human Language, but they were wrong. It was adequate, actually, underlining perfectly Acey's rap volubility and musicality.
# 077. BUSDRIVER - Temporary Forever (2002)
With his staggering flow, Busdriver was one of the main attractions of the indie scene. He was his talent's main victim, though, since he never really managed to domesticate his verbal delivery. Busdriver, indeed, had never been able to find the right beats, fitting with his crazy raps. Except maybe on this album, Temporary Forever, his first ever to benefit from a rock solid production; his best, by far.
# 076. NOAH 23 - Jupiter Sajitarius (2004)
A practitioner of psychedelic hip-hop, as arty and abstruse as a rapper could possibly be, with both his beats and lyrics, Noah23 has sometimes been a victim of his eclecticism, releasing almost indigestible records. Jupiter Sajitarius, though, was a bit more homogeneous and accessible than others, including Quicksand, the previous album, generally considered as Gelph's crazy rapper's masterpiece.
# 075. JEEP JACK - A Jeep Jack Affair (2000)
This record was about a geat collection of rappers from Boston, who emerged in the heyday of the indie rap era, by the end of the 90's. Their beatmaker, Jeep Jack, would record a few more albums, in addition to this great compilation, full of exhilarating tracks. It is a shame, though, that Microft Holmes, whose songs were the best on this record, would never pursue his career and release any solo album.
Record unavailable
# 074. THIRD SIGHT - The Golden Shower Hour (1998)
The dystopic science-fiction rap sub-genre was not represented by Co-Flow only. Around the Bay Area, some others were seeing things in black. They, too, were into some tenebrous, threatening and hostile kind of hip-hop, and Third Sight were part of them, especially with their first album, an underground classic. One singularity, though: the heavy presence of turntablism, thanks to D-Styles.
# 073. EXISTEREO - Dirty Deeds & Dead Flowers (2003)
Guns and roses, messy tracks, lots of underground Californian rappers, and Paul McCartney: don't try to find any logic in the way this eclectic record has been assembled, by one of the most charismatic members of the Shape Shifters. Just notice that this album, as well as its follower, Crush Groove, is one of Existereo's best. And that it is as playful and ecstatic, as it is inconsistent and frustrating.
# 072. MICRANOTS - Obelisk Movements (2000)
Originally from California, close to the Rhymesayers crew, and advocates of some dark hip-hop that was not too far from Co-Flow's - they were signed, actually, on Bigg Jus' label - I Self Divine and Kool Akiem of the Micranots were delivering here an impressive form of hardcore rap, full of heavy drums, synthesizers and scratches, mixed with some powerful and apocalyptic kind of conscious rap.
# 071. GREEK - The Preferred Remedy (2002)
Here was Jimmy Greek: a hip-hop UFO, an anomaly, a rapper one could find in hip-hop's deepest underground only. A simple Philadelphian mailman by daylight, this man changed himself into an extravagant, insane and mad rapper at night, shouting as loud as he could his paroxysmal ego-trips of self-deprecation, sharing on weird beats his contempt for women and his average citizen frustrations.
# 070. MAKER - Honestly (2003)
By default, some could have considered that Maker played a cameo role in Chicago's hip-hop underground scene. Well, he did not. Honestly - the entry point to a long and rich career with rappers like Qwel or Adeem - proved the exact opposite. Though his formula was on par with the classic backpacker style Chicago was known for, Maker proved to be one of the subtlest producers in this scene.
# 069. LATYRX - The Album (1997)
The joint album of Lateef the Truth Speaker and Lyrics Born was a compilation, and as such, of course, it was very heterogeneous. Its best tracks, though, were no less that visionary and prodigious. They revealed two complementary MCs, both much too bold for the core hip-hop audience, and much too rap oriented for those who would discover them through their main beatmaker, DJ Shadow.
# 068. POWER STRUGGLE - Arson at the Petting Factory (2005)
Kill the Vultures has been the most successful and visible offshoot of Oddjobs, and the only one on the critics' radar screen. The parallel adventures of Power Struggle, though, a duo made of DJ Deeltax and MC Nomi, have been unheralded. It is a shame, though, their mix of abrasive rap and agressive punk rock on Arson at the Petting Factory, their very first album, being equally interesting.
# 067. PEANUT BUTTER WOLF - My Vinyl Weighs a Ton (1999)

If, after you jumped too late on the bandwagon, you want to know what underground hip-hop looked like by the end of the 90's, My Vinyl Weighs a Ton is your record. After having worked for years in the shadow, Peanut Butter Wolf had finally released his first album. Like a compilation, it gathered eclectic tracks featuring many key rappers and DJs from the Bay Area, California, and beyond.
# 066. SOSO - Tenth Street and Clarence (2005)
Both a rapper and a beatmaker, Saskatoon's Soso completely appropriated hip-hop. He made it something different, something of his own, with his depressive lyrics depicting the sad life of North America's White lower middle-class, and his lugubrious soundscapes evoking the desolate coldness of Canada's large plains. This record, if not his best, at least his most accomplished, is demonstrating it.
# 065. EXISTEREO - Crush Groove (2004)
The second solo album of Existereo was a perfect replica of the first; it was exactly the same: an eclectic mess, and an incredible collection of ideas, mixing old and new tracks. As the previous one, also - or even better than it - it demonstrated that this rapper, while being as weird and crazy as the other Shape Shifters, was maybe the most accessible one in this incredibly creative Californian crew.
# 064. ASTRONAUTALIS - This Is Our Science (2011)
For Astronautalis, the fourth album was the right one. More constant than the previous ones, more powerful than some, full of astute maritime metaphors and introspective lyrics, and showing an outstanding ability to move from rapping to singing, This Is Our Science reached the right balance. With it, the Floridian delivered an almost perfect mix of both indies, the rock and the rap ones.
# 063. MIKE LADD - Welcome to the Afterfuture (1999)

This is the sound of its time, a time when hip-hop was going through its progressive phase. Consequently, some may think that this album did not age well. Let's not discard its strengths, though: the inspired lyrics of Mike Ladd, one of the few spoken word artists who is not boring; and some moments of musical genius and vision, like with the gem which the imperishable "Planet 10" is.
# 062. AESOP ROCK - Appleseed (1999)

Before publishing his albums on some of the most prestigious indie hip-hop labels, Aesop Rock had released his first creations on his own website. Appleseed had been the second and the last of these self-released records. And with the eight songs of this quite short opus, Aesop Rock's intellectual kind of rap was at its best, especially on the splendid "Odessa", a final track featuring Anticon's Dose One.
Record unavailable
# 061. SEBUTONES - 50/50 Where It Counts (1998)

At the end of 1990's, the city of Halifax, Nova Scotia, had unexpectedly become some new Mecca for hip-hop's underground. This status was partly due to the activists Sixtoo and Buck 65, two rappers, DJs and producers who would deliver together, in 1998, a cult album made of cold, dark and experimental hip-hop, just before starting, separately, two long, exciting and extremely rich solo careers.
# 060. EDAN - Primitive Plus LP (1999 / 2002)
The title of Primitive was well deserved. On the original EP, as well as on its extended version, Edan Portnoy was rapping like in the old days. It was as if the 90's, with its elaborate beats, gangster stories and R&B influences, had never existed. Old school, lo-fi and retro-futurist, the rapper, producer, DJ and graphic designer was all of this, and nonetheless he was representative of the indie times.
# 059. EPIC - Local Only (2004)
Epic was an anomaly in the world of hip-hop. A shy and gray-haired Canadian lost in a genre full of machos, he fine-tuned his formula, nonetheless, with his second album, produced once more by Soso. There again, he presented himself as an habile rapper, sincerely in love with hip-hop, and perfectly at his ease with its codes, mixing in a strange way respect and self-derision, praise and sarcasms.
# 058. MOS DEF & TALIB KWELI - Are Black Star (1998)
Indie rap and conscious rap have often been the same thing. At least, they shared a common disgust for the most significant part of hip-hop's mainstream artists. No surprise, then, if the emergence of the Rawkus label had coincided with the rise of Mos Def and Talib Kweli, who delivered something rare with their Black Star project: a successful attempt to an adult and socially committed form of rap.
# 057. CUNNINLYNGUISTS - Will Rap For Food (2001)

By the early 2000's, Deacon and Kno, by then the only two members of the CunninLynguists, import in Kentucky, close to the Dirty South, its complete opposite: a rap full of scratches, fond of samples, and keen on keeping the lyrical art at a high standard. With their fantastic first album, a future collector, they start one of the most satisfying careers in the rap underworld.
Read full review
Buy this record
# 056. EDAN - Beauty and the Beat (2005)
In 2002, with the underground classic Primitive Plus, Edan Portnoy had fully reinvented old school hip-hop. Apparently, though, this hadn't been enough. He would do the same with psychedelic rock with his second album, using extravagant guitars and strings, in order to build one of the rare crossover records that respected, regenerated and challenged equally both genres it was seeking to mix.
# 055. DOPESTYLE 1231 - KutMasta Kurt Presents Dopestyle 1231 (2004)
Please forget Deltron 3030. Please forget as well this Return of Dr. Octagon album, released in 2006. The true successor of Kool Keith's fundamental Dr. Octagon was published in 2004. It was recorded by MC Dopestyle and Tom C, a duo from the Bay Area, sponsored by Kutmasta Kurt. And together, they recycled everything that made a success of Ecologyst, renewing it with some horror movie flavor.
# 054. BIZZART - Bloodshot Mama (2006)
Formerly a spoken word artist, Arthur Arellanes III, a rapper from California, moved over time to the abstract rap of Bloodshoot Mama, where acoustic and synthetic sounds, or new age beats and dissonances, were mixed wih each other, where no track had a classic structure. In accordance with his alias, Bizzart was delivering a hip-hop that was both bizarre and artsy, and the best of its kind.
# 053. THEMSELVES - Them (2000)
At a later stage, Dose One would be a recognized artist, most notably for his experience within the Subtle combo. He has never been so special and haunted a poet, however, than on his first album with Jel, as part of Them - later renamed Themselves. The heavy metal cover art wouldn't lie: together, both guys would strongly challenge the routines of hip-hop, though still working within its limits.
# 052. ANTIPOP CONSORTIUM - Arrhythmia (2002)
Arrhythmia may not be the best record in Antipop Consortium's discography. Far from it. But it had been the best marketed one, the most easily available, thanks to Warp. Also, it was the album with the bangers, with their catchiest tracks, their most accessible; the one we would recommend to neophytes, willing to find an entry point to one of the greatest and most original hip-hop band of this era.
# 051. RED ANTS - Omega Point (2008)
In the mid-2000's, Modulok and Vincent Price - a.k.a. the Red Ants duo - hadn't much in common with their friends and collaborators from the Plague Language label. Coming from the poor and cosmopolitan slums of Toronto, they preferred to engage into the political and apocalyptic rap subgenre of the late 90's, opting for loud, heavy and impactful sounds, not too far from Dälek's indus hip-hop music.
# 050. BRAILLE - Lifefirst: Half the Battle (1999)

There used to be, in the indie rap world, a Christian branch. And Braille was part of it, who dedicated an album, at only 17, to his relationship with God. In the future, he would meet some kind of recognition, and even rub shoulders with James Brown. But he would never release anything as great as this record supported by a dream team of indie producers, like Celph Titled, Sixtoo, MoodSwing9 or Deeskee.
# 049. DARC MIND - Symptomatic of a Greater Ill (1997 / 2006)
The release year of Darc Mind's first album should have been 1997. It took 10 more years, though, for this record to be fully available, thanks to Anticon. With this lost classic, somehow a perfect transition between NYC's mid-90's street rap, and the cold and industrial kind of hip-hop popular in the indie world a few years later, Anticon - no longer a rap label by 2006 - reminded what its roots had been.
# 048. TOCA - Toca (2007)
It took a long time before Toca finally released its first official album. But when it was released, in 2007, it met all expectations. Xololanxinxo, Tommy V and the Ramos brothers had finally delivered their great eclectic and multilingual record, delivering not only some Project Blowed-like creative hip-hop, but also some great rock, funk, or reggae. Anything, actually, from the last 40 years of modern music.
# 047. NOBS - Workin' (2004)
Originally discovered through Phlegm's Brad Hamers, Nobs could have been just one angry emo White rapper, among a multitude of peers, in the quite crowded Internet MCs world. However, a bit later than his so-so Musicide, while moving to the excellent Fingerprint Records label, he would deliver his opus magnus, a very nicely produced Workin', exploring a bit deeper the topics of work and labor.
# 046. RADIOINACTIVE & ANTIMC - Free Kamal (2004)
Radioinactive could have done the same thing again. He could have released another lo-fi album, like Fo' Tractor, or another one full of fillers, like Pyramidi, and wasted his talent. However, with some help from his old pal AntiMC, he finally released his opus magnus, an album full of bangers and open-minded music, one of the few records released by a Shape Shifter, even your grandma could like.
# 045. CYPHA 7 - Got Struggle! (2004)
Despite their proximity to Digital Underground's Shock G, Shaheid and Akim of Cypha 7 have remained unknown rappers. This is no reason, however, for forgetting the second album of this duo affiliated to the Afterlife crew. Released on CD-R only, it is unavailable today and it is a shame: Got Struggle was an outstandingly rich and musical record, in the pure tradition of the Project Blowed.
Record unavailable
# 044. CLOUDDEAD – cLOUDDEAD (2001)
With its absconse and fantasist lyrics, its convoluted instrumentals split in multiple movement, and its beats closer to ambient music or post-rock than to hip-hop, the cLOUDDEAD project had probably been the most extreme and emblematic of the iconoclastic Anticon family. Even if Odd Nosdam, Why? and Dose One, this time, delivered it on Mush Records, and not on the infamous label with the ant logo.
# 043. MIKE LADD - Easy Listening 4 Armageddon (1997)
Mike Ladd was one of the most singular voices in the first wave of indie rap, when it started exploring new ways. A Nuyorican Poets Café regular, and also a university teacher, he offered the best of spoken word with his first album, potentially his finest, an experimental and hallucinated version of the genre, completed with lyrics philosophizing about the forthcoming Y2K apocalypse.
# 042. QUASIMOTO - The Unseen (2000)
Madlib has been praised much too much. He's been presented as a genius, and many of his records have been reviewed according to this questionable postulate. Actually, the beatmaker would become, in the 00's, one of the most overvalued artists in the underground. His solo album The Unseen, however, one of the strangest and most adventurous indie rap records ever, fully deserved the praise.
# 041. X-ECUTIONERS - X-Pressions (1997)
By the beginnings of indie rap, turntablism was a key component. This DJ art, consisting of making music out of scratches and other vinyl manipulation tricks, was regarded highly, and the X-Ecutioners, previously the X-Men, were its champion in New-York and on the East Coast, with their live shows, as well as with this album, one of the very first in the turntablism style, and also one of the best.
# 040. BUCK 65 - Man Overboard (2001)
If one individual only must be remembered, this is Buck 65, who represented all sides of indie rap. And if only one of his many records needs to be distinguished, and praised as his most emblematic, this is Man Overboard, with its tracks looking like real songs, already leaning toward folk and rock, and sometimes, the high emotional intensity of the rapper, affected by the recent death of his mother.
# 039. COMPANY FLOW - Little Johnny from the Hospitul (1999)
Two years after Funcrusher Plus, Bigg Jus, arguably the group's best rapper, was out. Left with its DJ, Mr. Len, and its beatmaker, El-P, Company Flow would then release an instrumental album, made of weird and radical tracks. Little Johnny was brilliant, but the two men challenged and ill-treated hip-hop so much, it looked so changed, that they wouldn't dare releasing it as a CD, in their home country.
# 038. HIEROGLYPHICS - Third Eye Vision (1998)
As soon as in the early 90's, Del, the Souls of Mischief, Casual, and the other Hieroglyphics, had proposed an alternative option to their Californian colleagues, distinct from gangsta rap. Now dismissed by their labels, the collective would show that going the indie way was also a possibility, when founding their own Hiero Imperium structure, and releasing this outstandingly good Third Eye Vision album.
# 037. RESTIFORM BODIES - Sun Hop Flat (2001)
They have been the Dadaists of rap, its true eccentrics, those who pushed the further the deconstruction of hip-hop initiated by their friends of Anticon. And the very amateur Sun Hop Flat CD-R may be one of their best, among the many solo or collective releases of Telephone Jim Jesus, the Bomarr Monk and Passage. It contains as many exquisite times, as abstruse, experimental and delirious ones.
# 036. PENNY - The Clockforth Movement (2002)
Penny Dahl was part of Plague Language, a label from Canada, but she was a pure product of hip-hop's West Coast Underground, judging by her versatile and fast flow. The Californian rapper, actually, merged the best of both worlds on this irresistible album. Unfortunately, there would be almost no following to this, which makes her short but creative Clockforth Movement all the most precious.
# 035. THE SHAPE SHIFTERS - Know Future (2000)
It looks like utter nonsense. These are, indeed, two hours and more of nerd culture and conspiracy theories, declaimed by a full collective of crazy Californians, all bastard heirs to the Project Blowed tradition, and by a few other guests. These two CDs, full of informal beats and weird sounds, hardly make sense. And though, it is the Shape Shifters at their very best, at their most exciting. It is their classic.
# 034. ATMOSPHERE - Overcast! (1997)
In the Midwest, a band aimed at preserving some battle oriented kind of hip-hop, would actually transform it. It was still "me, myself and I", somehow, but the usual ego-trip would become introspection, and open the way to tens of indie rappers focused on their internal torments. Almost none, however, would be as talented as Slug, the key and fundamental person behind the Atmopshere project.
# 033. SOSO - Birthday Songs (Japanese Edition) (2002 / 2006)
Soso is the only one who managed it. He is the only one who could sound so intimate and sensitive, who could expose himself as such, who could play so dangerously with pathos, but never be ridiculous or irrelevant. Birthday Songs, the first great album of the Canadian rapper, is a testimony of this. And you'd better get hold of the 2006 Japanese version, which is even greater than the original.
# 032. INOE ONER - Governments Greatest Hits (2003)
It was even not a regular release, but just a CD-R. And though, this album was the best ever released by Inoe Oner, the rapper, and Adlib, the producer - later known under his real name, Thavius Beck. It offered some of the greatest and most original tracks ever released in hip-hop around the year 2000. One of them, "Da Ole Me", may even be one of the strongest rap songs ever. Yes, I really mean it.
# 031. ANTIPOP CONSORTIUM - Shopping Carts Crashing (2001)
A limited edition album, released on an obscure Japanese label, a few months only after Tragic Epilogue, the trio's masterpiece... In such circumstances, this album should have presented almost no interest. The band which released it, however, was nothing but anecdotic. And as a result, this incredibly inventive Shopping Carts Crashing is, for them, a side project, and for us, an indispensable record.
# 030. THIRSTIN HOWL III - Skilligan's Island (2002)
Previously a gang of thiefs, the Lo-Life Founders finally moved to hip-hop. In their lyrics, they celebrated their hustlers background, they claimed their passion for Ralph Lauren polos, and their mixed English and Spanish lingo was often sexually explicit. These Porto Ricans, actually, were as delicious as it was delirious, as showed with this compilation from their figurehead, possibly their finest release.
# 029. MCENROE - Disenfranchised (2003)
In 2003, after four glorious years when the Peanuts & Corn label had released a full series of great underground rap albums, some could consider that the overproductive mcenroe had exhausted his best beats. Well, he hadn't. On the contrary, he had saved them for ''Disenfranchised'. With it, and despite lyrical skills a bit lower than some of his friends', he would release one of his label peaks.
# 028. LUCKYIAM.PSC - Justify the Mean$ (2002)
If this record needs to be isolated from the Living Legends' outstandingly large discography, the reason is not limited to the honest rapping style and themes of its main player, Luckyiam.PSC. It due as well to the production of the artsier member of the Californian collective, Eligh, who did there exactly what is expected from the best beatmakers: hiding well behind the MC, but transcending his work.
# 027. BUCK 65 - Square (2002)
Buck 65's very first major label album looked pretty much like the previous ones. More similar to a mixtape, than to a regular album, it was a collection of clever ideas and anthological beats, organized into four long and untitled tracks, the rapper used primarily as a background for his thoughts and fancies. It was his last album, before he turned into a pop rock artist, and it was another great one.
# 026. JOHN SMITH - Blunderbus (Or, in Transit) (2001)
This solo album from the rapper John Smith, his first and his best, is also one of the finest records ever released by Peanuts & Corn. Both introspective and humorous, and supported as usual by first-class jazzy beats from Mcenroe, Blunderbus was another testimony of a great time, from 1999 through 2003, when any release from the small Canadian label would be very close to irreproachable.
# 025. DALEK - Abandoned Language (2007)
In case just one piece needs to be retained from Dälek's discography, this is Abandoned Language. As powerful as the previous album, Absence, as noisy and politically conscious, but more accessible and breathable, it marked the entry of the band in an exclusive club: a club with rappers who are able to evolve, while staying the same - and thus, to record more than one great album in their career.
# 024. SLUMPLORDZ - Present SunnMoonSekt (1999 / 2001)
Originally, in 1999, it was just a cassette, recorded with a lo-fi quality and minimal beats. However, as radical as the most experimental indie rap projects, and as aggressive as the most extreme gangsta rap, the first album of SunnMoonSekt, a duo coming from Oakland's Slumplordz collective, finally made its way in the underground, and it was rereleased. It is, today, an overlooked hip-hop classic.
# 023. BUCK 65 - Vertex (1997 / 1999)
To those who, in 1999, thanks to the release of the single "The Centaur" on Anticon, would discover this album from Buck 65 (it had, actually, been released two years before on his own label, and would be the first publicized outside of Canada), it was obvious that this strange, astute and experimental hip-hop, blended with ethereal scratches, was the work of a future figurehead of indie rap.
# 022. BRAD HAMERS - The Cut-Ups of a Paper Woman (2004)
A few years before, Anticon had opened a highway to White MCs, interested in the most intimate and artsy side of rap. But Brad Hamers would be the one exploring it until its very end, first with Phlegm, then with Two Ton Sloth, or as a solo artist, like with this album, all about confessions and poetry. This was full of pathos; but still, Brad Hamers' formula was outstandingly magnificent, and totally convincing.
# 021. SANDPEOPLE - Honest Racket (2007)
Talk about a loose hip-hop collective, located in the Pacific Northwest, to an indie rap fan, and he will immediately think about Oldominion. There was another one, though, named Sandpeople, whose joint album Honest Racket would be one of the finest ever released in that region, thanks to the beatmakers Sapient and Simple, and a talented band of rappers, most notably Scribble Jam winner iLLmacuLate.
# 020. MCENROE - The Convenience EP (2002)
The Convenience EP was the forerunner of Disenfranchised, an album released a few months later, and generally considered as Mcenroe's masterpiece. Due to the presence of other rappers, though, it is a bit less personal; it is less crossover, also, and less accessible. However, partly because the Canadian was more skilled with the beats than with the mic, it is its perfect complement, and largely as good.
# 019. DJ SHADOW - Endtroducing... (1996)
By far, the visibility and the influence of this record went much beyond hip-hop. Few albums, however, have predated that much rap's removing from its birth context, its mixing with other genres, and its artsy aspirations, which were all key characteristics of the late indie rap days. Actually, per its strange title, Endtroducing... was, somehow, the end of an era, and the start of a new one.
# 018. CANNIBAL OX - The Cold Vein (2001)
The first Cannibal Ox album would be the climax of the indie rap era. It happened when the hype was at its top, when the movement was the most visible in the media. The record was not perfect, but it was a good transition between Company Flow, and El-P's career as a solo artist and label manager. It also managed to please an audience external to hip-hop, and largely met the others' expectations.
# 017. BLACKALICIOUS - Nia (1999)
The best record ever released by the Solesides / Quannum collective was, arguably, the first album from Chief Xcel and The Gift of Gab. After two outstanding EPs, including the cult Melodica, the duo had finally delivered Nia. And it was the quintessence of their open and playful kind of hip-hop. It was creative but accessible. This rap had reached its adult age, but it was still far from boring.
# 016. AESOP ROCK - Skelethon (2012)
No music should have aged more than Aesop Rock's intellectual kind of hip-hop, a rapper very much in the hype around 1999 and 2000, and who released records on the most emblematic of all indie labels, like Mush Records, Def Jux, et Rhymesayers. And though, what may have been his very best record was released quite late, by 2012, when Blockhead's beats had been substituted with his own.
# 015. JEDI MIND TRICKS - The Psycho-Social, Chemical, Biological, and Electro-Magnetic Manipulation of Human Consciousness (1997)
By the end of the 90's, the Jedi Mind Tricks were almost as praised as Company Flow, and this was largely due to their first album. This record, actually, just pushed to the extreme the dark and weird formula pioneered by RZA and the Wu-Tang. But it made it outstandingly ethereal. Thanks to this, and before Vinnie Paz turned into a thug rapper, The Psycho-Social... was a gothic hip-hop masterpiece.
# 014. EIBOL - Karma Kingdom (2005)
Fingerprint Records has never been the most visible label in New York's boisterous underground scene, but the quality of its releases has constantly been outstanding. And with Karma Kingdom, it was even better. With it, Eibol delivered an extraordinarily enticing, diverse and inventive album. It was ecstatically frantic, exhilarating and playful, as few hip-hop records had been since the old school era.
# 013. ADLIB - International Beats (2005)
The most obvious proof of Adlib's talent is not to be found with Global Phlowtations, the collective the rapper and producer is coming from. It is neither his work with Subtitle, as part of Labwaste, nor his solo projects for Mush and Big Dada, as Thavius Beck. It is, in fact, the first version of International Beats, a collection of inspiring instrumental tracks, released on CD-R and digitally only.
# 012. DJ SHADOW - The Private Press (2002)
Undoubtedly, The Private Press was released too late. A bit too similar to the historical Endtroducing..., it could no longer have the same impact. Despite positive reviews overall, it is now almost forgotten. And it is still because of his first album, that Josh Davies is famous. And though, at the end of the day, wouldn't the second one be his most accomplished? Isn't it his true masterpiece ?
# 011. GRUF - Druidry (2001)

On an outstanding series of delicate beats delivered by the great Mcenroe, Gruf the Druid, Peanuts & Corn's rapper of Native American descent, and a former Frek Sho member, shares his ethical concerns and his ecological convictions. Yes, this is some kind of conscious rap, declaimed in a mode close to spoken word, but with rare restraint, originality, subtlety and musical acumen.
Read full review
Buy the record
# 010. SAGE FRANCIS - A Healthy Distrust (2005)
Personal Journals, Sage Francis's previous album, had been praised by critics and an audience for a large part external to hip-hop, due maybe to the rapper's rock music leanings. The guy, tough, was first and foremost a redoutable MC, as he would show with his next album, the less eclectic but denser, angrier and more intense A Healthy Distrust, quite probably his true and definitive masterpiece.
# 009. OMID - Beneath The Surface (1998)

Beneath The Surface is presented as a compilation, but it is a bit more than that. In 1998, this collection of songs reveals a new generation of talented rappers affiliated to the Project Blowed, but it is also, first and foremost, Omid Walizadeh's true masterpiece. This is a definitive demonstration that he's one of the very finest beatmakers in the West Coast underground hip-hop scene.
Read full review
Buy the album
# 008. JUGGAKNOTS - Re:Release (Clear Blue Skies) (1996 / 2003)
New York City, by the middle of the 90's. While Co-Flow recorded Funcrusher Plus, their friends The Juggaknots released their outstandingly subtle Clear Blue Skies album, on Fondle'em. Less revolutionary than Company Flow's masterpiece, and less influential, it was nonetheless excellent. And it aged remarkably well, as demonstrated with that enhanced version released in 2003.
# 007. DR. OCTAGON - Dr. Octagonecologyst (1996)
Dr. Octagon was, somehow, the beginning of the indie era. Its driving force, though, was a veteran. Kool Keith, one of the craziest rappers from the 80's, teamed up there with a new generation of people like turntablist Q-Bert and beatmaker The Automator. Thanks to their strange and psychedelic beats, they would impact greatly the most adventurous, in rap music as well as beyond.
# 006. CESCHI - The One Man Band Broke up (2010)
By the early 2010's, Ceschi Ramos was somehow the last figurehead of the indie rap scene, as it emerged more than 15 years ago. His label, Fake Four, looked like the last refuge for its veterans. And with his third album, equally made of hip-hop and psychedelic rock, and produced by a beatmaker from Germany, DJ Scientist, he delivered what could be the ultimate masterpiece of the genre.
# 005. ELIGH - Enigma (2005)
Eligh was the most creative member of the Living Legends. His solo albums aged better than others, released by the Californian crew. His talent was already apparent in the late 90's, with releases such as As they Pass and Gas Dreams. But it became even more obvious in the noughties, with the delicate, smooth and jazzy Enigma, surely the best record from the rapper and producer.
# 004. MF DOOM - Operation Doomsday (1999)
By the end of the 1990's, Zev Love X had become a new rapper. As MF Doom, the rapper from K.M.D. had released a handful of outstanding singles, on Bobbito's Fondle'em label. They would all be compiled on Operation Doomsday, an indie rap classic that would make him a hip-hop underground star, a critics' favorite and a true godfather to the blooming indie rap scene.
# 003. ANTI-POP CONSORTIUM - Tragic Epilogue (2000)
Every album Antipop Consortium ever released is remarkable. As perfect masters of their own subgenre of rap – a reloaded version of the 80's electro hip-hop - High Priest, Beans, M. Sayyid and E. Blaize never disappointed. Their real and unique masterpiece, though, is their first album. After many years of activism in New-York's spoken word underground, it was a full accomplishment.
# 002. QWEL & MAKER - The Harvest (2004)
In 2003, Maker had shined with his Honestly album, his band Glue, and his production work for Galapagos4. The year after, though, he would do even better. Starting a long collaboration with Qwel, he would provide the Chicago rapper with what he was missing: subtle and quality beats, fitting perfectly well his rapping style. Thanks to him, The Harvest would be Qwel's best album.
# 001. COMPANY FLOW – Funcrusher Plus (1997)

Other records had anticipated it, but the true starting point for indie rap was Funcrusher Plus. With its "independent as fuck" stance, its lo-fi tracks, abstruse lyrics and austere beats, and its plan to remove all fun from hip-hop music, the first Co-Flow album had opened the floodgates. It had paved the way for a new generation of experimental rappers. It had been capital, seminal, and definitive.