It all started by 1998, when Mike Nardone came across a cassette full of instrumental hip-hop music, entirely produced by a Californian beatmaker, by then unknown. Convinced by these few tracks, the DJ shared them with the guys at Ubiquity Records, who decided to release them. Now on a label, Elvin Estela, a.k.a. Nobody, enriched this personal compilation with some new work. And in 2000, he released what would become later an instrumental hip-hop classic, Soulmates.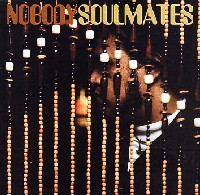 Ubiquity Recordings :: 2000 :: buy this record
This record was greatly prized upon its release, and even more afterwards, but it never was a success. It was not designed for this. Soulmates was too discret a record. It had nothing radiant, it looked too much like a long and contemplative suite. It also had a strong jazz feeling, though its sounds were not coming from this genre. Instead of delivering the usual saxophones, trumpet or piano samples, Nobody fed his chamber hip-hop with slow grooves, space rock, and 60's psychedelic rock. The latter, as a matter of fact, was one of his obsessions, and he would explore it even further with his second album, Pacific Drift (2003).
Using this formula, Nobody delivered great beats, like the piano on the badly named "Monotone", or the magisterial drums and guitar on "Green Means". These two tracks were not too far from DJ Shadow's abstract hip-hop, but Soulmates also had some more original songs, like "Sixth Sense", and its melancholic guitar, the weird guitar loops and flutes on "Outbreak", or the bells on "For Those who Never Dream". All of this was irreproachable, except for a few boring tracks like "Syde Tryps" or "Tone Therapy", spoiling a bit the end of the record.
Nobody excelled with instrumental hip-hop, but not only. The rapped songs were strong as well, benefiting from the support of some of the best MCs in California, all more or less affiliated to the Project Blowed: Medusa, but also 2Mex from the Visionaries, on the Eastern sounding "Shades of Orange", Abstract Rude on the slightly disappointing "Inner Eye", and Aceyalone, solo on "Faces of the Deep", and with the Freestyle Fellowship on the very convincing "Planets Ain't Aligned". All of these soul-mates added the cherry to the cake. They supported Nobody with voices he didn't really need, but which helped him approaching perfection.