The Micranots were based in Atlanta, but their music had no connection with the usual kinds of raps in the Dirty South. Nothing surprising with this : by 2000, the duo had recently relocated. It had been funded, actually, in California. And the MC, I Self Devine, had lived in Minneapolis, where he connected with the Headshots collective, and participated to the Dynospectrum project, along with Slug.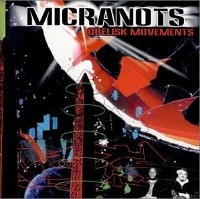 Sub Verse :: 2000 :: buy this record
As for their sound, it was much closer to the toughness and experimentalism of New-York's underground scene, than to the more funky and extrovert style of their new neighbors. They would demonstrate this with Obelisk Movements, an album they released after multiple incidents, on Bigg Jus' Sub Verse label, after it failed to be published by 3-2-1 Records, the house of Chicago's Ruberoom.
The album's obtuse title could be interpreted in several ways. Sometimes, the Micranots would compare the obelisk to the needle of the turntable. Or they would say it was a symbol for the most solid and straight forms of hip-hop, a hip-hop hard as a rock, but ready for moving ahead, per the indie rap ideology. This definition, actually, was giving a clear view of the record's content; it would be based on a powerful and tenacious rhythm, full of weirdness and panting raps; it was built like a block, around the offensive and declamatory flow of I Self Divine.
That being said, the Micranots' music was not monolithic: on "Pitch Black Ark", a trumpet would be interrupted by some thriller soundtrack; on "Exodus", Kool Akiem was using bells, and managed to make them melancholic; "Visualistik" had some latin feeling; , "Monuments" was full of turntablism; "Analyze" was based on complex rhythms; "Critical" looked like some electro track; "Culture" relied on the contrast between a contrabass and a synthesizer; the piano on "Preparations" was obsessive; "The Willie Lynch" had a fantastic organ, and feminine raps (or shouts, almost); and "Balance" sounded futuristic, and was representative of the science-fiction rap subgenre, quite common in the indie hip-hop world, by 2000.
The heavy drums, scratches and synthesizers of Kool Akiem were all striking; same thing with the way I Self Divine delivered and combined his lyrics, or approached topics like the hypocrisy of anti-drug policies ("Illegal Busyness"), the harmful struggles within the African-American people ("The Willie Lynch"). It was some pro-black conscious rap, yes; but it was much more powerful than some Talib Kweli-like sermonizing. Obelisk Movements, as a matter of fact, was impressive. It was one of the best rap albums in 2000, and a true indie classic.