A rap business veteran from New-Orleans, rejuvenated through his collaboration with two rising stars of the new decade, on a joint mixtape: this story actually, looks familiar. In 2013, it happened already with the Louie V Mob, a trio made of Master P, Fat Trel, and Alley Boy. One year later, though, Birdman goes the same way. He is now the sponsor of two emerging rappers from Atlanta, Rich Homie Quan and Young Thug. Jointly, they are the Rich Gang, and they released a free album called The Tour Part 1. However, the comparison stops there.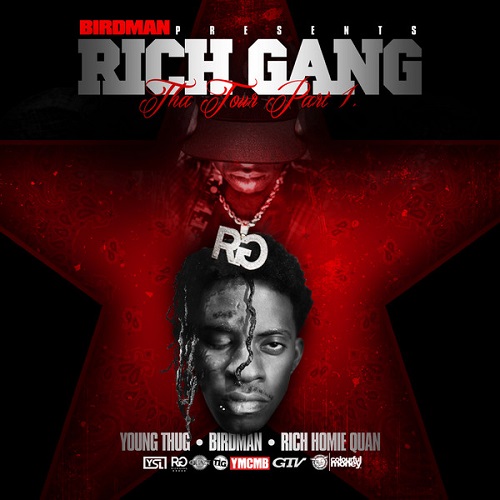 Unlike his competitor, Birdman doesn't play a major role in this. He doesn't rap much on this mixtape. His main contribution is the notoriety of his name, and the Rich Gang label, he already used in 2013 to rename his Cash Money / Young Money stable. Essentially, though, this project belongs to the two other rappers, jointly with London On Da Track, who produces most of it. There, Rich Homie Quan and Young Thug deploy their respective kinds of raps: Future-like melodic ones for the former – on the formidable "War Ready", "Hate I", and "Everything I Got" -, and some off-the-wall kind of trap music for the latter – on "See You", the excellent "730", "Pull Up", and "Who's on Top". And at times, they step into each other's territory, like with "Flava".
The lyrics are generic. They are some nouveau riche braggadocio, or about love for bitches. The forms, however, are innovative, and the two guys complete each other perfectly well. The most remarkable of the two, though, the real star there, is Young Thug, thanks to his unpredictable style. The Young Thug there, however, is neither the same as on 1017 Thug, nor the weirdo rivaling with the equally eccentric Bloody Jay on their Black Portland collaborative mixtape.
As a matter of fact, it is quite the opposite. The new Young Thug, the one now sponsored by Birdman, is a calmer. He is a tamed and retained one, as if, while becoming more and more famous, Young Thug was more careful with not scaring his audience with his hysteric and excessive manners; as if he was more concerned with the doubts some expressed about his sexual orientation. Some might miss his weirdest demeanors and his most furious raps. And as a matter of fact, he sometimes gets almost boring, especially on the second half of the mixtape. However, a careful listener will continue to perceive his incredible versatility. It is just more controlled and more restrained. Sometimes, this mixtape sounds too clean, and it is definitely too long. The most visionary rapper of our times sounds blander, at times. But he is still there. He only delivers what might be the most pop and presentable facet of his complex personality.