Joe Compayre, a.k.a. John Smith, is coming from an improbable location for a rapper: Churchill, on the Hudson Bay, a city renowned for being... the "Polar Bear Capital of the World". He settled in Winnipeg in 1993, starting to make a name for himself as a battle MC. It is later on, though, by 2000, in the heydays of Peanuts & Corn, that his – quite relative – fame crossed the border of the Manitoba province, first as a full member of the Park-Like Setting band and the Break Bread collective, and then with Blunderbus, his first album, and one of his label's finest.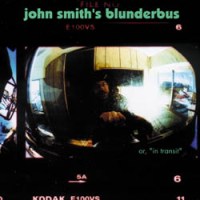 Peanuts & Corn :: 2001 :: buy this record
Like most of his P&C peers, John Smith knew well that he wasn't a Black man from the ghetto. Consequently, his lyrics were about daily and trivial concerns, instead of the usual rap themes. He was more into introspection, than into braggadocio, being confessional on "Walk on By", sharing memories, like the night party he described on "First Date", or admitting to read Dostoyevsky. His album was full of funny strokes, for example when Mcenroe exhorted people to buy the rapper's records, so that he can buy himself a car, on "No Room for Subtlety"; or with Josh Martinez and Pip Skid, when they diverted the attacks against wack emcees, this rap cliché, into a track against lame skateboarders, on "I'm Rollerblading!".
As usual with Peanuts & Corn, jazz samples and deep basses were the raw material, and they were enriched with DJ Hunnicut's scratches, and the five-star production work of Mcenroe. Once again, the latter knew how to play with subtle changes and original sounds, like the Tibetan bells of "Last Trip", the oriental sounding "Come So Far", and the ambient atmosphere of "I'm Rollerblading!"...
The approach was close to Park-Like Setting's, the key players were the same and, as with their first album, a common topic was running through it: it was, indeed, all about travels, motion, and movements, as hinted with song names like "Walk on By" and "I'm Rollerblading!", and also "Climb Everything", "Last Trip", and the humorous "F*&@ing Gas Prices Are Killing Me!". At the end of the day, John Smith had finally diversified his themes, putting the album's original title, In Transit, under brackets. The record, though, had retained from the original idea a strong consistence and homogeneity, exactly like a best-in-class concept album.