You know what to expect, considering whom Swamp Thing is made of. Those familiar with underrated rappers Timbuktu and Chokeules from Toolshed, and Savilion, shouldn't be overly surprised by the content of Creature Feature. This is one of their cheerful albums, full of old-school era playfulness and frantic tempos, with lots of samples, scratches and dexterous rimes, like in the heyday of East Coast rap, in the 90's. This is just Backburner at its purest, especially since other members of the Canadian collective, Jesse Dangerously, Wordburglar, More Or Les, Ghettosocks, and a few others, are supporting their comrades here and there.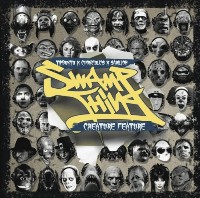 Hand'Solo Records :: 2012 :: buy this record
The record title refers to an old horror TV series. The band is named after a comics creature. The cover art is a parody of A Tribe Called Quest's Midnight Marauders. And all of these are indications, in their ways, that the trio chose to focus on one key subject matter: Z-movies. All over the record, actually, the rappers are talking about dreadful monsters ("B-Movie Monster"), Star Trek-like series ("First Contact"), the exploration of planet Mars ("Red Planet"), H.G. Wells' time machine ("Time Machine Massacre"), macho and invulnerable cops ("8-Track Playback"), and John Carpenter, the famous horror and science-fiction movie filmmaker.
Savilion produced the album, and he selected adequate beats: strings from beyond the grave with "The Damned", or a morbid organ with "All About the Brains". In addition, he blended it all with some dialogs sampled from cult or forgotten movies, and police sirens, laser gun noises, macabre laughs, cries of terror. These are particularly visible on "Creature Feature", the final track, a posse cut with Modulok and a large part of the Backburner family. Even the vintage raps sampled from Busta Rhymes, Method Man and others, are about the same themes.
This results into a pandemonium. But this pandemonium is from Backburner, and has a strong taste for acrobatic raps, old school hooks, Uncle Fester's furious cuts, 90's inspired soul samples, and the astute and catchy beats these Canadians are used to. The formula works well, especially with the melodic "Time Machine Massacre", the stirring "Red Planet", and the strident "John Carpenter". All are ecstatic, and potential hit singles, would more people have a chance to hear them.