With their fourth album, Dälek still complied with their formula. Once again, this record from the Newark band was made of walls of sound, tenebrous ambiances, giant bass sounds, virulent lyrics, rapped admonitions, and long instrumental passages. As usual, also, there were a few scratches, here and there. DJ Still had departed, but another turntablist replaced him : Rob Swift, from the X-ecutioners.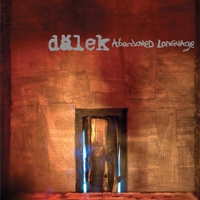 Ipecac :: 2007 :: deadverse.com :: buy this record
Abandoned Language, though, was different from the intricate patchwork of From Filthy Tongue of Gods & Griots, or the massively brutal Absence. It was more airy than its predecessor, and more spacious. It was more organic, as well, with some strings on a few tracks. Built around a recurring theme - the power of words and language - it was also, more than any other record from Dälek, a concept album.
The first highlight on the album was "Abandoned Language", a 10 minute long and anthological introduction. Based on one of the slowest beat ever delivered by Dälek, it was full of restrained violence. And though it looked like a crescendo, it ended surprisingly with a peaceful music, instead of the expected explosion. The other culminating point was located at the other end of the record, and it was the impressive "(Subversive Script)". This one, contrary to the other, was the predicted apotheosis, and let go the huge noise that had been smoldering before.
Between these two ends, the album was a bit less intense, but the music staid flawless. Such was the case with the slow ambient of "Tarnished", or with "Lynch", a machine and strings based instrumental track, reminiscing of the movies from the man it was named after. Abandoned Language, actually, was a break in the band's continuity. More than ever, it was some kind of unilaterally dark music, but it was more accessible, more breathable. And it allowed Dälek to join an exclusive club: the one with rappers who delivered much more than just one great album.