Rard and Moon, a.k.a. SunnMoonSekt, had previously been part of an East Coast band called Devious Dysfonctional. Later on, they would join another, Young & Restless. And ultimately, they would become part of a collective, the Slumplordz, founded by 1997 in Oakland, in the Bay Area. It is under their brand, that they would record in a rough way their first album, and release it in 1999, as a cassette only. Due to a certain success in the underground, though, Stray Records would rerelease it in a different package, two years later, making it more easily available.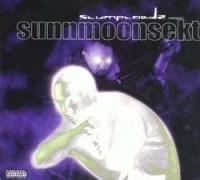 Stray Records :: 1999 / 2001 :: buy this record
At the time of the rerelease, those who had discovered Stray Records through the Stray from the Pack compilation, in 2000, were not too disorientated. The beats of SunnMoonSekt, expectedly, were tough, atypical, and keen on experimenting. The duo, nevertheless, was different from other bands on the label: for example, they wouldn't give a damn about things like drum 'n' bass. Due to their limitations, the production was stark and minimalist. Their beats were austere and suffocating, and on par with the science-fiction influenced indie rap of the same era, but less pompous, less emphatic. A self-indulgent sound, actually, would have hardly fit the lyrics, made of a more usual sort of street rap, full of paranoid tendencies.
And all of this was good; it was even exceptional. It deserved all kinds of superlatives. SunnMoonSekt achieved a perfect synthesis between the virulence of gangsta rap, and the creativity of alternative hip-hop. After the humorous introduction, where some guy ordered "SunnMoonSekt" at an Asian restaurant, the duo started with the atmospheric "Area 33rd", followed by the relentless "Raw Apparatus". It was already great, but still a bit too expected. Actually, the first true outstanding track was the ultra-minimalist "Do Tha Sunn Moon". After this one, it just didn't stop. We had "Town Shit", "Order of Assassins" and the great "DethBlow", three amazing songs, all extraordinarily aggressive and hypnotic.
Compared to these, the last few tracks were a bit tasteless. The album, though, had a great conclusion, with the haunting and inexorably black "Twisted Metal Rejekts". This kind of violent and dirty electronic rap was great, and it confirmed two key laws of music: that top quality doesn't necessitate exceptional production means; and that gentle caresses are not always what a music listener needs.