A small buzz has recently started around Andy Bothwell, a.k.a. Astronautalis, a new rapper who has been presented to the indie audience as a new hero for the intimist folk rap sub-genre, a common practice now. Even before its release, by the middle of 2006, The Mighty Ocean & Nine Dark Theaters started receiving praises. And, admittedly, the Floridian worked toroughly on this second album.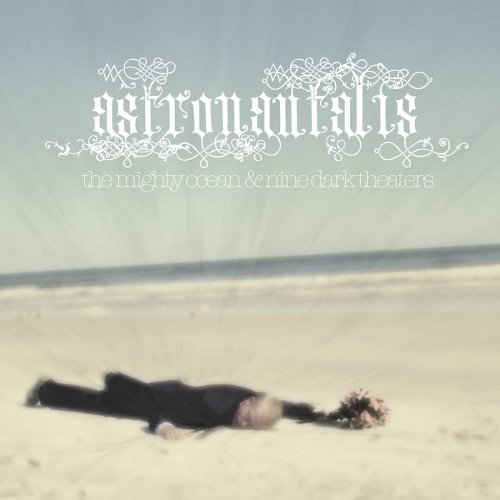 Fighting Records :: 2006 :: buy this record
First, he leveraged the exclusive support of one single producer, Radical Face, of Morr Music, who delivered first class work, with his beats attentive to details, and full of instruments like an acoustic guitar, a piano, an organ, an harmonic, an accordion, a mandolin, a banjo, completed with bleeps, synthesizers and bouncy rhythms. Then, the two of them spent one full year working on the tracks, with the marginal help of some other artists, like the beatmaker Skyrider. And finally, the record was packaged carefully, with a nice cardboard cover art and 13 small photographs, one per song, including the lyrics. Obviously, after You and Yer Good Ideas, a promising but lo-fi album he used to sell at the end of his shows, Astronautalis did his best to deliver a masterpiece.
And it is, almost, a success. Delivered with a flow which encompasses seamlessly all the nuances from rapping to singing, the songs of The Mighty Ocean... are, at worst, nice, and at best, excellent. Having conceived his record as a goodbye to his teenage years, Astronautalis compiles remembrances of things past: a brief love story on the beach ("Seaweed Shuts", the most intense track), short and nice escapes ("Love Song for Gary Numan"), a dinner which went wrong ("My Dinner With Andy"), a city to get lost into ("Down and Out in the Bold New City of the South", and its three movements). And he does this with a special care with words. No-one, for example, ever invested so many efforts in describing a skateboard fall ("Short Term Memory Loss").
Astronautalist has already been presented as a new Buck 65, and he deserves this comparison. The similarity between both artists is striking, sometimes, like on "Astigmatism". They are different, though. The Floridian's favorite topics are more targeted, and there is no humor in his rhymes, at least not on this record, while his lyrical skills are larger, due to his background as a battle MC. Astronautalis, indeed, has his own voice. He has his own style, his own talent, and this second album is the best opportunity to discover them.