Ah, the stupid nostalgia of the fans; their everlasting preference for the very first records of their favorite bands; this stinging jealousy overwhelming them, each time that other people are starting to love their idols, especially when these people are known for their utter absence of taste and their lack of discernment. This is what happened with many Antipop Consortium aficionados when the New-York trio had left Dan the Automator's 75 Ark label, for the British hipsters of Warp.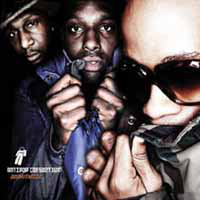 Warp :: 2002 :: buy the record
Antipop Consortium's first album, Tragic Epilogue (2000), had introduced hip-hop to the new millennium – as well as it had returned to the 80's electro era – with its formula mixing rap with electronica and experimentalism. For the most artsy and esthete part of hip-hop's audience, they had been some kind of revelation. But with their move to Warp, something vicious took place: first, the impact of the label's brand may have distorted some judgements; second, with their first record for the English label, the band would make its music – all other things being equal – relatively more attractive, catchier, with some addictive loops and big basses.
Arrhythmia, however, was a good album. Its cover art, yes - its great cover art only - would be a good investment. And as for the music, it was finally not that different from what the group had used us to. It was still this regenerated kind of hip-hop, and these shaky electronic sounds supporting the top quality raps of all three MCs. Listening to bangers like "Ping Pong", genially built around a ping-pong ball sound, or "Human Shield", with its booming synthesizer, one could only be delighted. This was still some pure APC songs, just more accessible than ever.
Contradicting the "anti-pop" in their name, Beans, High Priest and M. Sayyid had never been so playful and attractive. They had never been so simple and funky ("Bubblz"), so bombastic ("Dead in Motion"). They had never used in such a way great artifices like the diva song on "Mega", or the smooth feminine voices - not so far from the much despised R&B - they would leverage with "Ghostlawns".
Something was wrong, though… Sometimes, their dissonances and their electronic sounds seemed somehow lazy. They were close to a formula, a recipe. Some tracks, and particularly those not mentioned into this review, were not as fresh as in the old days; they were not as decisive as on Tragic Epilogue. These were the only reasons why this album, overall just great, could sometimes nurture the stupid nostalgia of the people who, like us, had been among the trio's first fans.