MCENROE - Disenfranchised
So many years later, we still wonder where mcenroe found the time. Since his first recordings by 1994, the rapper and beatmaker had never been out of work. In addition to his own releases, or those of his group Park-Like Setting, or the many albums entirely produced by him, or his many featuring as an MC, the Canadian was managing one of the best and most regular indie rap labels ever, Peanuts & Corn. And that was not all: he also took care of the mastering and distribution of many other records, and he was working as both a publicist and a graphic artist.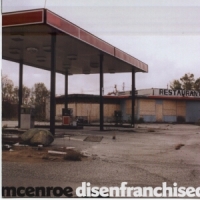 Peanuts & Corn :: 2003 :: buy this record
With such a schedule, and after all the great songs he had produced or released in a decade, one could realistically assume that Rod Bailey – his real name – had exhausted his best resources, by 2003. Disenfranchised, though, would show the complete opposite: the rapper, actually, hadn't shot his best arrows yet. He had reserved them to what was presented as his first real solo album - all records previously released under his name, having been EPs or side projects only.
Disenfranchised, indeed, was an accomplishment. It was the achievement of the style mcenroe had developed over time. His main influence was very obviously New York City's hip-hop sound; but the old formula sounded fresh and new again, after it had crossed the Canadian border. It was still classic rap, but it was also humbler and more personal than usual, the lyrics sharing balanced and nuanced observations about daily life situations. Far from the usual braggadocio, mcenroe was sharing his trivial experiences. He was an average citizen, but a wise one.
Any randomly selected track would suffice to demonstrate the excellence of Disenfranchised. Such was the case of "Sleepwalking", where the guy rapped about the downsides of a banal life, over jingling and bass sounds; same with the deejaying-heavy "Let's Pawn the Bracelet"; or with "Working in the Factory", which questioned the validity of nostalgia; and again with the very catchy "Wandering Eye", about Mcenroe's own adventure in music, the ordinary but touching journey of a White guy from mainstream pop to alternative rock, and then to rap.
We could go ahead; we could list and comment any single track; this record was worth it. It was one of these albums, rare in rap music, or even undreamt of, which are solid from the beginning through the end. It was a peak for both mcenroe and Peanuts & Corn, the two best kept secrets of Canada's rap scene.
Rate this entry
5/5
Note: 5
Votes: 1
Higher: 5
Lower: 5