So, they hadn't said it all. Responsible for some of the best indie rap releases in the mid 2000's - especially the brilliant The Harvest - the duo had made it again, ten years after. In 2013, Qwel, a member of the Typical Cats, who had originally perfected his rapping skills in Chicago's MC battles, and Maker, the finest producer in the Galapagos4 family, would add another great piece to their discography.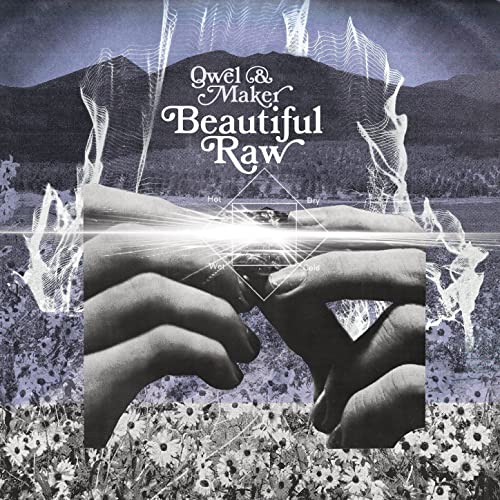 Galapagos4 :: 2013 :: buy this record
Beautiful Raw was the duo's fourth joint album, and it was just excellent. It benefited from the support of some other veterans of the indie rap scene, like Qwazaaz from the Typical Cats, The Grouch from the Living Legends, Swamburger from the Sol.Illaquists of Sound, and the turntablist D-Styles. But their presence was anecdotic. This album was, essentially, Qwel and Maker's thing. And it confirmed once again their perfect alchemy, and that they were master craftsmen.
Qwel was still quite good at delivering lyrics with a great sense of urgency, and at playing with rhymes and sounds, with a fluency coming from his rap battle past. Nevertheless, instead of favoring the exercises related to this kind of rap, like ego trips, the MC changed himself into a poet, speaking about life, love, a lost childhood ("Broken Pendulum"), mocking drugs ("Pilfer"), approaching abstraction ("Lake Effect"), and more generally, preferring careful words to punchlines.
As for Maker, he proved once again that he was one of those rare beatmakers, loyal to an ancient form of rap based on loops and samples, but able to refresh the old boom bap formula, to make it current and exciting again, thanks to his great attention to details. Whatever the sound Maker opted for - the brass and ethereal chorus of "Beautiful Raw", the fuzz guitar of "Long Walkers", the organ and subtle flute of "Wreck Room", the drums and lalas of "Pilfer", the airy voices of "Lake Effect", the playful guitar of "Through the Sidewalk", the melancholic piano of the splendid "If I Could Sing" - it always, always, always sounded relevant. Always.
"This new album is a testimony to the hard work and thoughtful care that the two put into all of their music". This is how the media kit presented Beautiful Raw, and it was completely accurate. As a matter of fact, the same could be said of the complete discography of both men. In the years of swag, in a rap game mostly ruled by attitudes and postures, Qwel and Maker continued to show their love for a job well done, at the expense of their brand and career. Let's hope that the posterity will prove them right, and that Beautiful Raw, like The Harvest, will be recognized later on for what they are: great pieces of work, capital rap albums.