She was born outside the US (in South Africa, to be more precise); her parents had been jazzmen; she lived in New-York; she studied music at the university; she had been trained as a classical singer; she was well connected with international artists, like the Herbaliser, the British band she supported on the album Very Mercenary; and last but not least, she was a woman. Everything related to Jean Grae's background and identity encouraged her to choose the alternative, bohemian, intellectual and intimate side of hip-hop.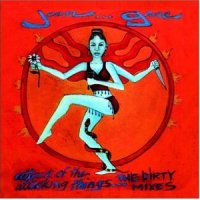 Third Earth Music :: 2002 :: buy this record
From her first single with Natural Resource, "Negro League Baseball", in 1996, to this album released in 2002, the MC previously known as What? What? had sometimes been described as an underground version of Lauryn Hill, a less crossover one, or as Talib Kweli's feminine counterpart. And indeed, like the latter, Jean Grae was doing conscious rap, positioning herself as a feminist ("Get It"), denouncing the materialism of her peers ("Knock") or, this great rap cliché, paying tribute to her mother ("Live 4 U"). But she did it with finesse, without the preachy and heavy tone which penalized the other; with more originality.
With "God's Gift", for example, the rapper was acting as a macho male, throwing up a series of misogynistic lyrics in order to better demonstrate their absurdity. Just after, with "Block Party", she invited ghetto swashbucklers to get out of their 'hoods and explore the world. On the more intimate front, she spoke about love disappointment on "Love Song", in a spoken poetry way close to Ursula Rucker's, before switching from the third to the first person and confessing this story was hers; and on "Fade Out", she reported a complicated relationship as if writing a letter. This MC, however, was not prudish. She had already proved it when participating to The High & Mighty's pro-masturbation "Hands on Experience Pt. II"; and on this first album, she showed she could handle humor with "Thank Ya!"'s catchy ego-trip.
Sometimes, Jean Grae's blend of conscious rap could be as boring as we feared, because of her monotonous flow, and some weak beats. Despite the help of prestigious people on production, like Evil Dee, Masta Ace and Company Flow's Mr. Len, some loops were not really tasty ("Love Song", "Get It", "Knock"). A good half of the album, however, was made of memorable music, like with the organ of "What Would You Do", the mandolin of "No Doubt", the addictive "Thank Ya!", and the strings and scratches of "God's Gift", a track produced by the veteran Masta Ace ; a rapper who, more than Hill or Kweli, was finally the real matching part of Jean Grae. Both of them, from time to time, have been able to rise above others and play astutely with sarcasm to better mock the excesses of their gangsta colleagues.