Slug, Sole, Alias, Sage Francis, Yoni Wolf... By focusing their raps on intimate and confessional lyrics, all these artsy and hypersensitive White men, plus a few others, have been pioneers in a new kind of hip-hop. The one, however, who pushed this trend to its most extreme, was a certain Brad Hamers, from Phlegm.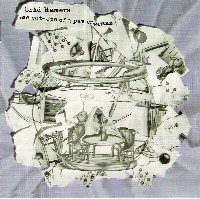 Three Sides of a Circle :: 2004 :: buy this record
In 2002, this duo from New York released a strange album with a long title: One Night Stands with out of Tune Instruments in a Room with Blue Wallpaper. It had an odd and surrealistic cover art inspired by the likes of Dali or Tanguy, and is was full of lengthy, sad and intimate songs. It was, actually, the most extreme version of this personal and introvert kind of music, post-Anticon indie rap had recently evolved into. The album was all made of pathos, minimalistic beats, and never-ending tirades, halfway between poetry and psychotherapy. It was definitely too much. And though, it worked. It was nice, and touching. And now, with the distance, it deserves to be considered, almost, as a hip-hop underground classic.
It wouldn't before 2004, though, that Phlegm's rapper would deliver his very best: a solo album, even longer than the previous one, and produced by him, apart from one-off contributions from the likes of Nobs, Australia's Just Like Us, and Slomoshun, the other half of Plegm. Named The Cut-Ups of a Paper Woman, this new record was at least as exciting of the previous one, if not frankly better.
Brad Hamers was more than ever playing with affect. His rhythms were ponderous, his music diaphanous, his samples soft, his piano grave, his trumpet jazzy, nostalgic and distant, and his guitar dry and sand. It was all slow, long and languid. It suggested gravity, or depression, especially when the beats included the sounds of falling rain drops, or waves dying on the beach. As for the lyrics, they were some stream of consciousness, a suite of remembrances and thoughts, and they included quotes from writers Don Delillo and Alan Watts. They were all about casting a cloud, and exploring sad themes like broken love relationships, personal failures, escape in writing, suicidal tendencies, and never-ending waits.
The works of Brad Hamers are very different from what most people mean by "hip-hop". And though, they still belong to that genre. The music isn't anything else than a collection of loop variations, though the samples are more frequently made of acoustic than funk guitars. And the MC never does anything else than rapping, though his declamatory tone is typically very close to spoken word. But still, it is different, and original, and leads to some kind of beauty not too frequent in rap music, except with similar-minded artists like, for example, Canada's soso.
Such was the case with the magnificent "Half World", a collection of visions on a repetitive guitar, which last words ("file, save"), suggested that they were just a computer file, before a light voice and synthesizer led the song to its anthological finale; same story with the superb "Cliff Notes", the last words of a guy about to jump from a cliff. And what about "Pickpocketed Memory Clip", "A Loose Brain Thread" and most of all, "One Bedroom Apt.", all as sumptuous? As was most of the record; one of the very best rap album of 2004, in a category of its very own.