There was a time when, by the end of the naughties, rap music seemed to turn into the new international pop. It was melding more and more, indeed, with other genres like rock, or electronica. A few notorious rappers were leading the trend, like Kanye West, Kid Cudi, and later on Drake. And of course we all remember the hit machine the Black Eyed Peas, originally a pure hip-hop band, had turned into. Around the same time, another man went into that direction, though in a more hipster way. With his fashion victim looks, Theophilus London, a New-Yorker of Trinidadian descent who would be actively sponsored by Kanye West, actually looked like a hipster fantasy, up to turning into a favorite of the 2011 Cannes Film Festival.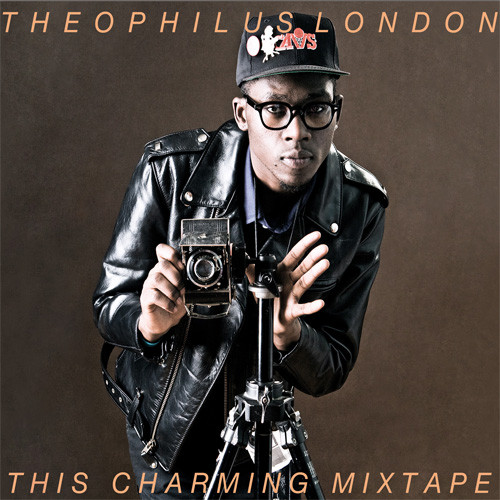 His second project, This Charming Mixtape, showed without any ambiguity that many of his influences were external to rap. The title, indeed, was derived from "This Charming Man", a song from The Smiths, and the cover art from an Elvis Costello (classic) album, This Year's Model. These showed clearly that Theophilus London was focused on one specific period: the late 70's and the 80's decade. His mixtape was full of sounds coming from these times, and genres like post-punk, synth pop, sophisti pop, electro rap, house music, world music, or late soul. For exemple, he used Glass Candy's syrupy cover of Kraftwerk's "Computer Love". Or he provided a deconstructed version of Whitney Houston's great success, "Always Love You".
Theophilus London, however, also enjoyed more recent songs, like Amadou & Mariam's "Sabali", or the Crazy Cousinz's "Bongo Jam". Or older ones, like Bill Withers's superb "Ain't No Sunshine", or an antic version of "Oh Happy Day". These, however, didn't change anything: even when using Lauryn Hill's "Take My Eyes Off Of You", his project always inescapably sounded like in the 80's. This Charming Mixtape was, actually, what a mixtape was supposed to be: a selection, a compilation of existing tracks, more or less remixed, aimed at disclosing someone's own musical pantheon. It was barely a hip-hop project, though. The only reason why it was related to this genre were Theophilius London's raps – when he did actually rap, which was not always the case – and his insistence on representing his hometown of Brooklyn.
With his neat and trim appearance, Theopholius London was a wet dream for the beautiful people. When claiming his strange passion for water on "Aquamilita", he seemed to talk primarily to sushi and organic food eaters. And his mixtape looked like an ideal soundtrack for fashion shows. But anyway: the music heard in such events is still, quite often, better than what casual radios broadcast; exactly like Theopholius London's selection on his Charming Mixtape.