The previous album of Sage Francis, Personal Journals, had won over an audience external to hip-hop. And this was not surprising, considering that the rapper's label was Anticon, and that he was leaning toward rock music. Prior to this, however, his Sick Off… mixtape series, and his victory at the 2000 edition of the Scribble Jam battles, had proved that he was a true rapper. And in 2005, his new album would demonstrate the same. A denser and more intense record, A Healthy Distrust would remind to all that Sage was, first and foremost, a redoubtable MC.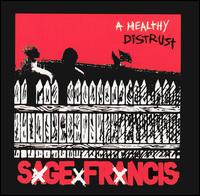 Epitaph / PIAS :: 2005 :: buy this record
All along the record, Sage Francis was at his very top. He was angry, eloquent and breathless, and less a whiner than on Personal Journals. In the post-electoral days of 2005, he was also particularly impassioned and political. Thanks to his experience as a slam poet, Sage would mix in a seamless way a series of diatribes – against politicians, religion, war, guns, and even against rap music – and some introspection about love and the wounds of his childhood. He did it with the right dose of belligerence and writing skills, so that it never was any kind of boring conscious rap, and he proved to be more than just an emo-rapper. Last but not least, and though a large set of beatmakers helped him – la crème de la crème of the rap underground, with people like Danger Mouse, Alias, Sixtoo, Controller 7, Daddy Kev, Joe Beats, Reanimator... – A Healthy Distrust wasn't the same eclectic musical patchwork that Personal Journals had been. It was much more consistent.
By then, Sage had join Epitaph. He was the first rapper associated to this historical hardcore punk label, which was quite logical: this album, indeed, sounded at times like rock music, with its guitars, the rapper's hoarse voice, and the way his songs were built. This ambiance was precisely what made the album so homogeneous, despite the variety of its sounds and themes. Sage Francis casted his net far and wide, paraphrasing Public Enemy on "Dance Monkey", collaborating with Will Oldham on "Sea Lion", and paying a vibrant tribute to Johnny Cash on "Jah Didn't Kill Johnny", with a guitar and a harmonica. And all of this worked very well altogether, Sage Francis revealing himself as a credible heir to all these people.