One of the original members of Global Phlowtations – a Californian collective from the Project Blowed family, with legendary people like Orko Eloheim and Sach, also from The Nonce – Thavius Beck is mostly known for his solo albums on the Mush and Big Dada labels. They helped him becoming a bit visible outside of the West Coast underground. His best album, though, is not necessarily one of these. It could also be one of those he released, more confidentially, with Inoe Oner.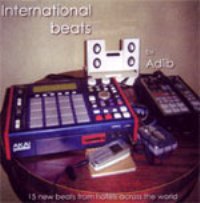 Self Released :: 2005 :: buy this record
His masterpiece, indeed, could very well be the first version of International Beats, a collection of untitled instrumental tracks composed under his other alias, Adlib, and released on CD-R only – an official version would follow later on, available on a digital format, but it wouldn't be as good. This album is the most obvious demonstration of the guy's talent, the less stained with useless collaborations.
Released shortly after Zwarte Achtegrond, it sounded like a better version of it. Recorded with his friend Subtitle, under the Lab Waste moniker, that album had been a way for both guys to be bold and display their experimentalism. Curiously, though, many of its tracks were a bit too expected. Overly dark, their hip-hop for robots was too full of effects and artifices. It was bizarre just for the sake of it.
International Beats had the same color. It was still typical of Adlib: sticky, sinister, and full of weird electronic sounds. But it had more to offer than just "Dope Beat" and "Get the Signal", the best tracks on Zwarte Achtegrond. The entire record sounded significantly more personal, more instinctive, and more naturally musical. Only the eleventh track, and the final one, were a bit bland and disappointing.
Apart from these, the "Manipulator" was at his very best. The evenly piano of the second track; the guitar, the melancholic voice and the drum 'n' bass of the sixth; the hallucinated electronics of the seventh; the brutal rock 'n' roll of the ninth; and the Kraftwerk-sounding twelfth: each of these was prodigious. Also, last but not least, there was this brilliant fourth track, with its imperturbable electronic beat, playing hide and seek with gothic choirs and a trembling but shiny trumpet. Wow.