MIKE LADD - Easy Listening 4 Armageddon
When one seeks to determine which album from Mike Ladd is the best, Welcome to the Afterfuture is often mentioned, or the Infesticons' Gun Hill Road. Both records seem bolder than the very first from this university teacher turned rapper and producer, an active member of the Nuyorican Poets Café scene. They look more diverse, and even catchier. Compared to them, Easy Listening 4 Armageddon sounds too soft, sounding like ambient music, or quiet jazz, or even easy listening. This record, however, may have passed better the test of time.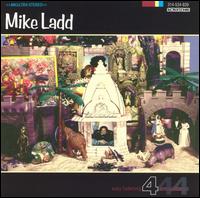 Scratchie Records :: 1997 :: buy this record
In that spoken word genre, which generated so many boring albums, Mike Ladd is far better than his competitors. He is a true heir for Gil Scott-Heron, the rare example of a conscious rap poet who doesn't forget that irony, distance, and second degree humor are important. He proves it on "I'm Building a Bodacious Bodega for the Race War" a funny track about touchy racial matters.
In addition, Ladd is always good at strengthening his lyrics with the right atmosphere, and he goes far beyond the usual hip-hop beats to do so. Not surprising, with a man who started with punk rock, who would later do some production for artists as diverse as Yo La Tengo and… France's Enrico Macias!
Mike Ladd never forgot that rap poetry needs strong music, and his instrumentals, though rather smooth, evanescent, delicate, blended with supple bass lines, discreet samples and ingenious voice effects ("Kissin' Kecia"), were exactly what the spoken word of his first album needed. No functional beats here, which would change the words into some long and boring ranting; but no bulldozer sounds neither, which would push lyrics too much into the background.
That's why the laid-back version of "Blade Runner" is better than the next album's, despite the absence of Company Flow. That's why the sound of "Off the Coast of Okrakoke" goes so well with Ladd's hallucinated speech. That's why, again, "Easy Listening 4 Armageddon" is as playful as requested, and completes perfectly well Ladd's humoristic dissertation about the apocalypse some expected by the year 2000; an apocalypse this record, at least, survived well.
Rate this entry
5/5
Note: 5
Votes: 1
Higher: 5
Lower: 5