By 2002, Peanuts & Corn had produced a large collection of impeccable rap albums. Its founder, however, hadn't released anything since his Ethics EP, apart from the side-project Billy's Vision. The main guy behind the label had stayed in the shadow, producing the work of others, or contributing to bands, instead of investing into his own solo career. His first real album indeed, Disenfranchised, wouldn't be released before 2003. A few months before, though, Mcenroe had released another EP, which proved to be a little bit more than just an appetizer.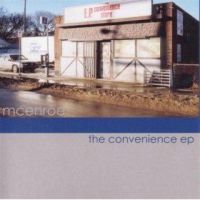 Peanuts & Corn :: 2002 :: buy this record
The Convenience EP was a bit less intimate than his forthcoming album. There, Mcenroe invited some old friends like Josh Martinez, Pip Skid, John Smith and Birdapres, and it was about politics. The themes were a bit expected, on this leftist side of rap: on this record, he complained about the closure of small shops ("Corner Store"); he was against the "system" ("Ahm the System"), or the business ("Safety In Numbers"), or the dealers ("6.25 At The First Window"). And he appropriated the ironic words from his favorite punk rock band, the Dead Kennedys ("Give Me Convenience"). His lyrics, though, were nuanced enough. Mcenroe always opted for subtle social observations, instead of too easy slogans.
And of course, his production style was top-class. It wasn't as accessible as on Disenfranchised, however; not yet. It would hardly please anyone apart from hardcore fans of rap. The comparison between the sober version of "Give Me Convenience", and the much more luxurious one on the album, was proving this. But the excellence of Mcenroe's work was visible enough, with the exotic sounds of "Give Me Convenience", the violin of "24 hours", the harp on "Safety in Numbers", and sophisticated drums almost everywhere. The ambiance was subtle on "You Win", the variations well thought on "Ahm the System". Even with this record, which looked like a side note in his discography, he proved to be one of the smartest beatmakers from this kind of hip-hop. Well, no: from all kinds of hip-hop.