STYLES OF BEYOND - 2000 Fold
Though they caused a sensation with it, the Styles of Beyond were not complete newcomers by the time they released their 2000 Fold album, in 1998. The year before, Ryu (the White guy) and Takbir (the Black one) had already been designated Best New Artists by the Wake up Show. And those friends of Mike Shinoda, the future star of Linkin Park, were also protégés of Divine Styler, who produced some tracks and designed the cover art of their first album, this connection being due to the fact that Tak's big brother, Bilal Bashir, had been Divine Styler's beatmaker and, like him, a member of Ice-T's Rhyme Syndicate.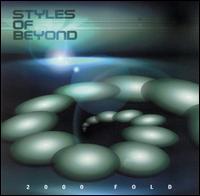 Bilawn / Mammoth :: 1998 :: buy this record
If 2000 Fold had such an impact, this is because it provided the indie purists with everything they expected, by the end of the 90's. The Styles of Beyond were good at exploring urban themes, with a hardcore and paranoid attitude inspired from the street rap that preceded them, but they mixed these with the X-Files-like science-fiction flavor the underground was fond of at this time, like with their invitation to aliens on "Gollaxowelcome". Musically speaking, they were into some very dark blend of hip-hop. And the two MCs played perfectly well with the contrast between their fast and precise flows and cinematic ambiances.
Those beats were mixed with obvious and easy samples, most of them stolen from New-York rap big names (Black Moon and Organized Konfusion on "Hollograms", EPMD on "Killer Instinct", Eric B and Rakim and Mobb Deep on "Dangerous Minds", A Tribe Called Quest on "Easy Back it Up") and another from a famous pop act (Depeche Mode on "Marco Polo"). Last but not least, other rap disciplines were represented there, turntablism with the DJs Rhettmatic (Beat Junkies), Cheapshot and Revolution, and even some beatboxing with Click Tha Supah Latin's "Click Beat Box".
The ideal record for backpackers at the end of the millennium, 2000 Fold could be boring at times, but it was not monolithic. Ryu and Tak's kind of hip-hop could suddenly become more laid-back with "Winnetka Exit", exotic with the Chinese-sounding "Part II (Endangered)", or even groovy, with "Easy Back It Up" and the vaguely old school "Muuvon". Most of all, with the impeccable "Killer Instinct", "Spies Like Us" and the belligerent "Survival Tactics", the duo knew how to deliver a few hymns to the underground, contributing significantly to building the indie rap soundtrack of their times.
Rate this entry
0/5
Note: 0
Votes: 0
Higher: 0
Lower: 0