Epic had a smooth voice, a debonair flow, misleadingly naïve words and his lyrics were full with some kind of sweet irony. Also, he had quite unusual a look for a rapper, with his grey hair and shy manners. The Canadian, actually, who was not as old as he looked, was not afraid with mocking his own age and appearance, on various occasions ("Old Guys are ready to Rock the Mic", "Middle Aged White MC").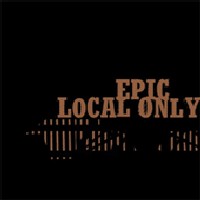 Clothes Horse :: 2004 :: buy this record
Erin Carroll - his real name - looked like an accountant or a public servant in his late forties. However, he sincerely loved hip-hop. And constantly, he was playing with this contradiction, like with "My Briefcase is a Weapon". This contrast was at the very core of the album, it was its main flavor, like when Epic tried himself to battle rap ("Bring the Heat") or to some improbable beatboxing ("Where's the Cypher"). He also recycled some old rap routines - "peace party people ah ah see you later", "do you know who the fuck I am" – but in a derisive and ambiguous mode. Were these sarcasms or a sincere tribute? A bit of both, most probably…
Whoever built them – be it Maki, Lightheaded's Muneshine or Epic's usual producer and label boss, Soso – all beats were made in the same mould: they were nude, sober, almost austere. Most of them were made of one sound, one loop, or one rhythm only. And it was always the same trinity: a piano, a guitar, or some strange electronic beat; which was more than enough. It was even excellent, most of the time, especially when Soso was producing. This one was so self-confident he delivered a nice piano solo on the 10th track, and it was extraordinarily nice.
This was one of the rare times, with the featuring of Soso, Conspiracy, Pip Skid, and Micill Write on the mic, when Epic did not play the leading role. Most of the album was his show only. It gave way to his mocking but astute raps. "I get my slang from my grandpa; I don't get my slang from Kardinal Offishal", the rapper said on "It Ain't Easy", which summarized his personal view of hip-hop: never pretend to be someone else; be proud of who you are, even if you are far removed from the canons of hip-hop; do your thing. No matter if this means that your name will remain local only, and will find it hard to cross the borders of Saskatchewan.