SUBTITLE - I'm Always Recovering from Tomorrow
It starts with an almost unremarkable track, a very cold kind of rap declaimed with a deep voice from the back of the bathroom, and built on a few piano keys ("Textbook Life"). The three following songs are as cadaveric, and each time weirder and more bizarre than the previous one, more and more burdened with bleeps and background noises: "Smoke is Smoke", to contest the virtues of weed, "Tunnel Vision", a discussion on love, and "Unstoppable 03", which topic is still unclear to the French guy I am.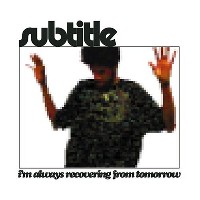 Gold Standard Laboratories :: 2003 :: buy this record
"I'm unpredictable; I do not lead a textbook life". So says Subtitle, aka Giovanni Marks - a rapper from the exciting Californian underground scene who's worked with the Shapeshifters and some other local collectives - to introduce I'm Always Recovering from Tomorrow, his first official record on a real label, after many CD-Rs and tapes. And indeed, to demonstrate that he is really unpredictable, his EP takes a radically different turn halfway: the record's mood and atmosphere don't really change after "Unstoppable 03". But its amplitude does; clearly, considerably, obviously, genially and magnificently.
I'm Always Recovering from Tomorrow ends with three incredible tracks, three synthetic and hypnotic songs, not commonly heard in hip-hop music. Well, to be honest the remix of "A Textbook Life" may be a bit below the two others; it sounds a bit too exagerated… But this bonus track! And most of all, this "Hard Light (That's Not It)"! The beat of this pivotal track is so fascinating that, right in the middle, Subtitle interrupts his jerky and double-time kind of spoken word, he bursts out laughing, and then he says: "I was trying to make it very profound (…) but really it was just a gangsta rap; it was stupid, you guys aren't going to regret that I didn't kick that verse". And indeed, he is fully right. The beat that goes on afterwards is completely self-sufficient. It even moves the EP toward new heights.
Just for this track, I'm Always Recovering from Tomorrow exceeds expectations. If you've been seeking an artist fulfilling the promises Def Jux never respected after the Can Ox album, if you were curious with discovering a rapper who was equally fan of Company Flow, Freestyle Fellowship, Sonic Youth, and really worth all of them, Subtitle is for you.
Rate this entry
0/5
Note: 0
Votes: 0
Higher: 0
Lower: 0