MAINTENANCE CREW - Eternal Sunshine of the Simple Mind
The music of Chicago's Maintenance Crew was rather conservative, and as such quite aligned with the rest of the indie rap scene established in the Windy City, and elsewhere in the Midwest. The trio's first album, Eternal Sunshine of the Simple Mind, was indeed made entirely of good old jazzy loops, well balanced samples, and political and conscious raps about Chicago or their own lives, delivered in a way very close to spoken word. Maintenance Crew was, as a matter of fact, not too far from labels like Rhymesayers and Galapagos4, stylistically speaking, relying on a well-known and well-tried formula. But G, how good it was!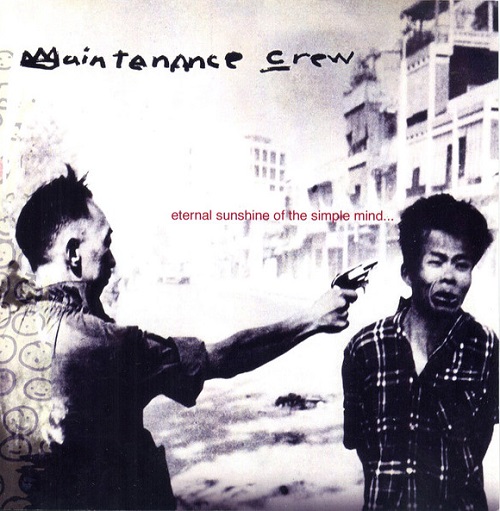 McDonaldize Society :: 2005 :: buy this record
Unknown before this album – and after as well, despite a few other solid records – this trio made of Ubiquity, Chantalism and Kash, one Mexican and two Asians, was delivering, ten years too late, the perfect 90's jazz rap album. Positioning themselves as the heirs of Digable Planets or A Tribe Called Quest, these guys achieved some kind of prowess, with 75 minutes of music almost devoid of fillers.
No need to describe their recipe once again. Let's just say that, from the piano and saxophone of "Winter Discontent" and "Twisted Nerves", to the brass band of the original "Kareoke King don't Hurt 'em", the loud bass of "Butter Knife Blues", the guitar and scratches of "Urban Renewal", the other and more melancholic guitar of "Simple Withdrawal", the wrathful "Independence Day", or the cool piano of "Last Minute Sorrow", nothing was to be discarded. And what about the saxophone of "Shadows Revisited2wice", a story about some love relationship, strengthened at the right time by another guitar? Or the eerie songs and scratches on "Shoot to Kill Order"? Or the drums and organ on the classy "Eternal Sunshine"?
Even the skits, as jazzy as the rest of the album, were noticeable. This album's only flaws, in fact, were the blubbering "Slice of Memory", the bluesy "Soundcheck @ 5 :24 pm", and "Iam Savanh", a track rapped into Laotian. Apart from these, the exclusive combination of simple loops and two to three rappers' flows and lyrics, were enough to satisfy any listener. They continued an art form, boom bap, which, according to some, had passed with much difficulty the new millennium.
Rate this entry
0/5
Note: 0
Votes: 0
Higher: 0
Lower: 0