It's never been easy for a woman to find her way into the rap game. First, she had to fight hard to become an equal to the frequently sexist male rappers. And then, she had to deal with her rivals; the audience, or the industry, curiously, always wanted just one female star per generation. And then, once all of this is achieved, any female rapper needed to position herself against the many stereotypes about her kind. She had to decide if she was a tomboy, or a bad bitch, or an R&B sentimentalist. Despite these many obstacles, however, many made it. Females matter, in hip-hop, as demonstrated by our selection of outstanding projects.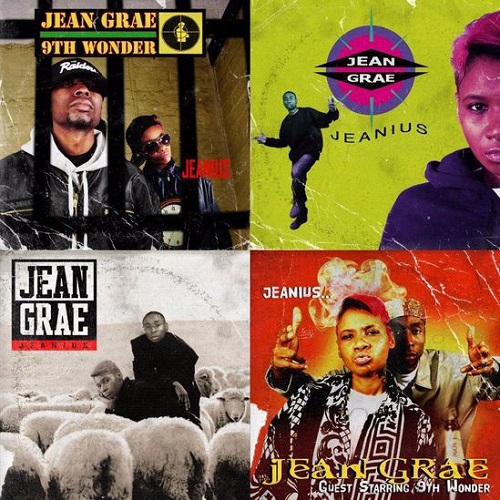 Only one criteria dictated which records were selected in the list: their quality. Our choices had nothing to do with their historical significance, or their representativeness. They were all about this subjective thing called "taste". Don't be surprised, then, if some female rap highlights are missing. Also, please notice that we only listed hip-hop projects, delivered entirely by females: no R&B album there, and no mixed gender band. That being said, if you are shocked by the list, if you think that something is wrong with it, please do comment it, at the bottom of this page.
For the time being, our list will focus primarily on the years 2006 to 2021.
3D NA'TEE - The Coronation (2012)

Noticed by the G-Unit, and then Timbaland, 3D Na'Tee was supposed to release a mixtape with some support from the latter. But finally, The Coronation, was recorded without his help. It was, nonetheless, a crucial release for the New-Orleans rapper, with a few social comments beneath the battle raps at the surface, hinting about the hard times she had gone through as a teenager.
Read full review
Download this mixtape
KENY ARKANA - Entre ciment et belle étoile (2006)
Keny Arkana discovered the anti-globalization ideology as others found faith: as a remedy to a broken youth. But when she shares her experience, instead of declaiming political banalities, when she talks about her stay in sinister shelters for teenagers, or her life in the streets, the French rapper hits exactly where it hurts. If she became successful, that's because her songs were authentic.
Read full review
Buy this album
ASIAN DOLL - Drippin' in Glo (2016)
Like all the other dolls invading the rap game by the end of the 2010 decade, Asian Doll - who, by the way, has nothing to do with Asia - was a heir to Nicki Minaj. With this album, though, she focused on her gangster stance and anthems to money. That way, the self-titled Queen of the Teens demonstrated why she deserved to be the first woman to join Gucci Mane's 1017 Records.
Read full review
Buy this album
IGGY AZALEA - Ignorant Art (2011)
Before turning pop and mainstream, like so many of her colleagues, Iggy Azalea appropriates the sounds, style and outrages - the sexual ones, mostly - of southern rap. It is somehow unsettling to see a white and Australian lady going that way, and representing a culture that is not hers. But still, with Ignorant Art at least, the early mixtape that will make her famous, her formula works well.
Read full review
Download this mixtape
AZJAH - Princess Diaries (2019)
One of the main trends in rap music, by the end of the 2010s, is a sad kind of gangster music delivered with atmospheric sounds and, from time to time, Auto-Tuned voices. Azjah represents this, in L.A. The album from the so-called "Princess of Compton" might not be the most famous from that place, but it deserves to be known, at least for gems like the magnificent "Loved Ones".
Read full review
Buy this album
CARDI B - Gangsta Bitch Music Vol. 2 (2017)
It takes a while to build a Cardi B. After being a stripper, a social network star, and a TV personality, Belcalis Almanzar starts a career as a rapper. And as always in such cases, to pave the way to her future album, the successful Invasion of Privacy, she goes the mixtapes way with her Gangsta Bitch Music series, where she perfects her humoristic and popular take on trap music.
Read full review
Buy this mixtape
CARDI B - Invasion of Privacy (2018)
So it would be her, Cardi B. She would be the new star to impersonate female rap, at the end of the 2010 decade. Sure, this ex-stripper, who appropriated an old formula - the sexy rapper with a big mouth - and updated it to the social networks era, looked a bit too much like a marketing product. But though, it was a successful one, as demonstrated with that triumphal first album.
Read full review
Buy this album
AZEALIA BANKS - 1991 (2012)
Much before she spit on a random guy in a plane, she featured naked in Playboy and she supported Donald Trump, the irascible and unruly Azealia Banks managed to mix in a convincing way the sounds of house music, a glamourous pose and the wildness of the ghetto. Named after her year of birth, 1991 was the start of her career. It was also, to a large extent, its best moment.
MOLLY BRAZY - Molly World (2017)
Later on, Molly Brazy would put a little water in her wine. But with this mixtape sponsored by 4sho Magazine, the main promoter of Detroit's street rap, she was still loyal to the sound of her city. This was some true gangsta rap, with aggressive lyrics from a lady obsessed with guns, supported by local luminaries such as GT, BandGang Masoe, Cash Kidd, DamJonBoi, RJ Lamont and Helluva.
Read full review
Download this mixtape
CAM & CHINA - Cam & China (2016)
Two Californian twin sisters, at ease with a microphone, would confirm their talent with this EP. A few years after their debut as members of Pink Dollaz, a quintet with a taste for sexually explicit lyrics exclusively made of female teenagers, Cam and China proved they had a larger palette than what they had showed before, when they spearheaded the short-lived jerkin' movement.
Read full review
Buy this album
CASEY - Tragédie d'une trajectoire (2006)

After ten years of various collaborations that helped build her reputation, Casey speeds things up in 2006, with the Ennemi de l'ordre maxi single, the Hostile au stylo compilation, and more importantly Tragédie d'une trajectoire, her first album. On that one, using outstanding writing skills, the French rapper goes ballistic. She uses her talent to expose her hatred and demolish stereotypes.
Read full review
Buy this album
CASEY - Libérez La bête (2010)
The best rapper in France is a woman. Casey confirms it once again with her second solo album. Beyond her aggressive and intimidating lyrics, beneath her wounded beast posture, is the one who excels at a difficult exercise. She is the person who made a reality out of an old fantasy: adapting the most social, political, and literary aspects of the French chanson, to the hip-hop age.
Read full review
Buy this album
CUPCAKKE - Cum Cake (2016)
By 2016, per that delicate cover art, CupcakKe pushed even further the very limits of dirty rap. The Chicago native would claim her thirst for sex. She would be explicitly pornographic, more than any before her. But she would also talk about the nastier and darker sides of sex, like with the autobiographic track "Pedophile". At times, she would turn into a conscious and feminist rapper.
Read full review
Buy this mixtape
CUPCAKKE - Queen Elizabitch (2017)
The most hardcore of all female dirty rappers is also the nicest. Behind CupcakKe's thirst for sex, despite her furious raps, her porn lyrics and her harsh beats, she is a conscious rapper, fighting to liberate the women and the ugly. Coupled with her most melodic moments, this attitude made Elizabeth Harris a more mainstream and respectable rapper than she looked, at first glance.
Read full review
Buy this album
JEAN DEAUX - Soular System Vol. I: Dark Matters (2014)
The obvious comparison is with Lauryn Hill. Indeed, like the lady from the Fugees, Jean Deaux is a singer as much as a rapper, and she delivers all kinds of music, hip-hop, R&B, piano ballads, dance-pop, jazz, ethereal sounds some would have called "trip-hop" two decades ago, or experimental things. And on that release at least, she provided for free, all of these worked quite well.
Read full review
Download this mixtape
DEJ LOAF - Sell Sole (2014)

One song only, and everything becomes different. After her defining single "Try Me", Dej Loaf is no longer a backpack rapper. She left the underground, and she collaborates now with rap stars. On her Sell Sole mixtape, the shy and diminutive Detroit rapper suddenly turns rough, aggressive and cheeky, even though her beats, on the opposite, sound moody and contemplative.
Read full review
Buy the mixtape
DESSA - A Badly Broken Code (2010)
She is a slam poet, a writer, a music teacher. And so, expectedly, Dessa delivers a special kind of rap music. Her themes – childhood memories, indefectible friendships, relationship issues – are mature and intimist. Sometimes she switches to spoken word, or melodies. And the Doomtree rapper is open to "real" instruments, that contribute also to the quality of her first album.
Read full review
Buy this album
DONMONIQUE - Thirst Trap (2015)
Thirst Trap is full of beats typical of New York. There are looped samples there, as well as heavy basses, strange piano keys, and the low and threatening voice of the rapper. However, as its title alludes to, other influences are involved, from Atlanta's trap music to California's ratchet style. With it, DonMonique rejuvenates the hip-hop sound of the Big Apple, more than just inheriting it.
Read full review
Download this mixtape
DREEZY - Schizo (2014)
There are two Dreezys. On one side, she is a wild and abrasive drill music rapper. And on the other one, she is all about confessions and introspection. After she signed to Interscope, she showed more often the latter. But prior to that, with Schizo, a mixtape about her dual nature, the Chicago rapper still displayed her proud and brutal face, the most striking, the most memorable.
Read full review
Download this mixtape
EEKWOL & MILS - The List (2007)
With The List, Canadian rapper Eekwol is not only the spokesperson of the Cree culture and community. A conscious rapper, the First Nations artist expands her horizons: she talks about individual responsibility, reenchanting the world, or more personal matters, on this album admirably supported by her closest collaborator, her own brother Mils, this time fully credited as the co-author.
Read full review
Buy the album
FIGURES OF SPEECH - The Last Word (2007)

Eventually, Ava DuVernay will be famous as a film director. Twenty years before her celebrated Selma premieres, though, she is a rapper. Along with Jyant, she is part of a duo associated with the Good Life Café scene. They will never release any album, but in 2007, Omid assembles this great compilation, with a collection of old tracks from this female version of Freestyle Fellowship.
Read full review
Listen to this album
GANGSTA BOO & LA CHAT - Witch (2014)
Twenty years after their beginnings, the two historical female rappers of Memphis released a joint project. There, they presented themselves as witches, in line with the evil and horrific themes that scene has always explored. With a few outstanding tracks, these rappers people had sometimes opposed to each other, demonstrated their comradery, along with their persisting relevance.
Read full review
Buy this album
TOMMY GENESIS - World Vision (2015)
By the middle of the 2010's, in Atlanta, the fellows from Awful Records decided to focus on the most eclectic, bizarre and sinister side of rap. Discovered in Vancouver, Canada, art student Tommy Genesis would feel at ease with them. Her diverse and strange kind of rap, made of trap music provocations, ethereal ambiances and IDM-oriented sounds, complied with that band's agenda.
Read full review
Buy this album
JEAN GRAE & 9TH WONDER - Jeanius (2008)

On this underground hip-hop scene that seeks to perpetuate the good old boom bap and the lyrical hip-hop delivered by the East Coast in the 90's, Jean Grae is the queen. Partnering with another traditionalist, 9th Wonder, she shows this on her outstanding Jeanius album, a record that looks like a wet dream for backpackers, and which Talib Kweli fortunately rescued from oblivion.
Read full review
Buy the album
ANGEL HAZE - Reservation (2012)

Angel Haze had an odd and troubled life. This rapper of Black and Cherokee descent, who grew up in a religious sect and got victim of sexual abuses as a child, is now a queer figure in hip-hop. Once a lover to Ireland Baldwin, she looks somehow like a showbiz favorite. Her Reservation mixtape, however, shows some talent and a bit of substance, beyond her trendy public image.
Read full review
Download the mixtape
HONEY COCAINE - Thug Love (2013)
Later on, Honey Cocaine will use a more consensual moniker. Also, she will smooth some of her rougher edges. But on Thug Love, the Tyga protégée is on her most mischievous, sulfurous and insolent side. Except for her Asian ethnicity and Canadian citizenship, she is a generic product of the trap music era. That release, though, her defining mixtape, is a strong one with bangers.
Read full review
Download this mixtape
KAMAIYAH - A Good Night in the Ghetto (2016)
With A Good Night in the Ghetto, Kamaiyah perpetuates a Californian tradition. There is a bit of g-funk on this mixtape, including funky sounds and a few sirens, but also some more recent sounds, influenced by the ratchet subgenre, represented here by YG. There is also, first and foremost, a strong desire to celebrate happiness and little pleasures, in the challenging world of the ghetto.
Read full review
Download this mixtape
KASH DOLL - Brat Mail (2018)
There were many so-called dolls in the rap game, by the second half of the 2010's, but Arkeisha Knight might have been the most eminent of them all. Her releases were a bit mixed, though, apart maybe from that one, a short mixtape she dedicated entirely to her riches and to her success, with styles and sounds that had more in common with Atlanta, than with her own city of Detroit.
KATIE GOT BANDZ - Bandz and Hittaz (2012)

Katie Got Bandz was imprisoned when her first rap song, "I Need a Hitta", got hot in the streets of Chicago. This would encourage her to turn into a full-time rapper, once out. And thus, being as tough and intimidating as her male peers on her first mixtape, she would become the queen of drill music. With Bandz and Hittaz, she would open a way to other ladies in this rising rap subgenre.
LADY LESHURR - Friggin L (2011)

It is through her "Queen Speech" series that Lady Leshurr establishes herself as the premier freestyle rapper in Great Britain, in the 2010's. Before that, though, Friggin L is her defining mixtape. It is through it, with her version of Chris Brown's "Look At Me Now" and her US influences, that the rapper catches for the first time some attention from notorious American peers.
Read full review
Listen to the mixtape
LEIKELI47 - Acrylic (2018)
Leikeli47 hids her face behind an ugly ski mask. However, she talks about beauty products and body care. Her most remarked release is about acrylic, the chemical compound false nails are made of. Its smells, indeed, are evocative of the beauty salons in the African-American neighborhoods. They are a way, for the New-York rapper, to celebrate her personal universe on this diverse and creative release.
LIL DEBBIE - Debbie (2016)
The White Girl Mob, this band of white chicks located by the Bay Area, didn't last long. Kreayshawn, its figurehead, disappeared from the rap game, as well as V-Nasty, despite her surprising collaboration with Gucci Mane. Only Lil Debbie, lasted. Sure, most of her releases were uneven, but they had a few memorable tracks, especially that album, simply titled after her name.
AMBER LONDON - 1994 EP (2012)

Amber London doesn't show up on the cover of her mixtape, and no other woman neither. And there is a reason for this: like her friends from the Raider Klan, this is not about her, this is not about her time. This is all about rap forms from the 90's. Her aim was to restore them: those from her own Texas, those from Memphis, and also California's g-funk, she perfectly appropriated on the excellent "Low MF Key".
LORD NARF - Witchcraft (2016)
The people in Awful Records had grown up with rap music. For them, practicing it was obvious, but they didn't do it with any kind of respect. They did it in their own twisted way, as showed here by one of their female members. Lord Narf was indeed a skilled rapper, like in the old days, but she preferred to use her hypnotic, low and witchy voice with some ghostly and bizarre kind of music.
NICKI MINAJ - Beam Me up Scotty (2009)
In the 2010's, the superstar of female rap was Nicki Minaj. No contest. But it was earlier, through mixtapes, when she was Lil Wayne's protégée, that she started to build a reputation. Before turning into a pop singer, Onika Maraj had demonstrated her skills as a rapper, thanks to such releases, and more particularly Beam Me Up Scotty, the true turning point of her successful career.
RICO NASTY - Nasty (2018)
First known for her own "sugar trap" subgenre, a deceptively naive kind of music talking about drugs and sex with childhood words, Rico Nasty evolved. On Nasty, with some decisive support from Kenny Beats, she turned into a punk rock vixen. And with tracks as coarse as "Trust Issues", "In The Air" and the outstanding "Rage", the Maryland rapper delivered her best project to date.
NEILA - Better Late Than Never (2009)

The heights of Neila's career, by the late 2000's and early 2010's, were also a time of pain, distress and bad health condition for the Hawaiian rapper. Released once again with some support from Deeskee, a key player on the West Coast Underground rap scene, this album testified of this with its perfect balance of sinister tracks, more joyful songs, and the key contribution of her Californian pals.
NEILA - Only This One Counts (2011)
Discovered through the Californian click LA2theBay, and based in Hawaii, Neila has released with regularity an interesting bunch of records. This one, however, had a special flavor, and a quite bitter one. By then, indeed, the rapper was battling a cancer, and her voice was damaged. As a result, the well-named Only This One Counts would be her most sinister album, and her most poignant.
NONAME - Telefone (2016)
Known through her works with Mick Jenkins and Chance the Rapper, Noname represents the arty and intellectual face of Chicago's rap scene. With her slam and poetry background, and her sweet and lighthearted jazz sounds, her Telefone mixtape looked like a coming-of-age novel. It was all about the story, both joyous and sad, of a child turning into an adult, and losing her innocence.
PRINCESS NOKIA - 1992 (2016)
Princess Nokia is a pure product from New-York. She is a progressist. Her lyrics are feminist, pro-queer, opposed to the tyranny of beauty, and proud of the rapper's Portorican ascent, and her music is open, eclectic and influenced by IDM, as shown on this self-produced project from 2016, the main highlight of her so-so discography, British label Rough Trade rereleased one year later.
QUEEN KEY - Your Highness (2016)
Ke'Asha McClure is the embodiment of feminism, the way it is approached in rap music. She is incredibly insolent, absolutely hedonist, and keen on showing her appetite for sex. Also, she treats men with contempt, as if they were objects. She was already all of this, on the imperfect but appealing Your Highness, the first project of this endearingly funny rapper from Chicago.
RAPSODY - Laila's Wisdom (2017)
Sometimes, Rapsody has been compared with Kendrick Lamar, her occasional contributor, and this is for a good reason. In both cases, this is rap music aimed at being respected by critics. This is about strengthening and solidifying the African American cultural heritage. These are social, conscious and lyrical songs. This is hip-hop for museums, but with talent and moments of brilliance.
NADIA ROSE - Highly Flammable (2017)
Nadia Rose is a cousin of Stormzy. She is also the daughter of a dancehall DJ and MC. As a result, she's always been into music. Her talent for it is innate, which resulted into that short but well-rounded release. Beyond the excellent "Skwod" single, that EP was on fire, it was indeed highly flammable, the British rapper delivering at a fast pace a deluge of words, a waterfall of punchlines.
RUMI - Hell me WHY?? (2007)
The Japanese are surprising. Unapologetically, they appropriate and copy Western music, which they can turn into something incredibly kitsch or, to the contrary, experimental and abstruse. Between these two extremes, Rumi didn't choose. She was both, on that hysterical and eccentric second album. Her music was as bizarre as catchy. Her project was as weird as it was accessible.
KODIE SHANE - Big Trouble Little Jupiter (2017)
The feminine face of Lil Yachtie's Sailing Team is Kodie Shane. Like the rest of Lil Yachtie's crew, she was joyous, juvenile and exuberant. When she didn't deliver some serious, intimate or sung tracks – after all, she had R&B musicians in her family, like her half-sister, an ex-member of Blaque – she delivered astute and petulant songs, like the irresistible "Like a Rockstar". And these were her best.
SNOW THA PRODUCT - Unorthodox (2011)
Snow White was called that way because of her fair skin color. The future Snow Tha Product, though, was not a WASP. She was of Mexican descent, and sometimes she alluded to her origins, on funny tracks like "Telemundo" and "Maria Felix". But she had more to show on Unorthodox, a joyous, light and playful self-released album, where she made a point at challenging stereotypes.
STEFFLON DON - Real Ting Mixtape (2016)
Stefflon Don belong to a new generation of English rappers. Previously, in the UK, the rap scene had been divided between the hip-hop traditionalists and the separate universe of grime. Stephanie Allen, though, was mostly influenced by contemporary American rap. Like many Brits, however, she had a big appetite for dancehall songs, and these were often the best, on her first mixtape.
KATE TEMPEST - Let Them Eat Chaos (2016)
Kate Tempest, the Englishwoman, is not really a rapper. She is more something like a spoken word artist. She is a poet and a writer. She is an intellectual, releasing serious albums such as that one, about the solitude of people in contemporary societies. But still, she claims she belongs to hip-hop, that conceptual album of hers was quite remarkable, and only that matters.
YOUNG M.A - M.A The Mixtape (2015)
With "Ooouuu", Young M.A. released a banger. This song made her famous. It popularized her impetuous raps, her tomboy pose, and her overtly lesbian stance. This single, however, had not been the first time the New-York rapper had demonstrated her talents. One year before, she had showed that she was an outstanding freestyler, while rapping brashly on some recent big rap hits.
To be continued....