Honey Cocaine was a member of Tyga's entourage. She joined his label, Last Kings, after the Californian rapper had discovered her on YouTube, and she became her protégée. Somehow, she protected him in return when, after a concert in Omaha in 2012, she took a bullet that was originally aimed at him. She hit the headlines because of this. And she did it once again when Freddy E, a rapper from Seattle she was in touch with, committed suicide. According to some, the poor lad died because Honey Cocaine had broken his heart, which she denied, claiming that they had never been lovers. All this noise, however, made her an outrageous character.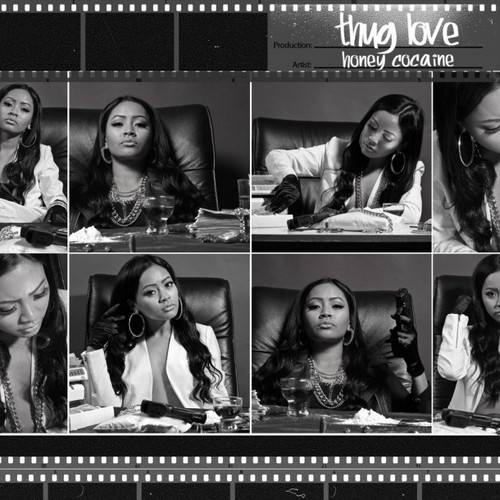 Her raps confirmed that reputation. This lady, whose first single was stylishly titled "I Don't Give a Fuck", would present a slightly better profile when renaming herself Honey C. But originally, she was deep into gangsta music. This, at least, was what Thug Love had to offer. Released in 2013, around Easter, the year when Warned signed her, this would be her defining mixtape. And it was entirely her own thing: there was no featuring there, and one producer only assisted her, Dkevrim. There, her style was dirty and brutal.
She was energetic. Her big mouth was reminiscent of Nicki Minaj's, but she was more thuggish. She introduced herself as a street girl with balls, and as a matter of fact, Thug Love was about chasing money, boozing, gold chains, living the great life, and celebrating her fantasized success. Honey Cocaine sounded also quite threatening. She talked about guns on "Me N My Toolie", she was aggressive toward her female peers, and all of this was delivered with impact and skillfulness, like with the banging single, "Middle Finger".
Honey Cocaine's background, though, had nothing to do with the African-American ghettos gangsta rap is usually associated with. Sure, Sochitta Sal used the n-word in her lyrics, but in reality she is an Asian Canadian. She was born in Cambodia. And she learned English in Toronto – by watching BET's programs, according to her legend – where her family had relocated. Actually, she referred to her origins on Thug Love, when talking about her parents' migration on the "Heartache" skit, and when dedicating one of her songs to the "Asians on the Map".
This South-East Asian identity might be the only thing original on this mixtape. Apart from that, her recipe was generic, though quite pleasant and with a few bangers. Sweet like honey, addictive like a drug: such was the meaning of Honey Cocaine's name, supposedly. Such was her music according to her. And she was not entirely wrong.