The White Girl Mob didn't last long. This band of female rappers quickly split. And its two famous members, its figurehead Kreayshawn, and V-Nasty, once a collaborator of Gucci Mane, are now AWOL. Today, the only one remaining is Jordan Capozzi, a.k.a. Lil Debbie, the very one who collaborated to Kreayshawn's hit single "Gucci Gucci", and was expelled from the trio afterwards. There is some logic in her survival since, at the end of the day, she was the most talented of them. She got it moving, due to her companionship with the inenarrable Riff RaFF, a few popular songs on Youtube, and some praises from Snoop Dogg. And from Keep It Lit in 2012 to Bay Chronicles this year, Lil Debbie never stopped releasing projects. In reality, most have been disappointing, but the one titled after her name deserved to be noticed.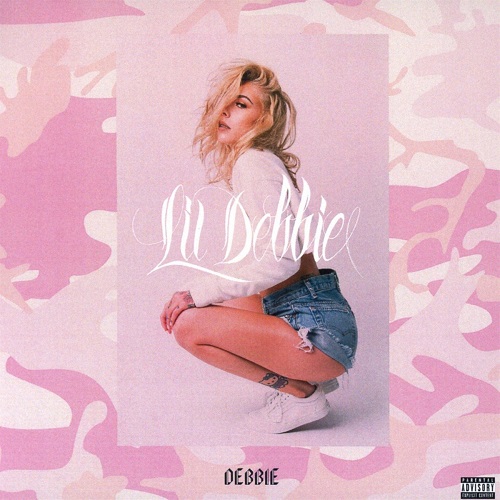 As soon as Debbie starts, with "Can't Sit Wit Us", she positions herself as the true heir to the White Girl Mob. Referring obviously to Kreayshawn, she says impudently: "still M-O-B no creation". She continues to act as a bad girl, she even overplays it. This album, indeed, is a collection of insolent ego-trips, with attacks at her competitors, and some other acrimonious tracks. It is a cry of revenge, Lil Debbie condenses on "Feel Good". The only distinct moments are "Tell Me", a ghetto love song supported by Njomza, and "Turn Em Out", where the rapper says she steals lovers to others, to demonstrate her undeniable sexual dominance.
Her stance is so one-sided, that it often gets tiring. However, by chance, some tracks differ from the rest. For example, there is a club flavor on "Cake Up" and "My Level", due to the influence of dance-oriented Californian musics like hyphy or ratchet. A few weird tracks also show up and break the monotony, like "Whoop" and its Auto-Tuned hook by Starrah. And some moments on the album are particularly striking, such as "Damn", "F That", and the conclusive "I'm On".
For a long time, the American society expected from white girls that they are well-behaved, prude and respectable. Its opposite model, the insolent and depraved woman, the slavery culture had reserved it to black ladies. As a result, there is no superior transgression, for the former, than behaving as the latter. There is no bigger offense than crossing the border, adopting the other's music, and showing up as liberated and out-of-control. This is exactly what Lil Debbie has always done. According to her, she even showed the way to Miley Cyrus. Contrary to others, though, she managed to remain credible. "Last chick standing from my past clique, probably 'cause I'm real, no plastic", does she say on "I'm On". And she is perfectly right.