One hip-hop scene, one female rapper. That's a rule. As far as Detroit, one of the most exciting places for rap in the last few years, is concerned, the prominent lady could very well be Kash Doll. She is the most famous, originating from there. But her admirer Molly Brazy is also from that place. And though she resides now in Atlanta and her style has moved to other directions, she used to be closer to the guys we really care about, people like BandGang Masoe, Cash Kidd, GT, or Helluva, the sound architect of the city, who all contributed to her Molly World mixtape.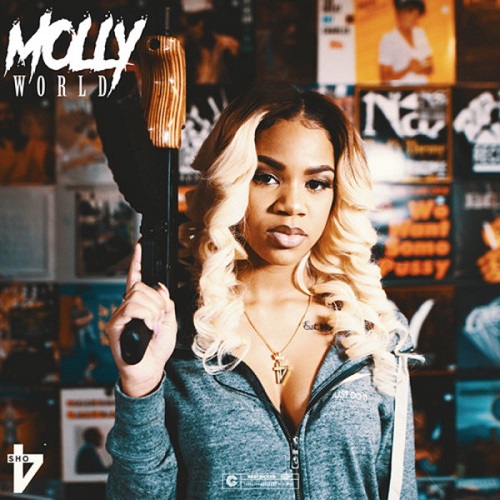 Sponsored by 4Sho Magazine, the main promoter of Detroit's rap, that first project was released in early 2017, following the "More Facts" single that revealed her the year before. On it, the rapper was still close to the specific sound of the city. Influenced both by the flashy looks of the Nicki Minaj disciples calling themselves "dolls", and the dangerous street rap her place is known for, Molly Brazy still leant toward the latter, on that release. As soon as with the intro, produced by another key local beatmaker, RJ Lamont, we could hear the tense and relentless sound Detroit is known for, in addition to fast raps, a few sung hooks, and aggressive lyrics.
The main trend there, was some street rap impregnated with violence, declaimed by a person who experienced it first hand. The rapper, indeed, had her father shot dead when she was only 9. Fascinated by guns, Molly Brazo – now renamed with the Bloods version of the word "crazy" – paraded with them. That was visible on Molly World's cover art, as on tracks such as "Don't Fall Asleep", or few videos like the one, recorded shortly after the mixtape, showing her threatening a baby with a revolver, which understandingly caught attention from the police.
The rapper talked about guns and money on the great "Run Up a Check", rapping on par with GT and Masoe. She described her sane activity as a drug dealer on "On Me". She led her pack on "Focused". She also pledged allegiance to trap music luminaries on "Make Up". Also, she spit her venom. Successively or simultaneously, Molly Brazy scorned both boys and girls. She defied them, she despised them, on tracks like These Bitches", "Gimmie", "2 Faced", "Rambo", "Hate Niggas", "Fight Me" and the insane "Goofy". She threatened them to death on "Bout Shit".
And overall, thanks to ideally short tracks – only a few went beyond two minutes – her mixtape was totally worth those from her male peers. It is such a pity that, after her collaborative track with Cuban Doll, "Let It Blow", and a first official album she released a few months afterwards (Big Brazy), the young Molly B. emancipated from the Detroit formula. It suited her so well.