Let's talk about manicure. The males among you might ignore it, but there are two kinds of false nails: those made of gel, and those made of acrylic. The former have various strengths: they look natural, and they are shinier. The latter, though, are more robust, and they are cheaper. These two kinds of fingernails, also, are socially significant. While the first category is associated with the rich, the other, also characterized by its strong chemical odor, is favored by lower class people, and the African-Americans. It smells like the 'hood. Such, actually, is the main theme on "Acrylic", the song: on a minimalistic beat, the smell of acrylic is a starting point for describing an entire world made of tricks, police controls, and single-parent families.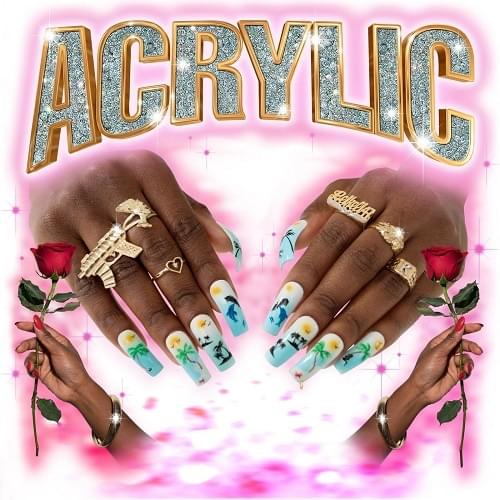 Leikeli47, a young lady whose "Fuck the Summer Up" single had been publicized by Jay-Z, a while ago, wants to talk about her existence as a black woman. Sure, this Acrylic project, released in 2018, talks about false nails, it lists brands on some kind of fashion show music – see "Post That" - and it is the second installment of a trilogy dedicated to beauty and body care, after "Wash & Set" in 2017 and before a yet to-be-released " Shape Up". But its subject matters are not superficial. Like many of her female rapper colleagues, Leikeli47 can expose her body in a sexy manner, but she also hides the most important part of it. Her face, indeed, is perpetually veiled by a ski mask. That way, she can overcome her shyness. Also, a bit like MF Doom, she forces the listener to focus on the essential: her words, and her music.
She does it rightfully. There are indeed lots to be heard on Acrylic, a project made of short and very diverse tracks. As far as the lyrics are concerned, it goes from the feminist rants of "No Reload", and an anthem to African-American universities on "Roll Call", to a review of street life on "CIAA", and a celebration of narcotics on "Girl Blunt", a song already heard in the Insecure TV series. She also guides us through Brooklyn. She does it on "Iron Mike", with her portrait of her Brownsville neighborhood, and also on the track "Hoyt and Schermerhorn", she named after an iconic metro station of her New-York borough. Leikeli47 can also be dead serious like when, on "Talking to Myself", she states ironically that she doesn't need to be shot at to have her head full of lead: the toxic waters running through her slum already have plenty of it.
There are also lots to hear, musically speaking. Somes beats are energetic and hot, like with "Roll Call", or dance-oriented, like with "Post That", or "Tic Boom", which starts with caribean sounds before turning into club music. The album often uses exotic accents and rhythms, like with "Iron Mike" and "Bad Gyal Flex", which are reminiscent of M.I.A.'s world mix approach. Leikeli47 also delivers a R&B song with "Top Down", a pop ballad with "Hoyt and Schermerhorn", and a bit of neo-soul with "CIAA". She sings emotionally on the beautiful and final "In My Eyes". We even get a bit of Ray Charles, with "Let's Go Get Stoned". Acrylic is diverse, eclectic, but all along it, Leikeli used the same energy and creativity to share her culture, and celebrate her very own feminine and african-american universe.