Once again, Roc Marciano shone in 2018. Not only with his own output, or the quality of his releases, but also through homies like Knowledge the Pirate. This name is familiar; the guy has often supported Marci since Reloaded, in 2012. To our knowledge (ah ah!), though, he had no proper album himself. But this changed a few months ago with Flintlock, a release extending the buccaneer metaphor, since it is named after the iconic pirate gun. This album, as a matter of fact, is produced by the Flipmode Squad veteran, jointly with Elemnt and Mushroom Jesus.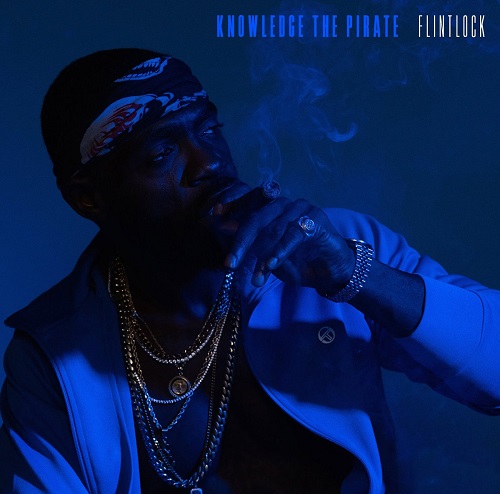 Knowledge the Pirate is close to Roc Marciano, and this is visible. His formula is pretty much the same. It is made of loops and samples, like the voice pieces on "Eyes", "I Knew", "Long Gaze" and "Ma-At Pray", the organ on "Wrinkled Feathers" and "None Left Standing", the piano and violon on "Beers, Bullets & Bloodshed", and a few thundering guitars. Sometimes it is very sober, and sometimes it is full of soul music apparat, like on "Born Pimp". His raps balance hatred with resignation, and they are delivered in an intelligible and precise way, with some restrained kind of violence. This is some uncompromising music, with an unbending posture. Knowledge, indeed, opted for independence. His album has been available for a month on his website only, before he agreed to have others distributing it, like Marci himself did in the past.
The sound and the approach are not the only resemblance between Knowledge the Pirate and Roc Marciano. Like the other, the author of Flintlock is an old sea dog. Though this album is his first, he emerged a long while ago, when Charlie Mack, Will Smith's bodyguard, discovered him, and he ghostwrote some lyrics of the superstar. Even better: through Terry Riley, just when he could expect a major career, he met with Pharrell Williams and Chad Hugo. Later on, he would brag on Twitter that he's been the first gangsta (i.e., before Clipse) to rap over Neptunes beats.
Knowledge, indeed, is a gangsta. He raps about money, drugs, guns, paranoia, loveless love and setting accounts. He talks about his life as a delinquent, but in the New-York 90's style. There's a social background to his lyrics. They are all about being the product of a bad environment. Like he says on "Roots of a Thug", the guilty ones are to be found outside of the ghetto. "Yeah, we sell the drugs, but they're the ones who put 'em in the streets", he says on this splendid introductory track. And on other gems like "Headshots", "Toast", "Swashbuckling", and his duo with Roc Marciano, "Cant Get Enough", he delivers a rejuvenated version of this rap music for ancient corsairs and filibusters. Years and years later, that old cannon still roars.