By 2011, just when drill music started buzzing outside of Chicago, BlockOnDaTrack, a local beatmaker, decided it was time to offer a feminine voice to this virile and aggressive subgenre. He convinced his cousin Kiara Johnson - a student trying to make a living out of a waitress job at McDonalds, and who had never thought she could be a rapper - to record a song with him. This would result into "I Need a Hitta", a success with the Chicago youth, and it would lead to another one, "Ridin' Around and Drillin'". That one caught the attention of King Louie, who asked the young woman to join his own Lawless Inc. imprint, and who contributed to her most famous and defining banger: "Pop Out". Thus started the career of Katie Got Bandz who, afterwards, would release a series of mixtape, and become the undisputed queen of drill.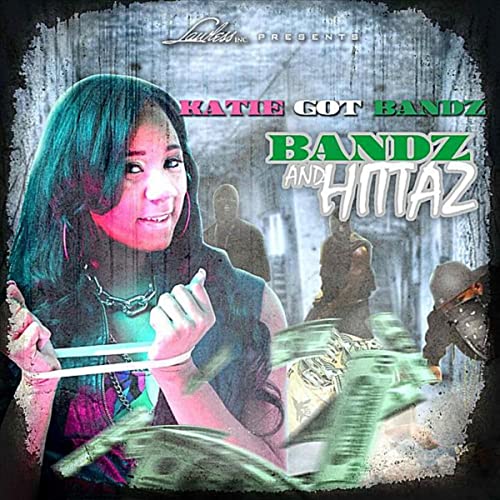 BlockOnDaTrack, actually, had urged her cousin to start rapping for another reason: she was a delinquent, walking a dangerous path, and he wanted to remove her from the streets. He wasn't too successful: Katie was imprisoned on gun charges, at the very moment "I Need a Hitta" was buzzing. However, upon her release, surprised with how popular her song had become, she ultimately decided to take rap seriously. This translated into her collaboration with King Louie. And in 2012, at the very moment when drill music was turning into a national phenomenon, she released her first project, Bandz and Hittaz. Expectedly produced by her cousin, it was already worth - or even better than - her infamous Drillary Clinton mixtape series.
Loyal to her background and to her environment, Katie complied scrupulously to the gospel of drill music, the only variation being her harsh and proud feminine voice. It was the full formula: short and catchy rhymes, declaimed in a mechanical way; a kind of rap relying more on the weight and aggressiveness of her lyrics, than on her skills; trap music rhythmic patterns; emphatic, heavy and threatening synthesizer sounds; and here and there, a few gun claps.
The themes were also the expected ones: they smelled of gangs and the 'hood. On "I Need a Hitta", the rapper was looking for a lover as brutal as she was, and she proclaimed loudly her love for money. With the tough "Yall Niggaz Ain't Hittaz", she pretended she would shoot her rival. With "Middle Fingers to Da Opps", she fucked the police. The rapper, actually, never exposed her feminine side. Sex was a common topic, but it was bestial, and absolutely not about her sex appeal. The only romance there, "Lady Hitta", was actually sung by a man, and his object of desire, Katie herself, was everything but a cute, fragile and sensible woman.
The rapper, to the contrary, copied the thuggish attitudes of her male colleagues. She postured as a gang leader in the videos of "I Need a Hitta" and "Ridin' Round and We Drillin", surrounded by accomplices of both genders. Thus, she defined what female drill music would look like. She heralded a model that most female rappers in that genre would follow, in the months to come.