At first glance, this mixtape was some pure Los Angeles material. A few local rappers featured on it, like YG, Problem, and Joe Moses, and it was produced by the D.R.U.G.S. crew, later known through its association with Ty Dolla $ign. However, its main player rapped with an accent and a style originated from the Dirty South. Iggy Azalea, as a matter of fact, was neither from California, nor from Georgia. She was even not an African-American, but a white and blonde young lady from Australia. Fascinated by US rap music since she fell in love with 2Pac, Amethyst Kelly had flown before the age of 16 to the country of her idols. She had lived in Miami, Houston, and Atlanta, before relocating to the West Coast, per her label's recommendation.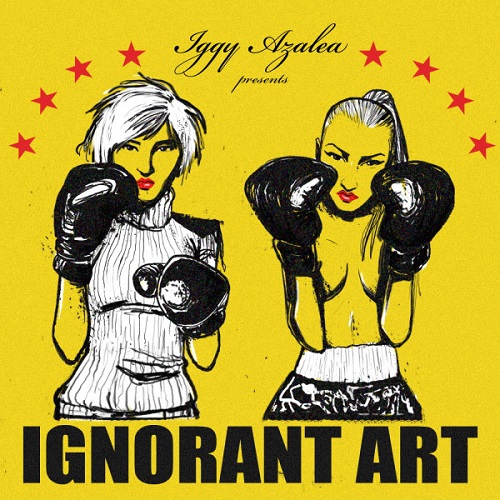 Ignorant Art was, somehow, a testimony of the rapper's journey in the South. On scintillating synthesizers, the Australian chick bragged about her wealth and innate class on "Hello". She designed the world according to her wishes on "My World". Keeping the same posture, but on a slower tempo, she moved from Atlanta to Houston with the screwed and chopped bits of "Treasure Island". And while "Drop That Shit" led us to the strip club, "Pu$$y" – a first draft of this track, "Pussy Two Times", had been a remix of Gucci Mane's "Gucci Two Times" – was pure southern pornography, and an addition to a long list of cunnilingus anthems in rap music.
A few tracks only exposed Iggy Azalea's other face, the romantic one: On "You", with a sample from the Dave Matthews Band, she expected her Prince Charming – this one, soon, would be A$AP Rocky. On "Backseat", she languishingly thought about her next sexual intercourse; and "The Last Song", her most fragile song, was about her expectations toward her lover.
Iggy Azalea would be highly critized by Brittney Cooper, an African-American feminist, for appropriating, with the complicity of a few black men, a culture which was not hers. But as usual, the self-righteous had it all wrong. The Australian blonde was not a new Elvis. She was more a rap culture advocate, than a thief. The mixtape's very title, a quote from Jean-Michel Basquiat, was clear enough: it was a manifesto for modern rap, today's street art. By alluding to the famous artist (the cover art was inspired from a famous poster figuring Basquiat and Andy Warhol) Iggy Azalea questioned the hierarchy of arts. The first track on the mixtape, "Dirt in Your Pussy Ass Bitch", was all about that. It pictured a poet, ceremoniously claiming insanities and obscenities. That way, it mocked the vanity and self-importance of high culture.
Iggy Azalea's legitimacy notwithstanding, Ignorant Art was an accelerator for her career. Afterwards, she became the favorite of people like Diplo, who co-produced her second mixtape TrapGold, and T.I., who welcomed her on his Grand Hustle label. A bit later, after a few complications with her contracts, she released The New Classic, her first album for a major label. Meanwhile, Iggy Azalea placed two singles at the top of the American charts, "Fancy", with Charli XCX, and "Problem", with Ariana Grande, which would be the first time for a female rapper. Truth be told, however, the Australian singer wasn't too much of a rapper, by this time. A bit like Nicki Minaj, a major influence, she had significantly refocused her style towards pop, to enlarge her audience. She wouldn't be any longer a spokeswoman for ignorant art.