There is a new trend with today's rappers: they all want to be rock stars. Though their subject matters – sex, drug and money – remain pretty much the same, their nihilist attitudes and imageries are heavily influenced by hardcore punk. See Playboi Carti's Die Lit cover art, for example. And the same goes with Rico Nasty on her latest mixtape, the first since she joined a major label. Nasty, indeed, his full of angry songs, blended with abrasive voices and furious guitars, like "Trust Issues", "In the Air", and the one summarizing it all: the outstanding "Rage".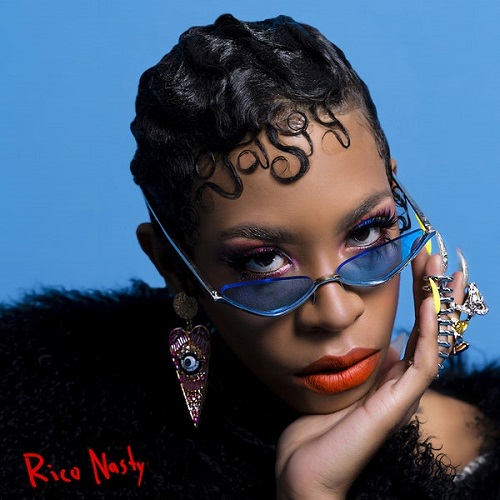 This, however, is not the face Maria Kelly used to show. Around 2016, the Maryland resident's first songs like "iCarly" and "Hey Arnold" talked about sex and drugs, sure, but they were melodic, catchy, and even syrupy, and she titled them according to Nickelodeon characters. Until now, the cover arts of her mixtapes were full of dolls, kitties and pink shades, and she displayed toys and colorful wigs in her videos. As long as she promoted her own rap subgenre coined "Sugar Trap", her posture was joyous and childish. In 2017, though, by the time she released her "Poppin'" single, she turned brutal and tough. She featured with a guitar in her "Spaceships" video, and her hairstyles became aggressive and spiky as those of punk rockers.
Nasty is the final stage of this evolution. It is also, probably, Rico Nasty's best project, and this is partly due to Kenny Beats. Back from his journey in electronic music, the producer worked on a large portion of Nasty, providing it with the decadent sounds it needed. His music – his own, or the one he borrowed from The Neptunes' and Noreaga's "Superthug", on "Countin' Up – is dry and robotic. It goes well with Trap Lavigne, Rico Nasty's evil and angry alter ego. And when the production is not handled by Kenny Beats, Lex Luger, another heavy artillery expert, is stepping in with "Transformer". With such beats, Rico Nasty is well armed to claim her hatred toward others, and more particularly men, on tracks like "Pressing Me". This music underlines her wild posture. It highlights her "I don't give a fuck" attitude, like with the opening "Bitch I'm Nasty".
And though, when her anger stops, Rico Nasty reconnects with Tacobella, her previous character. Nasty, indeed, still has a few happy tracks. It has nursery rhymes on "Hockey", and Auto-Tune on "Won't Change". The rapper's obsession with childhood is still here, like with the video game music of "Ice Cream", an X-rated track disguised as a song about candy. Rico Nasty, actually, still plays the same role: she is a teenager who grew up too quickly, others don't recognize anymore ("Life Back"); she is an adolescent, oscillating between angry bitterness and an anxious kind of hedonism ("Why Oh Why"). She is the one same and unique character. But with "Rage" and some other highlights on Nasty, she found the best way to play it.