It's been a while since a buzz started around OMB Peezy. Originally from Mobile, Alabama, but settled in Sacramento since he was 12, he has collaborated since 2016 with the likes of Nef the Pharaoh and Yhung To, and he attracted the attention of a few others. E-40, for example, asked him to join his Sick Wid It label. And he is also part of Lyor Cohen's new stable, 300. It took time, however, before he recorded his first proper project. Heralded for months, Loyalty over Love was released only now. Prior to it, he only had side-projects: an average Humble Beginnings EP, produced by Cardo, and earlier this year, Young and Reckless, a mixtape with Sherwood Marty. This teamwork with the Baton Rouge rapper, though, was much more than just an appetizer.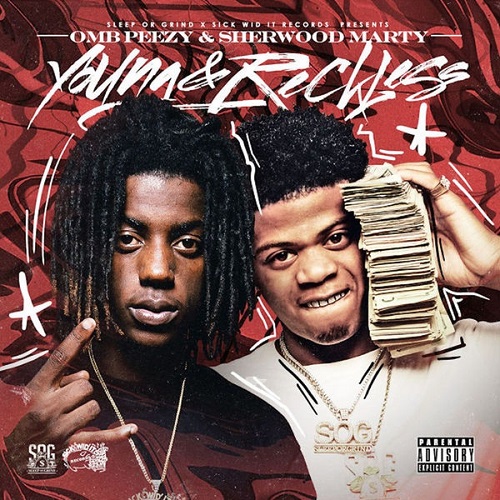 We didn't know that these two men knew each other, before they released the "Crash Out" single. Quite probably, this connection was the consequence of a marketing strategy from 300, both of them are part of. Anyway, the magic works. On this project, both rappers talk expectedly about street violence, about their hatred for rivals, and about "bitches". With his ordinary voice, Sherwood Marty is a perfect counterpart to OMB Peezy, whose nasal timbre, aggressiveness and melancholic touch position as one of Lil Boosie's many inheritors. Both men take benefit of this complementarity when, for example, they finish each other's verse.
Together, they deliver many solid tracks. The belligerent "Run Tha Game" is a perfect introduction to the offensive and violent lyrics of the mixtape. The "Crash Out" single is a convincing synthesis of the styles of OMB Peezy's two homelands: southern groove and Californian cool are mixed there, and modernized by a touch of Auto-Tune. "Ready" is using a good old trick: it plays with the contrast between a catchy melody, and threatening words. Last but not least, with the melancholic "Ride Wit It" and "Better Dayz", and their voices and lyrics full of despair, both rappers deliver new and convincing pieces of today's gangster blues.
This is how OMB Peezy and Sherwood Marty ended this joint project: with regrets, a bit of bitterness and pessimism, and even some ethics, to counterbalance the violence and immorality of the first tracks. That way, they demonstrate that Young and Reckless was well conceived, and that it is worth more than the marketing object it originally looked like.