Stefflon Don was the woman quota in the last Freshmen. Though she has the particularity of not being American – she is a Brit who grew up in the Netherlands – this choice is not a total surprise. Stephanie Allen, indeed, has been making her way for a while, in the hip-hop world. She even integrated the influent Quality Control Music stable (Migos, Lil Yachty, etc.) last year. Having collaborated with French Montana and Future, as well as, more expectedly, with Skepta, she is a representative of the growing convergence between the US and UK scenes. Though she is English, her posture is the same as most female rappers, on the other side of the ocean: she is a sexy doll and a dominatrix. The cover art of her new mixtape, Secure, which copies Lil' Kim's The Notorious K.I.M., shows clearly that her main influences come from America.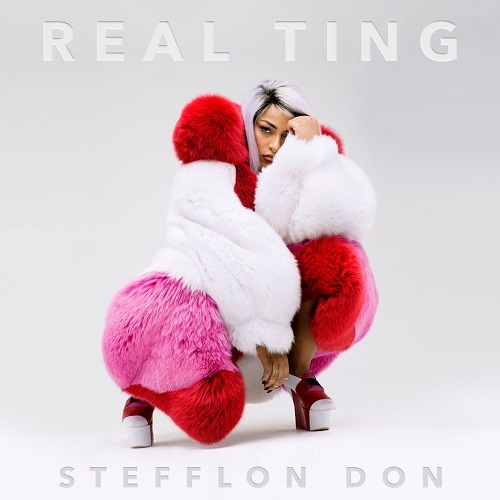 Real Ting is an older mixtape from Stefflon Don, and her only significant release before that new one planned for the summer. It was recorded in 2016, just after she had surfaced, thanks to her remixes of songs from Rae Sremmurd and her fellow countrymen the Section Boyz, and her collaboration with Jeremih on Late Nights: Europe. As soon as with this first mixtape, the posture of this Englishwoman was clear. She would be some UK version of Nicki Minaj. She shared with her a certain haughtiness and style of rap, as well as low-necked and extravagant clothes, and solid caribean roots. Stefflon Don developed her strong woman character on the most American of her songs, like "Real Ting", where she took control over men, soliciting them per her desires, either for sexual satisfaction, or to wash her dishes. She had a tough personality, as demonstrated on "Narcos", where she talked about commercing with drugs.
Her British identity, though, was visible on Real Ting. She had a few songs in the grime genre, like the strong "Forever". She also had guests with a strong English accent, and even a few words from a Margaret Thatcher interview, on "Lik Down". Also, as usual in the UK, the Jamaican influence was obvious. The rapper's family, actually, was from there, and a large part of the mixtape had reggae or dancehall sounds. "Tight Nooki", for example, was built on the same pattern as Chaka Demus & Pliers' "Murder She Wrote". The hook on "Dem Neva Warn Ya" had the same influence, as well as "Envy Us", a love song with Abra Cadabra, and "16 Shots", a banger where a threatening Stefflon Don menaced anyone considering to harm her mother.
Those were the most satisfying parts of the mixtape. When Stephanie forgot about her generic US rap songs, she was at her best. When she didn't try to win on all fronts, and when she didn't record cliché tracks like "Family Ties" - where she and her brother Dutch delivered an homage to her family - she was really convincing. It was on her dancehall moments, with her big voice and her big mouth, that the Englishwoman was the best at playing her intimidating persona.