With time, the messy underground hip-hop scene that created so much expectation by the end of the 90's, coalesced into something better defined. While it was originally so diverse, so creative, and so original, though it was an exciting promise of novelty, it finally became the herald of hip-hop conservatism, the ultimate refuge for the apostles of classic rap, a haven for hip-hop traditionalists that refused to die.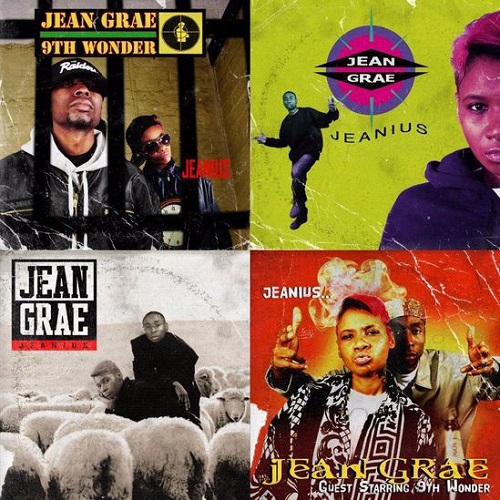 Jean Grae and 9th Wonder have both represented exactly that. A member of the 90's hip-hop band Natural Resource originally called What? What?, the former defended a lyrical and battle-inspired kind of rap, while the latter, the producer of Little Brother, favored orthodox boom bap sounds.
To make the matter clear, the album they recorded jointly had four alternatives cover– the listener can choose which ones he or she likes the best – that recycle all East Coast classics and substitute the original rappers with the rapper and the producer's own faces. These are It Takes a Nation of Millions to Hold Us Back from Public Enemy, Only Built 4 Cuban Linx from Raekwon, A Wolf in Sheep's Clothing from Black Sheep, and Dead Serious from Das EFX.
Tsidi Ibrahim, a.k.a. Jean Grae, wasn't born in the US, but in Cape Town, from two South-African jazz musicians. On the mic, though, she is a pure New-Yorker, and a word-lover. Jeanius is a reminder of that. It is a pure demonstration of her verbal skills. She plays with words, like with the track "#8". She delivers conscious rap, like on "American Pimp", and some intimate lyrics, like with "Billy Killer", which is about a devoted lover, the sensual "Love Thirst", and more noticeably "My Story", about her experience of abortion.
Jeanius could have not existed. It was planned for 2004, but its records got pirated on the Internet, and for a while, releasing it was out of question. In addition, by April 2008, Jean Grae announced that she would stop rapping – this never happened, fortunately. Jeanius, however, was saved by Talib Kweli. In July the same year, he published its definitive version on his own label. In the meanwhile, the repute of the album had grown substantially. It was considered an underground classic, already, when it eventually became available.
This might be exaggerated. Jeanius has some flaws which are characteristic of 9th Wonder, and overall, of this kind of underground hip-hop. Polished and recorded with care, built with well-cut samples, it can be monotonous at times. And though, even if nothing is really new there, the battle rapper in Jean Grae is impressive on tracks such as "2-32′s". And she remains as stunning in her introspective moments, like when she questions her dual nature on "Don't Rush Me", or she seeks redemption on the equally striking "Desperada".
All in all, Jeanius might or might not be Jean Grae's masterpiece. But it is, at least, the album that defines her the best.