According to a tacit hip-hop rule, it is impossible for two female rappers to coexist. For that reason, some had opposed La Chat to Gangsta Boo. However, none has ever stepped on the other's toes. While the latter was a member of Three 6 Mafia, the former was "only" an affiliate, though a very close one. And while Lola Mitchell sometimes used sexy postures when going solo, by the end of the 90's, Chastity Daniels had never been anything else than a thug, she was unilaterally hardcore. As a matter of fact, there hasn't been any conflict between these two.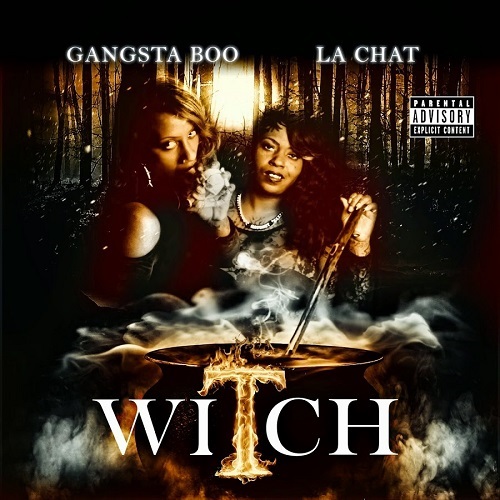 Quite the opposite. The two ladies, indeed, had planned a joint project. That happened eventually, but quite late in time, in 2014. That record was titled Witch, both rappers impersonating a manipulative and maleficent enchantress, quite appropriately in the horrific universe set twenty years earlier by the Three 6 Mafia. They deployed that comparison as soon as with the first track, "Witch Brew", in a sepulchral atmosphere, and with the help of Canadian singer Fefe Dobson. And afterwards, proudly and bombastically, the two women explained how they exploited men, and bragged about their unsentimental ways to have sex: "I don't want relationships, right now I am only fucking you", did they pretend on "Sum 2 Do". Of course, they were also obsessed with money, and they got high with drugs. And they assaulted their peers, women who, contrary to them, had no attitude, no pride, and no inclination to violence.
Produced by Drumma Boy and a couple of others, Witch might have been a minor album, but it was addictive. Both sorcerers were experts in alchemy. Their two voices, one neat and the other raspy, were complementary, on catchy songs like "Till the Day" and the threatening "Sweet Robbery", and on a few others featuring guests: the drug, sex and savagery fury on "On That", with Lil Wyte, and to a lesser extent "B!tchy", the single that heralded the album (though absent from it), and rallied the three greatest ladies of the South with the addition of Mia X.
The last track on Witch, where both women celebrated their comradery, was also one of the most remarkable. "Thelma & Louise", such was the name. It refered to the movie, of course, but also, maybe, to the album Lil' Kim and Foxy Brown had been planning to record together before getting into their catfight. At the end of the day, what the two New-Yorkers had failed to achieve, the two greatest female rappers from Memphis had delivered it, and with panache.