Since his album Perdants Magnifiques, in 2014, Sameer Ahmad is praised by French critics, even though his career started much before this. He is less known than other rappers, but contrary to many of them, he rarely disappoints. His latest project, though, is even better. The guy from Montpellier worked hard on it. Apaches is short but dense, and it benefits from some crucial support. Others contributed to make it a beautiful item, such as illustrators Lasse Russe and Hector de la Vallée, as many producers as we have tracks, and a couple of rappers, LK de l'Hôtel Moscou and Nakk Mendosa. That being said, this album is primarily Ahmad's thing.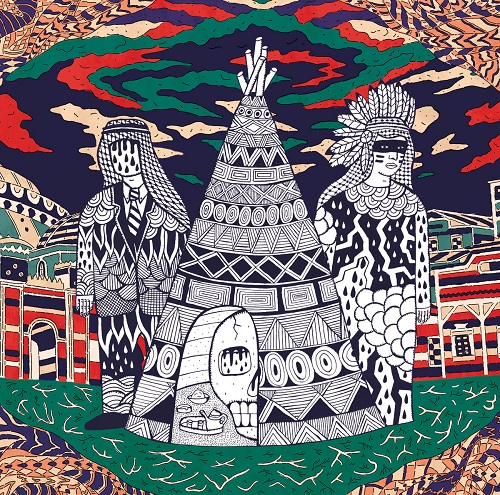 On Apaches, he excels at his own kind of rap, one that evokes instead of telling, one that plays primarily with assonances and analogies. Listening to it is like hunting treasures. It is a journey, through a multitude of personal references, showing that Sameer Ahmad is an educated man – he is a teacher in real life – as well as a pop culture addict. He alludes to hip-hop heroes like Kool Herc, Tupac, Biggie, Wu-Tang Clan, Suge Knight, or André 3000, as well as other African American legends, such as Malcolm X or Iceberg Slim. He mentions Serge Gainsbourg twice, and he refers to the Bible, with words from the Book of Genesis, the Book of Ezekiel, the Last Supper, and the Crucifixion. His other hobby is cinema. He quotes several movies such as the expected Scarface and The Godfather, of course, but also Apocalypse Now, The Scent of Green Papaya, Rocky, Planet of the Apes, Once Upon a Time in the West, A Bronx Tale... This is a thick album, with lots of double meanings, and surprises and discoveries with each new listen.
Behind the Western movie theme, highlighted by an excerpt from Little Big Man, or a few Native American chants – on "Sitting Bull", and then "Safar", with a sample that sounds a lot like the beginning of The Breeders' "Cannonball" – the main subject matter shows through. This album is about Sameer Ahmad's own existence. It is about his life as a son of Iraq immigrated to France to escape Saddam Hussein's bloody regime. Behind the Apache, is the Arab. He talks a lot about the Middle East, and the cover of "Sitting Bull" shows his own father, after he was tortured. He is the boy who settled in the "nice country of Jacques Mesrine" (France's most legendary gangster) and became obsessed with America. The one who, on "Southside", draws a parallel between Outkast's Dirty South and Southern France, to signify he is a marginal rapper.
This album could have been the boring escapade in someone's abstruse and egotist world. However, to make it more appealing, the producers delivered first-class beats. These are made of some ecumenic and ageless music, with old-fashioned samples as well as trap music rhythms, that takes time before settling, through long instrumental intros and closings. This is full of smart ideas, like when John Cale's violin on "Venus in Furs", is recycled on "Papa Legba". Despite the many producers, the quality is constant, even though some highlights are to be noticed, like "Sitting Bull", "C.A.B", "Logos", and the conclusive and magnificent "H2O". There is absolutely no doubt, when Apaches ends, that Sameer Ahmad has delivered his masterpiece.