One peculiarity of the Good Life Café, is that it was open to feminine talents. The Project Blowed compilation demonstrated this clearly. One of its highlights, the "Heavyweights Round 2" freestyle, had as many femcees as males on it. There, Medusa and her cousin Koko - a.k.a. S.I.N. - Nefertiti and T-Love competed against Mikah 9, Self Jupiter, Volume 10 and a few others. The best song with women, though, was "Don't Get It Twisted". Recorded by Jyant (Ronda Ross) and Eve (Ava DuVernay), collectively known as the Figures of Speech, it was a perfect sample of the Good Life style, with its erratic and unpredictable music, full of rhythm and flow changes.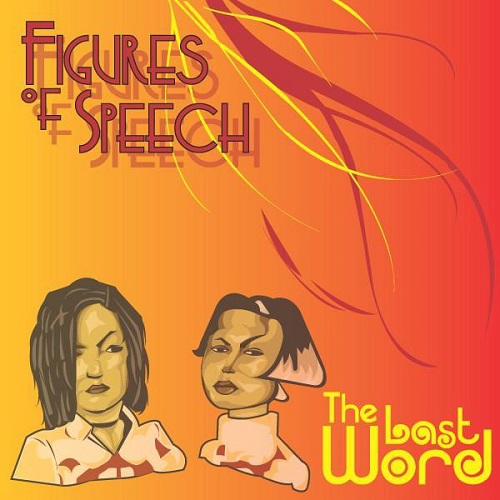 This track had been, for a long time, the only available music from the duo. No album had ever been released by them, indeed, until The Last Word in 2007. By then, however, both women had more or less put an end to their rap careers. This record, actually, was a compilation of songs recorded here and there, between 1992 and 1996, and collected by the producer Omid Walizadeh, one heir of the Project Blowed scene. The hazardous origin of most tracks was quite perceptible, their sound quality being often low, and some tracks like a "On The Road" - actually the hook of a song from The Nonce, sung by the two ladies - looked somehow like a filler.
Most tracks, though, had something in common: with them, the Figures of Speech looked like a feminine version of Freestyle Fellowship. Their music was delicate, jazzy, and sometimes experimental, like with the very strange "Last Minutes". They were equally distant from New-York's boom bap, as from California's own g-funk. Both women (one of them, Eve, was a student at the UCLA when attending the Good Life sessions) looked quite literate. Their raps were fast, especially on "Doe See Doe" and "Avoidance", when competing against NGA FSH's supersonic delivery. Their flows were constantly moving and changing. They even sang. And they went beyond rap music, like when turning Jamaican with Abstract Rude, on "Babylon".
This compilation is a precious testimony of a time long gone, along with another document, put together by some of the same people. Around the same time, indeed, supported by Omid, Eve shot a documentary about the Good Life Café called This Is the Life. Ava DuVernay, actually, had just started a career in cinema under her true name. She would eventually become famous with Selma, a movie about Martin Luther King and the Civil Rights Movement, made with the help of heavyweights like Oprah Winfrey and Brad Pitt. While Jyant would vanish, Eve's career as a director would help her reaching levels of notoriety she could never have expected as an underground rapper. Thanks to The Last Word, though, her hip-hop past will be recalled.