The only good music is the one that resembles its creator. And 1992, as a matter of fact, resembles New-York. Not only because its title refers to the 1990's decade, when NYC hip-hop was as its best – 1992 is, actually, the year when the author, Princess Nokia, was born. But also, more importantly, because it reflects perfectly the mood and values of the big liberal and progressist metropolis. It is, to a large extent, a fantasm for hipsters, with its exogenous influences, its electronic sounds, and the posture of the rapper, a declared feminist, proud of her gender, her mixed-races background, and engaged into a ferocious advocacy for all minorities.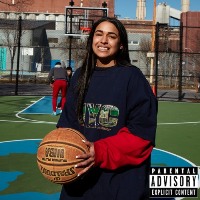 Self-released :: 2016 :: buy this record
Princess Nokia is not a new rapper. This young lady of portorican ascent, whose real name is Destiny Frasqueri, already rapped under the Wavy Spice moniker, as well as under her own name. She released her first track in 2012, and also two mixtapes, Metallic Butterfly and Honeysuckle. She's been an R&B singer, as well as a hardcore rapper, and she worked with the alternative hip-hop band Ratking. One of its members, Wiki, the only guest on 1992, was actually her boyfriend. Her new project, though, strenghtened her notoriety, jointly with a European tour, and her modelling for Calvin Klein. Actually, she got even more praise from the general press, especially the one dedicated to fashion, than from the hip-hop media.
What drew their attention was the rapper's feminism, which translated into her calls for feminine solidarity, and her rejections of the canon of beauty, highlighted on 1992's rhymes about her little titties and her fat belly. This stance was also visible through the way she appropriated the macho poses of rap music. Princess Nokia, indeed, raps in an agressive way. Her alias comes from drug dealing – Nokia, like the mobile phone to communicate with her clients – and she uses the words of her masculine peers, up to the typical "suck my dick". She is neither a sexual doll, nor a mature woman. She is a tomboy – such is titled her best single – who lingers in childhood, the way only men are allowed to. She talks about skate-boards, comic books, baggy jeans, and video games like Mortal Kombat. And on "Bart Simpson", she reminisces about her old times as an undisciplined schoolgirl.
Her music, also, has some key trademarks. Its sounds closer to IDM, than to contemporary hip-hop – please refer to "Brujas", as an example. It is some legacy of the afro-futurism era in the 80's. She also uses some ethnic sounds, and she is undeniably eclectic: she delivers retro soul music on "Saggy Denim", a freestyle on Onyx's "Last Dayz", with "Tweety Bird", and "Kitana" has a banging beat from the now inseparable A-Trak and Lex Luger. She mixes everything, a bit like M.I.A., or Santigold, two other female artists who, before her, were half into hip-hop, and half into everything else; and two key influences, according to Princess Nokia herself. This is the kind of music she delivers, with a ghetto and new-yorker flavor.