Like it or not, but you have to admit the following: in the 2010s, Nicki Minaj is the number one female rapper. The Trinidadian New-Yorker inherited everything from the ladies who paved her way. She has Lil' Kim's, Foxy Brown's or Trina's gift of the gab, and the same explicit lyrics and postures. She has Missy Elliott's eccentricity and creativity, both visually and musically. And in addition, she knows how to play with her looks, which is a critical asset in a world still requiring this from female artists. Last but not least, she knows how to rap, and the way she handles the mic puts her on par with – or even above – most of her competitors, either men or women.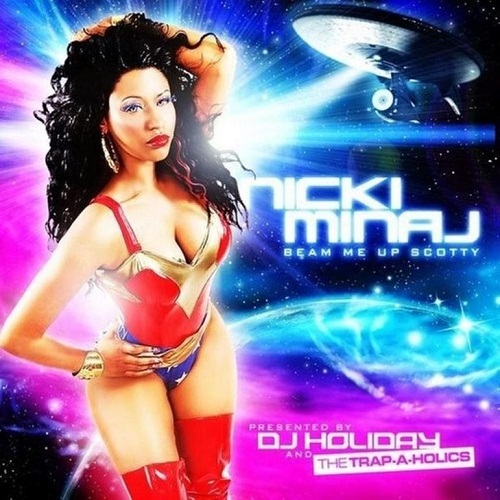 Those still doubtful about her rap skills should go back to Nicki's mixtapes, and more precisely the third one, Beam Me up Scotty, a turning point in her career. By then, Onika Maraj was no longer an unknown. For two years, she had been Lil Wayne's protégée, who had spotted her on the Brooklyn Dirty Money label and invited her on his Da Drought 3 mixtape. In parallel, she had made a name for herself with Playtime Is Over (2007) and Sucka Free (2008), where featured big names like Gucci Mane. With Beam Me up Scotty, however, she would increase her fame and strengthen her status. It would be her first step toward commercial success, due to "I Get Crazy", a single with Lil Wayne, and more generally, to the overall quality of this project.
Beam Me up Scotty, though, was a true mixtape. Mixed by DJ Holiday, it was full of skits and ad-libs, and it was eclectic. The future pop star started with two club songs, the minimalist and frantic "I Get Crazy" and "Itty Bitty Piggy". She turned R&B with "Kill Da DJ", "Mind on My Money", "Go Hard", "Handstand" and "Envy", and appropriated Drake's marshmallow hit single, "Best I Ever Had". With Jae Millz and Gudda Gudda, she delivered a weird electronic track, "Five-O". She used anachronistic soul music samples on "Can't Anybody Hear Me" and "Still I Rise", but also Auto-Tune on "I Feel Free", techno dancehall sounds with "Beam Me up Scotty", and some guitar in her duets with Lil Wayne – by then in the middle of his rock'n'roll fantasies. And when she worked with Gucci Mane, she used his own trap music, like with the catchy "Easy".
It was all over the place, but Nicki Minaj's skills were obvious. Her raps could go in any direction. She was comfortable with both slow or quick tempos, and she had a knack for insolent punchlines. Her subject matters, actually, were the gangsta trinity, drug, money and sex, plus macho clichés she turned to her benefit, like her hypersexual posture or the passion for shopping she shared on "Shopaholic". At her ease in the rap game, Nicki Minaj introduced herself as an independent feminine figure, the ultimate bad bitch of the XXIst century.
In the end, it's not gonna be about my talent, you know. It's not gonna be about my connections, it's not gonna be about my looks. It's gonna be about who wants it the most, and... I want it the most.
As said by the beginning of the mixtape, Nicki Minaj wanted it the most. She was hungry. And after this mixtape, she would continue to progress, she would become huge. She would also comply with this rule – this malediction – according to which female rappers need to turn pop or R&B. Some of her albums would be good, all would have great tracks. But none would be on par with Beam Me Up Scotty, arguably her best project, if the Nicki you like is Nicki the rapper.