Not all major rappers in the early 2010's were newcomers. The obvious example was 2 Chainz. Tauheed Epps had to pass his 30th birthday, indeed, to finally become a star. Prior to this, he had a career as a member of Ludacris' label, Disturbing tha Peace, and as one half of the Playaz Circle duo, jointly with his friend Dolla Boy. These two met some success around 2007, with the single "Duffle Bag Boy", featuring a Lil Wayne in his apogee. After two albums, though, their days came to an end. 2 Chainz had to reinvent himself as a solo artist, and he did it smartly: he chose a new alias, the previous one, Tity Boi, being a bit embarrassing for an aspiring star. He used his address book to collaborate with first-class rappers. And he became an ambassador of trap music, delivering a rather generic kind of it, but in a pleasant, catchy and goofy way.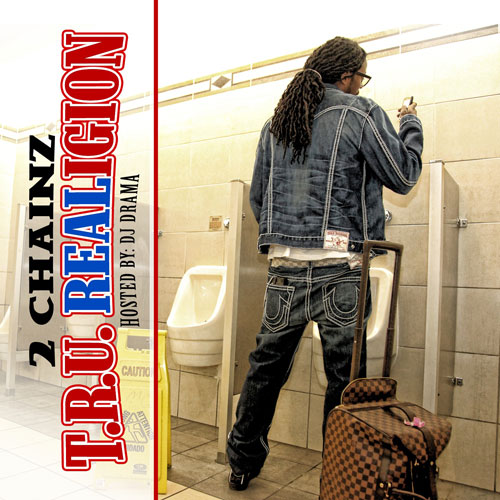 Along with Codeine Cowboy, he released a few months earlier, T.R.U. REALigion is 2 Chainz's reference mixtape. It is, actually, better than Based on a T.R.U. Story, the official album he would release later on, in 2012, with Def Jam. Very quickly, judging by the guest list, it was obvious that he was now a heavyweight. This project, indeed, another edition of DJ Drama's prestigious Gangsta Grillz series, was produced by the biggest beatmakers of the moment (Mike WiLL, Lex Luger, Southside, Drumma Boy, Fatboi, etc.), and it was supported by people as diverse as Birdman, T.I., Young Jeezy, Yo Gotti, Big Sean, Jadakiss, a few emerging talents like Meek Mill and Kreayshawn, and also, surprisingly, by New-York's Wu-Tang veteran Raekwon.
According to 2 Chainz the late bloomer, his success was due to a concept of his own, he introduced at the beginning of the mixtape: "griming", a mix of hard work (grinding) and good timing. The former was illustrated by 2 Chainz's career and perseverance, while the latter translated into the rather standard sounds of his release, and their adequacy to the current times and place. The first track, indeed, the great "Got One", was a tribute to Atlanta, while the others were variations of its music and style: relentless drums, strident synthesizers, and the inescapable themes of sex, drugs and money. These were what this release was made of.
The content was generic and expected, but it fitted 2 Chainz well. With "Undastatement", Lex Luger leveraged with success one of his typical and legendary brutal beats. With "Stunt", 2 Chainz and Meek Mill engaged into some braggadoccio competition on whirling synthesizers. "Murder" was both violent and burlesque, inclusive of Kreayshawn's contribution. "Kesha" was a nice but politically incorrect love song for bad boys. "Riot" was a banger, as well as the remixed version of "Spend It", with T.I., a track which had been 2 Chainz's passport to success.
The more it banged, the better it was. As shown with the syrupy and boring "K.O.", featuring Big Sean, and a quieter but much less exciting second half of the mixtape, this rapper needed it loud and fast. He required sounds on par with his juvenile vigor and his exalted raps. Under such conditions, 2 Chainz was 2011, and 2011 was 2 Chainz. He was the guy to listen to, years after, to catch the spirit of the times, to fully understand what rap looked like, in these days.