The dozens are an old African-American tradition. It goes back to the times of slavery. The work the poor fellows were condemned to, in the cotton fields, was not exactly a pleasant one, so some slaves killed times with spoken words contests, consisting in insulting each other. This practice, it is known, survived in hip-hop. Knowing about these roots helps understanding why outrageousness and insanity are so central to it. It is all about competition and playfulness. Ignoring this implies misapprehending rap, approaching it through the wrong lense and, at times, being horrified by it. This practice, of course, started in the South. And there, it is still at its most vibrant and extreme. That's the case in New-Orleans, where it is known as "rib", or "ribbin'", a discipline Samantha James became an expert at, while she was still a schoolgirl.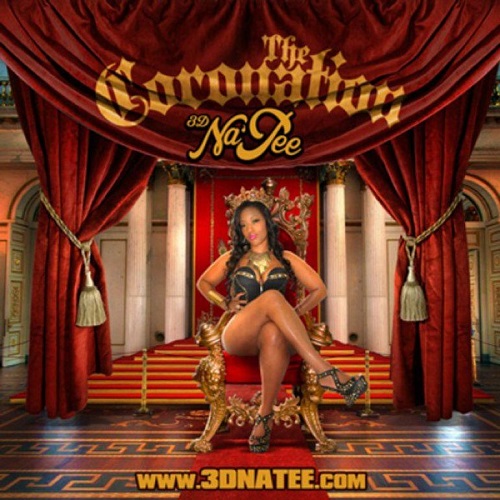 It is, indeed, through her battle rapping skills, that 3D Na'Tee made a name for herself. She did it live, in videos, and in mixtapes like Guess Who's Coming 2 Dinner, in 2010. Celebrated first locally, she was noticed afterwards by the G-Unit, and collaborated with interesting people like Curren$y, and Timbaland, with whom she was supposed to record a mixtape, The Coronation. Such a release became available, in 2012, but with no assistance from the prestigious producer. Per its title, however, this project would be the most significant of the southern female rapper.
A large part of it testified of 3D Na'Tee's roots in "ribbin". In the purest rap tradition, it was a collection of ego-trips, and its lyrics were mostly aimed at bashing people, many of them, and more particularly her competitors. She did it in many ways, even a cappella on "Interlude". Songs like the banging "No Love", for example, were dedicated at hammering all those she didn't like. And she did it on the bombastic beats popularized by Lex Luger around that period of time. The Atlanta producer, actually, contributed to "Wild", one of the tracks on the mixtape.
Nevertheless, beyond these exercises in style, the rapper had substance. There was a social background to The Coronation. The slums of New-Orleans, 3D Na'Tee had experienced in details, were not too far. Samantha's parents, indeed, had both been crack dealers, addicted to their own drug. When the police took them, while they were in detox and, of course, after her father died, Samantha the teenage girl had to manage her household. It was a time when she recoursed to drug dealing herself, and started engaging in sexual intercourses. She learned many things from such experiences, and she used these to make her raps more meaningful.
Among a few other tracks dedicated to the art of storytelling, "Lil Kim" is a good example. That song is not about the famous female rapper, but about a teenager abused by an older man. Left to herself while her father is in prison, Lil Kim is finally saved by him. This story, obviously, is reminiscent of Samantha's own life experience. And later on, with "Dear Old Me", 3D Na'Tee turns even more aubiographical, when she delivers a poignant tribute to the loyal and dedicated companion who supported her in the most painful times of her life: her own self.
Such tracks proved that 3D Na'Tee wasn't only a product of her "rib" training. The Coronation was diverse, due to other tracks successfully leaning toward pop and R&B like "Role Play", "I Want More", "WTFRU", and "Round 11". Thanks to these, it looked like a mainstream album, more than a mixtape. It looked as if Samantha was destined to fame, though her wish to stay independent, and her reluctance to join a major label, somehow prevented that to happen.