NEILA - Better Late Than Never
On the west side of the US, is the West Coast. But further west, there is Hawaii. Laura Yang, a.k.a. Neila, is from there. Nevertheless, it is actually the Californian rap scene, she is associated with; or more precisely its underground subset the rapper, DJ, producer and activist Deeskee organized around his LA2theBay website. Neila made a first appearance in his entourage, when she contributed to the best song on his Blacklight Sessions album, the nice "The Dream". And since then, she never stopped releasing music, until her recent Analog Jewelery in 2017.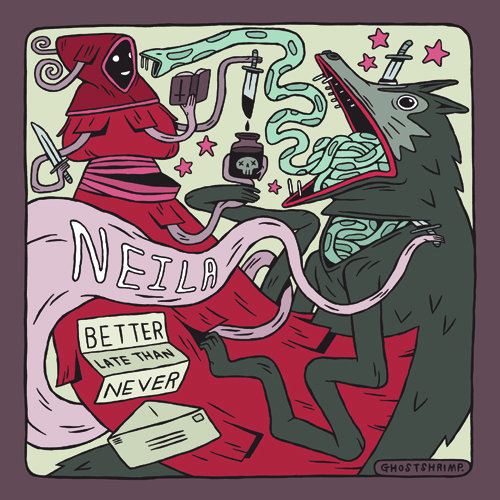 Self-released :: 2009 :: buy this album
Neila even improved, over time. Her best days, ironically, happened when she struggled against a cancer which impacted her vocal cords, around the year 2010. Better Late than Never, an album supported once again by Deeskee, testifies of this. Produced by Avatar, and more marginally by Life Rexall from the Shape Shifters, it had a good balance of sinister songs ("Snake", "Murder", "Maybe", "Anything") and more joyous tracks ("Grab More", "Better Late than Never", "Seatbelt"), and they all used samples – a decaying practice at that time, but typical of this peculiar rap scene. That album was the first the rapper had released after five years of silence, and her health conditions seemed to impact her, already. Actually, she sounded a bit like a crone, which only accentuated the sadness of lyrics she mostly dedicated to her heartbreaks and relationship issues.
Better Late than Never benefited from the proper reinforcements. The most memorable moments on the album, were those with representatives from the large underground network Neila was affiliated to. Such was the case with "How It Is", an upper tempo track supported by a children choir, DJ Esp's scratches, and the raspy voice of Awol One. Such was the case, as well, with "Monster", with the participation of another semi-legend, 2Mex, and with "Earthquake", with Matre, another member of the sprawling Shape Shifters collective. The main dish, though, was the conclusive "Mercy Refused", a relentless posse cut with a dozen (or more) underground figures like Existereo, Xololanxinxo, Project Blowed veteran Volume 10 and - so that it was not only about the West Coast - Company Flow's Bigg Jus.
Beyond Neila's own case, this track looked like a swansong for what used to be a huge rap underground. By then, that scene had lost its shine; critics were no longer interested. For the Hawaiian rapper, though, this was one more step: the next album, named appropriately Only this One Counts and marked by her distress and her bad health condition, would be her most intimate, and her most intense.
Rate this entry
0/5
Note: 0
Votes: 0
Higher: 0
Lower: 0