CAM & CHINA - Cam & China
By the end of the noughties, a dance called jerk, or jerkin', became all the rage in the streets of Los Angeles. Soon, it would create its own musical genre, a bit like its Bay Area cousin, hyphy. Though ephemeral, this craze helped putting dance back to the heart of West Coast hip-hop, and prepared the ground for ratchet, another style, popularized later on by the likes of YG and DJ Mustard. Among the bands at the spearhead of jerkin' was Pink Dollaz, a quintet exclusively made of female teenagers, with a taste for sexually explicit lyrics. Like the movement it belonged two, the band was short-lived, but a few years later, twin sisters Cammy and Cee Cee would become visible again, under the names of Cam and China.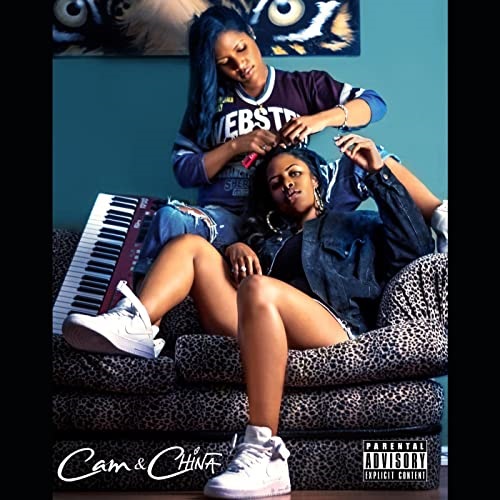 Self-released :: 2016 :: buy the album
These young ladies from Inglewood resurfaced by 2014, with the single "Do Dat", produced by D.R.U.G.S. And later on, they worked with DJ Mustard, on the song "Nada". They also collaborated with Nocando and Thurz, both based in California as well, but coming from a very different kind of rap. And in 2016, they released an untitled EP, which collected very positive feedbacks. Some even made flattering comparisons to Clipse, pretending that Cam and China were the best rap siblings since the Thornton brothers. It is true that the complicity betwen both rappers was great, on all seven tracks of this short record. The complemented each other perfectly, when they rapped consecutively, as well as when doing it at the same time. Like Clipse, they also had sharp and aggressive flows, like on "Playets", or on "That B", a track produced by J Hawk, the historical beatmaker of jerkin'.
The twins, indeed, didn't look too accommodating. They were here to enjoy life, but on their own terms. They wanted to take control. Even when they got sentimental, their feminine perspective left nothing to passiveness. For example "In My Feelings", apparently a cute R&B song with a nice hook, was actually dedicated to physical love. And the sisters had skills, as demonstrated with the rhythm changes and the double-time flow on the concluding "We Gon Make It".
The duo, also, enlarged its scope. Cam and China still excelled at making people dance, like with "Run Up", the ratchet-like remix of an older track, supported by record's only guest, Compton's AD. But their color palette was not strictly local. With its onomatopoeias, jerky flows and weirdness, the well-named "Extravagant" was obviously heavily influenced by Atlanta. And with the atmospheric "We Gon Make It", Cam and China moved completely to a new musical universe. "We gonna make it", indeed. With these few words, the sisters showed their strong appetite for success. And judging by this EP, this appetite could very well be satisfied.
Rate this entry
0/5
Note: 0
Votes: 0
Higher: 0
Lower: 0