The contemporary rap scene in Los Angeles is not specifically known for its feminine faces. Recently, though, someone occupied this niche: a rapper called Azjah pretended that she was the "Princess of Compton". In reality, this young lady had secretly written raps and practiced freestyles for a while, as an amateur. But in 2017, though, things accelerated. After her brother Cholo was sentenced to prison for murder attempt, she dedicated a single to him, "The Warm Up", and it was a viral success. It was followed soon after by another one, the even more successful "Time For It". Thanks to these, Azjah gained some respect from DJ Mustard, YG, and Ty Dolla $ign, she got a distribution deal with EMPIRE, and she was praised by some media.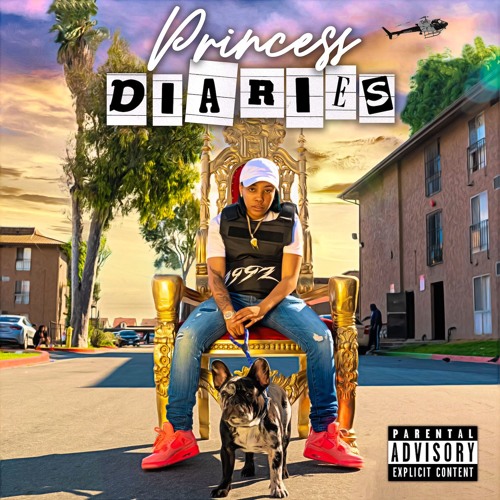 Released in April, Princess Diaries is her first album. Per the cover art, where the rapper shows up with a bulletproof vest and a dog on a leash, it delivers some street-oriented kind of rap. More a tomboy than a doll, Azjah is not particularly emphasizing her female identity. Her lyrics are mostly about the pain and responsibilities of her thug life, and they are gender-neutral. However, except for relentless tracks like the bouncing "Ride for Me", "On a Mission", a duo with another rising star from L.A., 1TakeJay, and the quite good "Play Bout Me", her style of music is leaning toward the sad and melancholic sort of gangsta rap typical of our times. It is some modernized blues, amplified by atmospheric sounds and Auto-Tuned words. Such is, actually, the rapper's formula on "Time for It", "Testimony", and "Back n Fourth", a love song.
The most definitive track in that vein is "Loved Ones". This is the expected tribute to her lost ones, some murdered in the street, others dead for different reasons. There, she sings in a melodic way, with the help of a guitar, and she closes it with a thrilling cry of pain: "tell me who you call when all you got is the streets". This track was originally destined to be her main single, and she had planned to turn it into a banger. But the death of Nipsey Hussle changed it all. It put the entire L.A. scene into a dark mood, and the co-called Princess of Compton with it. Musically speaking, though, it worked well: when Azjah is sad, she is at her very best.