Queen Key is the embodiment of rap's take on feminism. Instead of desexualizing women, she talks about lust, loudly and proudly. Her approach, though, is different from CupcaKke's, her Chicago colleague,. Ke'Asha McClure is not that frontal and pornographic. She goes the humorous way, with a raspy voice that sounds older than she is. While male rappers like to say "suck my dick", she titled Eat my Pussy the very project aimed at accelerating her career, now that she joined Machine Entertainment Group. That EP was well received, and it was included to many year-end lists. Its strong moment, "My Way", is one of the rapper's most powerful anthems. But the greatest of Queen – her first nickname, before she realized that some brit band had already employed the same – might be found on her two Your Highness mixtapes.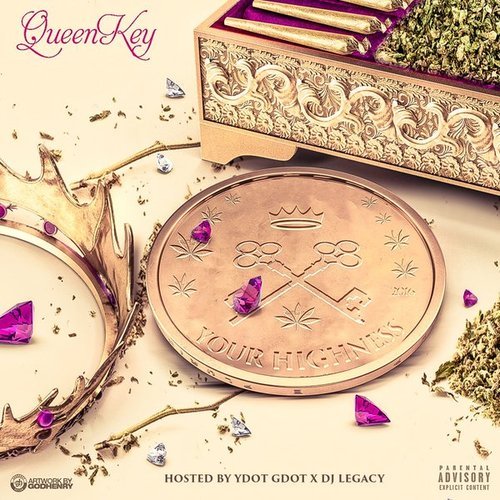 Nowadays, Queen Key transcends the artificial borders segmenting the Chicago rap scene. She can collaborate with drill music artists like King Louie, Dreezy and G Herbo, as well as with Tink, or Joey Purp on his Quarterthing album. Your Highness, though, was quite homogeneous: it was exclusively made of trap music. It was full of excessive and over-the-top ego-trips, like the freestyles on Famous Dex's "Drip from My Walk", and O.T. Genasis' and Young Dolph's "Cut It". On "Panic", Queen Key positioned herself above her female peers. Per this project's title, she presented herself like a superior being on "Been a Fan", with another drill music figurehead, Sasha Go Hard. With "Killa", on a sample from the above-mentioned rock band, as well as with "WTF You Looking At", "Exposed", "Fuck Y All", and the two episodes of "Queen Shit", she was hostile and threatening. She assaulted each and everyone, independently from their genders. And she enjoyed drugs and lust on "Baked as a Pie", the single that revealed her in 2015.
None of this was entirely new, except maybe her feminine view. But that, this inverted perspective, was precisely the essential part of the project. What mattered was, through the frequent mention of "eaters", her strong taste for cunnilingus; or her way to approach men on "Disrespect", with the same derogatory mode they had used for decades, toward women. "I got mo' balls than yo dick boy", stated the diminutive lady on "Senile"; and indeed, she had guts. Queen Key was there to make a point. And sometimes, she managed it, with memorable tracks like "Panic", the main banger on the mixtape, or the pornographic nursery rhymes of "Hit a Lic". Your Highness was not perfect, far from it. But it was enough to recognize a potential star in Queen Key. On "Panic", some guy stated the following: "See. There's two types of chicks in this world, chicks that make it happen, and chicks that watch it happen. What kind of chick is you?". As far as Queen Key was concerned, there was absolutely no ambiguity about the answer.