California is the land of all dreams, the motherland of mass entertainment, the ultimate fantasy factory. And as such, it often benefit from an inflated attention, especially when it comes to rap music. Quite frequently, its next sensation is coming from there. Over the last few years, the nihilism of Odd Future, the ratchet music of DJ Mustard and YG, or the adult rap of TDE, have all been praised as the next big thing in hip-hop. At times, it was founded. But it was also exaggerated. The first in the list sometimes indulged in hipster rock experimentalism. The second, as for any music tailored for clubs, often failed to convince on an entire album. And at times, the third was hypertrophied with pretention and weighed down by its respect for tradition and legacy. But with 03 Greedo at least, we have something new and substantial.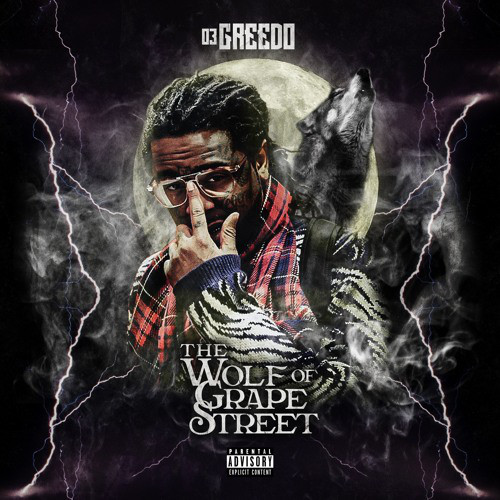 As a matter of fact, Jason Jackson might be larger than California. Since he grew up between Los Angeles and the South (and sometimes, in the streets), his style is not entirely from there. It synthesizes various trends, that appeared recently throughout the US. Like Kodak Black at the other end of the country, he is an example of Lil Boosie's everlasting influence. Posing like a sad bandit beyond redemption, sounding like a depressive but unrepentant gangster, he is one of his disciples. Like him, he moves from short-term hedonism to long-term pessimism. As him, he wants to live an intense life, as he knows it will not last. Therefore he delivers a lot. Since his trouble with the Texas police in 2016, for gun and drug possession, the ex-Greedy Giddy released several mixtapes, his Purple Summer trilogy and two others, with plenty of songs. And it paid off. His name started buzzing when, in 2017, he joined Todd Moscowitz's Alamo Records.
And in 2018, when the sentence approached related to this Texas affair – once threatened to a life sentence, he was condemned to 20 years imprisonment – 03 Greedo accelerated. Before turning into a new Max B, or another Lil Boosie, a rap idol whose career exploded in mid-air due to legal issues, he released an album some consider his best, God Level, and before that The Wolf of Grape Street. The latter mixes new songs with highlights from his previous projects, like "Rude", "Zonin" and the fantastic "Never Bend", and it looks like his definitive mixtape. Comparing himself to the Wolf of Wall Street, or posturing as a leader in the Grape Street gang – a local division of the Crips – he signified his ambition. And this record is commensurate to it.
03 Greedo, indeed, delivers an accomplished version of his dark music for doomed people. In an instant, he switches from a proud and quick delivery to a plaintive voice and cries of pain, like with the introductive "Drippin'". With a lump in his throat, he talks about solitude and paranoia on "Paranoid Pt. 3". On "Vultures", "Chase", "Safety", he alludes to the urban jungle he can't escape from. He is an introspective gangster, who questions his sensations, his emotional insecurity, and sentiments he is uncomfortable with, he tries to kill with drugs on "Substance". Even when he brags, he sounds anxious, in a hurry, as is he wanted to ward off bad luck and escape a fate, he knows is inevitable. On "Look at me Know", the reference to his father, who died at his age, is anything but innocent. The rapper says it on "Voodoo": he is definitely cursed.
While the record progresses, 03 Greedo gets more and more melancholic. This is him at his most intimate and personal. Some partners in crime are invited, but their voices, the sour one of OMB Peezy, or the rough one of Ketchy the Great, are as painful as his own. Or, on the opposite, to contrast with his tougher raps, he plays the melodic card with Yhung T.O's tunes on "Bacc to Bacc", or the plaintive voice of PnB Rock on "Beat That Thang Down". This dense The Wolf of Grape Street already looks like a testament, but it is even more than that. 03 Greedo captures the zeitgeist, he condenses all the recent trends – he says: "I feel like I'm Future mixed with Young Thug", on "Baytoven" – with his muttered words, his flutes, and his melodies. It is there, in California, that the beating heart of rap music is to be found in 2018.