There's always a time, for any kind of musical genre, when people get conscious about their heritage, and when everything needs to be defined relative to the past. As far as rap music is concerned, this phenomenon is far from new, but it got amplified when, by the beginning of the 2010's, a new generation took control; when, for the first time, rap had no competition anymore, and was delivered by people whose parents themselves were fan of the music. One of the best illustration of this new era was the revivalism promoted by the Raider Klan collective. The only female rapper in that crew, Amber Linwood, a.k.a. Amber London - or Vmber London, per the singular calligraphy these guys opted for - showed that on her 1994 EP.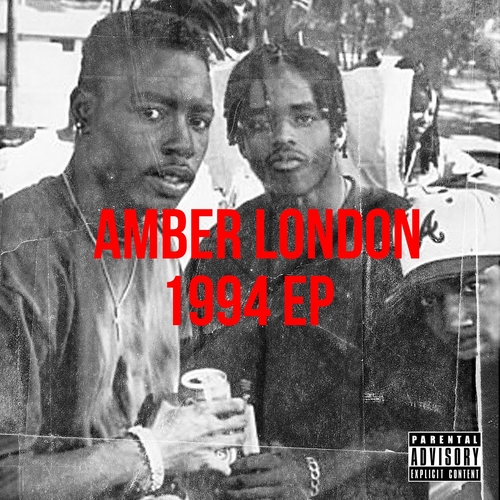 Spaceghostpurrp's squad is said to be obsessed with one kind of rap only: the one created in Memphis by the middle of the 90's, and popularized by Three 6 Mafia. And it is not unfounded. Amber London, actually, mentions Gangsta Boo, the band's female rapper, as a major influence. She has others, though, as shown on her mixtape. According to this young lady born in 1992, it is all the music her mother listened to when she was younger, she wanted to restore.
Based in Texas, Amber London is familiar with Screwed up Records and the sound of Houston. So she used the chopped & screwed style on the "Cant Fuck with Me" skit. Some versions of the mixtape would even end with one of DJ Screw's remixes, the one he did with MC Eiht's "Straight Up to the Menace". On "Steelo", the rapper also practiced the kind of rap / R&B mix that was popular in the 90's. It was another style, though, one from California, that she explored the deepest. Her funky sound, smooth tempo, liquid flows and insolent pose, were often coming from g-funk. It was obvious as soon as with the opening "94 Cool Shit", or "Four Twenty", the song that revealed her, in 2011. This was pure gangsta hedonism, like in the old days.
At times, she was even stronger than the originals, like with the best track on the project, a song so good that Spaceghostpurrp chose it to open his God of Black Volume 1 mixtape, and that Amber London delivered it in two versions: "Low MF Key". With its siren, piano keys and lyrics glorifying a way of life made of riding cars, smoking weed and wearing guns, it was close to perfection. It confirmed that, with the Raider Klan at least, rap revivalism could work well.