Few medias will tell you the truth. Not many will say that this is one of the best rap albums released so far in 2022. This is not due to their bad taste, or their lack of discernment. No. They just decided not to talk about this personage, now infamously known for unqualifiable sexual assaults. Actually, a few critics acknowledged that Kodak Black was important, that he can't be totally ignored. But those are careful, they aren't praising him too much, or too loud. Oh, true, they are doing that for others, like this older rapper who recently triumphed at the Super Bowl, though he is notoriously known for his past misbehavior with women. "Too big to fail" is a universal principle, it is not only about big companies. But Kodak Black is not one of these: he's been targeted by the cancel culture, even though he is, by far, one of the greatest of today.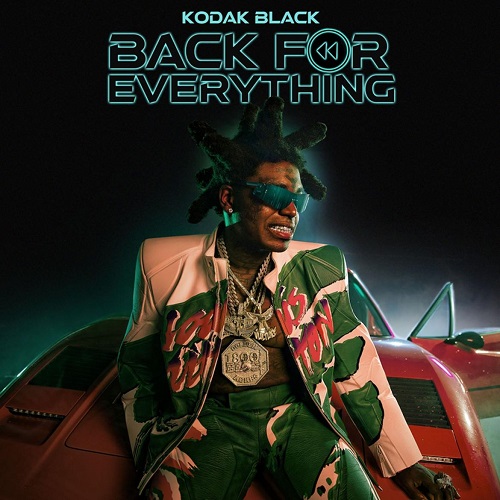 Ten years have passed since Kodak Black started, and on this fourth official album, he says he is back. As a matter of fact, the Floridian never really left. His stay in prison was shortened by Donald Trump. He had delivered a few other projects in the last few years, like Bill Israel and Haitian Boy Kodak. And he was in the headlines just a few weeks ago, when someone shot him at a party organized by Justin Bieber. Nevertheless, due to the success of "Super Gremlin", his prodigious single from the Sniper Gang compilation, Back for Everything looks like a comeback.
Its title says it clearly: this album is about resilience. It is also about the many harms of a man, who confesses multiple times killing his pains with drugs, and who admits on the eponymous song that he is vulnerable to the treasons of his friends and mistresses. The rapper is still a figurehead of the kind of delinquent blues popularized a while ago by Boosie, a style that ended up being a key marker of rap music in the 2010's. Back for Everything is a melancholic rap record, and a great one. Built with an impressive set of producers like Boi-1da, London on da Track, Murda Beatz, Zaytoven, BandPlay and Scott Storch - to mention just the notorious ones - it is made of quiet and smooth beats. Some are quite atmospheric. And on those, with only one guest – Lil Durk, another depressed street rapper – Kodak Black confides to us.
With his muttered and painful voice, he talks about his misfortunes. The man who will remain his entire life the "project baby" that named two of his mixtapes, is both proud and ashamed for being locked in his own universe, a world made of opps and Glocks, like on the heartbreaking "Grinding All Season", or on "He Love the Streets". He sings about the hungry ones who have nothing, on the magnificent piano and flutes of "On Everything". He shares long confessions on the delicate guitar of "Omega". On another guitar, with "Love Isn't Enough", he delivers a desperate love song. On "Take Your Back", with Lil Durk, he urges a lover fed-up with his unfaithfulness to come back. As for the great "Super Gremlin", it is a lament about the end of his friendship with Jackboy, and the opportunity lost by them both to become superstars.
His blues, his distress, his resentment even, is also about the quasi-boycott against him. On the introductive "Let Me Know", Kodak Black says that he is too gangsta to be given a Grammy Award, and he complains he lost to Khalid at the 2017 MTV Video Music Awards, but he rejoices about his influence on Cardi B's "Bodak Yellow" hit single. He is the accursed artist, the unsung hero, people fail to celebrate as they should, but whose posterity and legend are already considerable. And this new and well-rounded album, undeniably, contributes to such an aura.