With his cover art that looks like a photocopy, his disturbing music, and his psychopathic lyrics, Anyways… didn't look like what it was supposed to be: Young Nudy's first official album. The way he went wasn't exactly welcoming, and his rickety trap music wasn't of the shimmering kind. This didn't improve with the second one, he released in May this year. The Atlanta rapper, indeed, gets even more extreme with DR. EV4L. Viciously, he made it suffocating, with its horror movie atmosphere. This dark and malicious posture was announced by the title, as well as with the cover art, which shows Chucky again, the infamous killer doll, as with the SlimeBall mixtape series. In addition, Michael Myers and Jason Voorhees are invoked on the "Child's Play" track.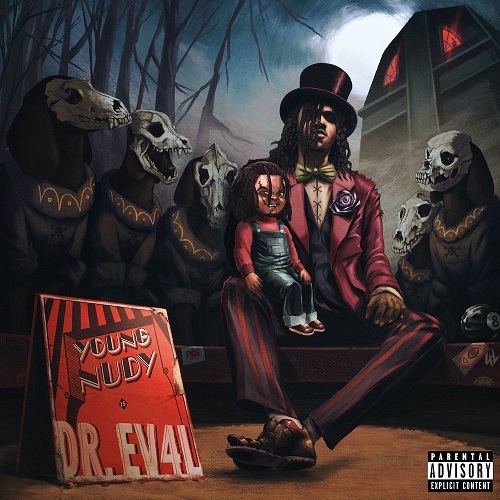 As always, Young Nudy's lyrics are about the usual themes in trap music: drugs and girls. But in addition, he displays a strong desire to kill and the coldness of a murderer. In a distant way, as if he was anesthetized, he sings about shooting "niggas" ("Yellow Tap") and waiting for others to stop breathing ("Soul Keeper"). He says he got more dead bodies than anyone ("Dr. EV4L") and that the brains of his enemies are spread on the pavement ("Colombian Necktie"). Also, on the conclusive "Walking Dead", Young Nudy asks his listeners if they've already seen a dead body, suggesting that this is a routine for him. And when he doesn't kill his opponents, the rapper fucks their ladies, mockingly, feeding them with money and cocaine ("The Rustlers").
Nudy uses his strange and strangled voice on a trap music cooked with a horrorcore sauce, with slow tempos and atmospheric beats, provided almost exclusively by Coupe. The output is a homogenous work. The tracks with a video, "Mini Me", "Child's Play", with his cousin 21 Savage, and the solid "2Face", with G Herbo, aren't even the best. Others are more remarkable, such as "Roughneck", where Nudy introduces us to the pharmacy of his trap house, or the already mentioned "Colombian Necktie", with particularly offensive verses about sex and violence. This second official album is well worth the first. And the best part is that, just a few months later, he released another one, equally good, Rich Shooter. In 2021, in the very heart of a city, Atlanta, that lost a bit of its shine, the frozen heart of Young Nudy is beating very hard.